The former editor-in-chief of Ebony magazine told CNN host Don Lemon that "racist" President Donald Trump doesn't view "black people as fully human."
Kierna Mayo offered her observation Monday night in the wake of a war of words between Trump and filmmaker Spike Lee, who fired the first shot over the bow during his acceptance speech Sunday night after winning Best Adapted Screenplay for his movie "BlacKkKlansman" at the Academy Awards.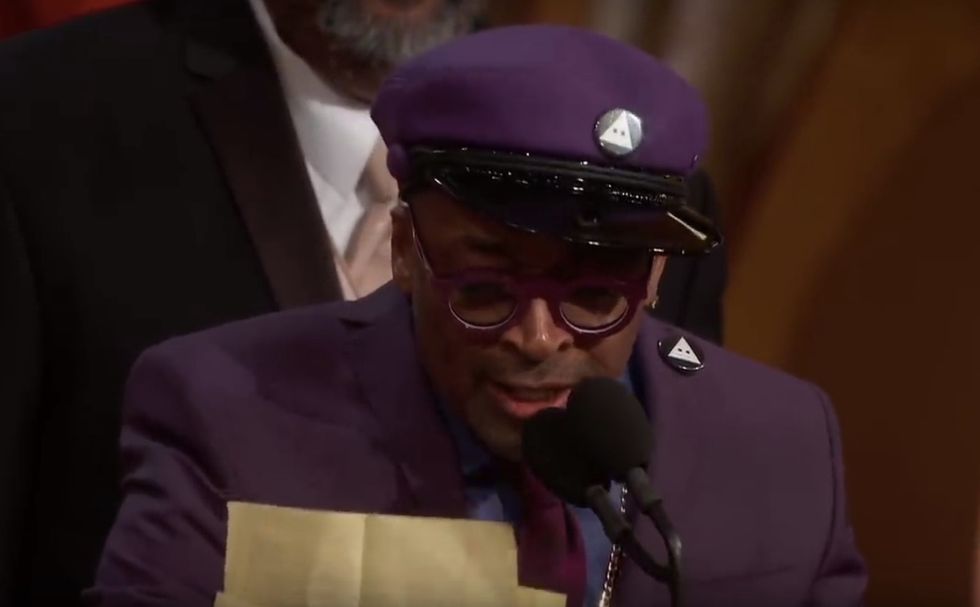 Image source: YouTube screenshot
"The 2020 presidential election is around the corner," Lee told the audience, reading from notes and never mentioning Trump's name. "Let's all mobilize. Let's all be on the right side of history. Make the moral choice between love versus hate. Let's do the right thing."
Trump responded on Twitter, calling Lee's subtle salvo against him "racist" and insisting he's done more for black people than nearly any other president:
Be nice if Spike Lee could read his notes, or better yet not have to use notes at all, when doing his racist hit on… https://t.co/lr6Hyjb5pQ

— Donald J. Trump (@Donald J. Trump)1551095418.0
What else did Mayo tell Lemon?
After some observations by fellow panelist Kareem Abdul-Jabbar, Mayo weighed in on Trump's response to Lee.
"This is a president who knows he's on the wrong side of history," she said. "So you've hit the dog. In other words, he's barking because he knows that he exemplifies all that Spike and his courageous film are really standing against."
After Lemon asked if Trump truly "believes he's somehow solved racism and this is the best time ever for African-Americans," Mayo threw down with a more damning take on the president:
I don't even think he really — this may be out there — but I don't really think the president sees black people as fully human. I don't think he sees us as having agency, intelligence — as noted by his comment about Spike, you know he wishes he could read. ... There's always some subtle suggestion that black people need to catch up, keep up, and if it were not for his graciousness, if it were not for his attentiveness, his loving kindness, we would be in a hell of a place.
She added that "most African-Americans, I think, are offended by most of the president's language, by most of his conversation ... every night, every clip just leaves most African-Americans feeling 'this is a person who actively hates me.'"
Mayo then concluded: "I think we're clear that the legacy of Donald Trump and the future of Donald Trump is one and the same: He is racist."
(H/T: Mediaite)