The U.S. jobs report for April was extremely disappointing, and was so shockingly underwhelming that one CNBC financial analyst had to double-check the numbers because he couldn't believe his own eyes on how abysmal the figures were. CNN showed its liberal bias by burying President Joe Biden's depressing jobs report, but highlighted a report about how former President Donald Trump left the White House lawn in an unsatisfactory condition.
The U.S. economy added just 266,000 new jobs in April, when there were forecasts for nearly 1 million new jobs. To make matters worse, the unemployment rate rose to 6.1%. The dismal jobs report was arguably the most important news story on Friday...except on CNN.
The left-wing news website stealthfully sneaked the significant jobs report news into its "Trending" section, where CNN literally wrote: "Jobs report," which gave zero indication that the jobs report was dreadful.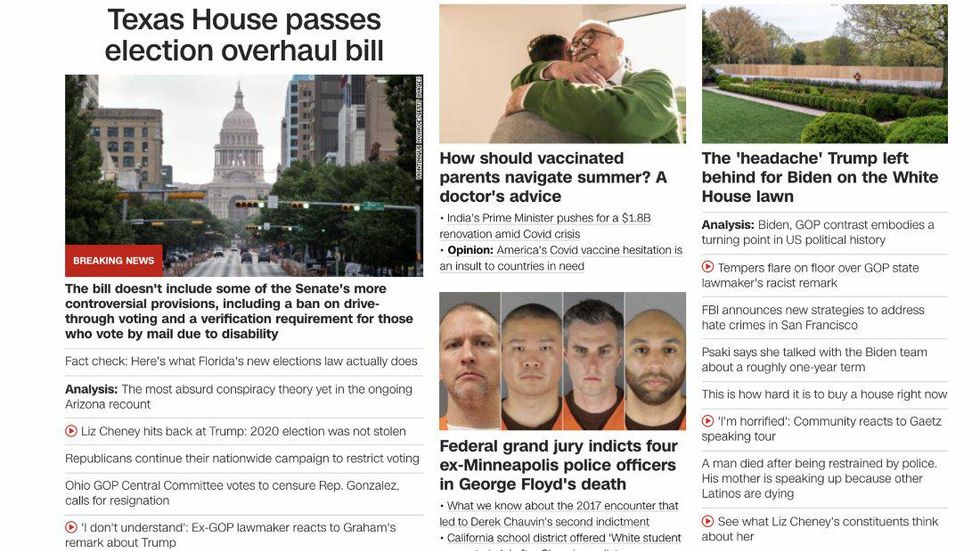 CNN screenshot
However, CNN had no problem giving a story titled "The White House lawn 'headache' Trump left behind" prime real estate on the site's front page. CNN promoted the anti-Trump article at the top-right of the front page. While the economic ramifications of an eye-opening jobs report didn't warrant a top spot on the front page, the article about the Trump administration not getting the "paramount" upgrades on the property was deemed to be exceedingly newsworthy.
"They didn't want the noise and, Melania Trump in particular, wanted to avoid disrupting the aesthetics on the back lawn, where there could perhaps be events," CNN claimed. "The first couple decided to 'pass it to the next guy,' said one of the people familiar. That next guy ended up being President Joe Biden."

CNN bellyached that Biden "has had to meet his helicopter, Marine One, on the Ellipse, the park below the South Lawn perimeter of the White House and just north of Constitution Avenue" due to construction on the White House lawn. The news outlet also kicked up a fuss that Biden "has had to motorcade approximately two minutes from the White House to the Ellipse to depart and arrive, where before he could ostensibly walk out his back door a few hundred yards and board his private transport."
The liberal cable TV network has struggled to engage viewers in the post-Trump world. In Biden's first 100 days in office, CNN's ratings went from 1.2 million in the last week of January to only 749,000 for the week ending April 25. Brian Stelter-hosted "Reliable Sources" and the "New Day" morning TV program had their lowest ratings of the year last week.