UPDATE 5:12 p.m. Wednesday: Police arrested a 32-year-old man in connection with the stroller-kicking incident caught on video in a predominantly Jewish neighborhood in Brooklyn, WPIX-TV reported.
Dashaan Chestnut is charged with two counts of child endangerment, the station said.
Original story below
A man was caught on surveillance video kicking a double stroller Monday afternoon in the predominantly Jewish neighborhood of Crown Heights in Brooklyn, WPIX-TV reported.
The mother, who is Jewish, was pushing the stroller down the sidewalk on Sterling Street when the man kicked the stroller, apparently swore at her, and ordered her out of his way, police told the station.

WCBS-TV reported there were "kids" in the stroller at the time of the attack; video shows at least one child in the stroller.
Police have opened a child endangerment investigation and aren't ruling out a potential hate crime, WPIX added.
'Just unbelievable'

"What kind of society allows a man to kick a stroller" with an "infant inside?" Yaacov Behrman — a Crown Heights resident and Jewish Future Alliance founder — asked WPIX. "Just unbelievable."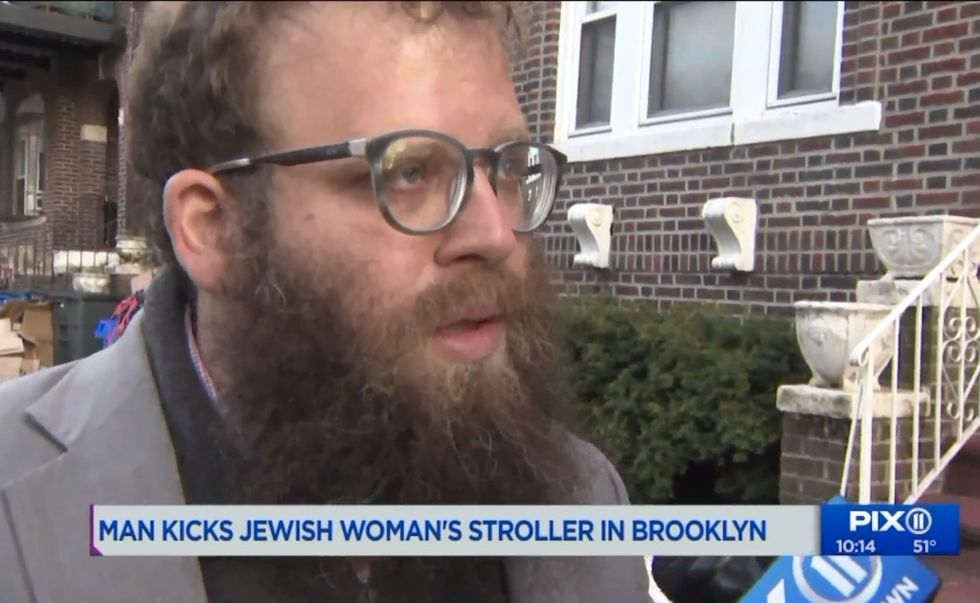 Yaacov BehrmanImage source: WPIX-TV video screenshot
Behrman added to the station that "regardless of whether this is a hate crime or not, this is a very, very serous incident where an individual attacked a young child, and we expect both the police and district attorney to hold this perpetrator accountable."
WPIX said the incident is the latest in string of attacks apparently aimed at the Jewish community across New York City, which include assaults and swastikas.
Information about the kicked stroller incident can be directed to police at 1-800-577-TIPS.
This story has been updated to include arrest information in connection to the incident.
Related articles around the web