© 2023 Blaze Media LLC. All rights reserved.
Daring video game transports players to 1st-century Israel for a unique encounter with the 'greatest message ever told'
A Christian media group developed a comprehensive Bible study program for a youth camp in early 2020. Their aim was to transport young people back to 1st-century Jerusalem to engage with a painstakingly crafted simulacrum of Herod's Temple and expand on their understanding of Paul's letter to the Hebrews. Unfortunately for the would-be junior time travelers, the event was canceled on account of the emergence of COVID-19. The underlying effort was not, however, in vain.
The slight setback gave the Norwegian Christians the requisite time and distance to understand the greater potential of their program — that their virtual Second Temple was simply the first step toward reconstructing an old world for the edification of new souls.
Game developer Bible X, an offshoot of the Brunstad Christian Church's Oslo-based media company, has since raised all of ancient Israel on the Unreal Engine. Not only are the buildings historically accurate and populated with lifelike characters, they are situated in an open world replete with insights into the time period, its politics, culture, and customs. But this is no mere temple walk-through.
It is the setting for Gate Zero, a story-driven title that looks, feels, and plays like an AAA blockbuster.
According to game designer and Bible X leader Arve Solli, the chief distinction between this game and others in the historical adventure genre is that Gate Zero is centered on the most significant story there is to tell — one all but neglected in the medium.
While there are no explicitly Christian video games like it in the mainstream, Gate Zero might change things.
The industry
The video game industry has outgrown the global movie and North American sports industries combined, raking in roughly $188 billion in global sales last year. Beside being a lucrative business, it is also pervasive. The number of active video gamers across the globe in 2023 was projected to be over 3.07 billion.
The five top-selling video games in the U.S. in 2022 were Call of Duty: Modern Warfare II, Elden Ring, Madden NFL 23, God of War Ragnarok, and Lego Star Wars: The Skywalker Saga. Gamers would be hard-pressed to find a Christian title in the blood-soaked and sports-heavy top 100 list, or even in the top 1,000.
Despite various efforts over the years to break into the mainstream in a big way, Christian video games have largely been enjoyed on the margins and to little fanfare.
Dr. Kevin Schut, a professor of media and communication at Trinity Western University, has long studied video games, religion, and the interplay between both, penning a book on the topic entitled, "Of Games & God: A Exploration of Video Games." He told Blaze News, "Arguably, there have been no overtly Christian video games that would be considered 'mainstream.' ... There have been a handful of explicitly Christian games that have received at least a little media attention, but almost always as curiosities. And even then, the financial returns have not been truly substantial."
Part of the reason faith-based games haven't broken into the mainstream, despite a dream to do so since at least the 1980s, is that "much of traditional Christian culture is out of step with the culture of mainstream gaming culture, which tends to be aggressive, playful, combative, and boundary-pushing," said Schut.
The subversive nature of gaming culture is not ultimately what's keeping faith-based games down. Rather, the issue is quality.
"Frankly, few developers of explicitly Christian games have either the experience or resources to make really high-quality games," said Schut. "Nobody has really figured out a super successful indie route that gets around the big-budget game requirements to produce in the AAA space."
Solli shares Schut's sense that quality is critical to the success of any game, especially for faith-based games.
The Bible X designer told Blaze News that quality often appears to be a secondary priority — if a priority at all — among faith-based developers because many "take it for granted that Christian people ... want to use it or see it because it's Christian."
Although a different medium, Solli cited the "The Chosen" TV series as an exemplar of Christian entertainment done well and at a high standard.
"We want to create something great because we believe it's the greatest message ever told," said Solli. "So we should put everything we can into doing that. An undeniably great video game, not like 'How little effort can we put into this? People will play it anyway.' ... We tried to think of it the opposite way."
"Why should we use so much money in producing everything else in entertainment? I mean, the Christian message deserves to have the same amount of effort, if not more," he added.
The gate between the Gospels and the mainstream
The free-to-play prototype available on Steam starts off in an unlikely place: a cyberpunk dystopia. The year is 2072. The place, Terrapolis, is ruled by a eudemonistic regime that has successfully secularized society, leaving almost no traces of Christianity or Christ.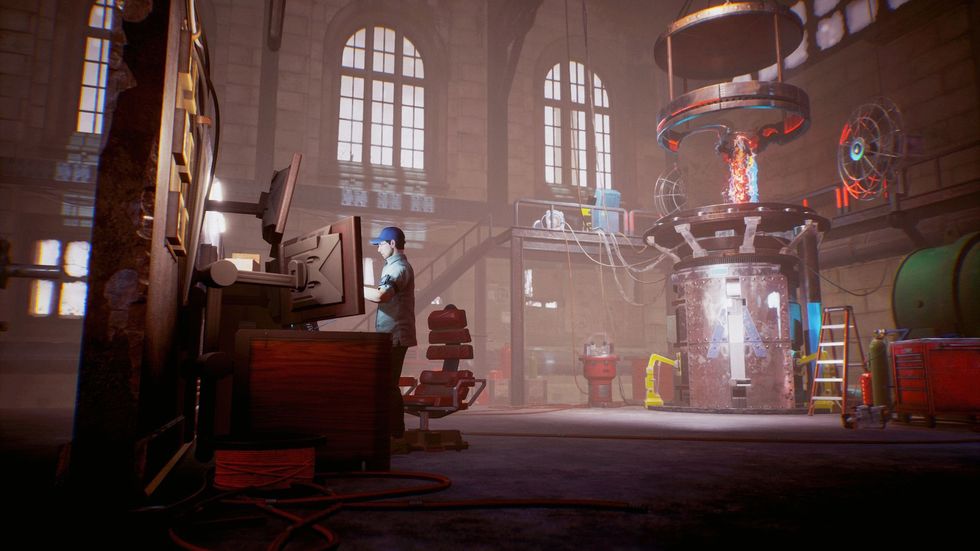 The playable protagonist, Max, and his cousin Hector stumble onto the mystery of their grandmother's secret, which ultimately prompts them to use their time machine, Gate Zero, to travel back to the first century in search of answers.
Although the sci-fi framing is heavy-handed, it serves to cohere the experience and make sense of the game's interface, puzzle elements, radioed insights, and progression system.
Almost immediately, Max picks up the trail of Christ's ministry in 30s Judea and Galilee.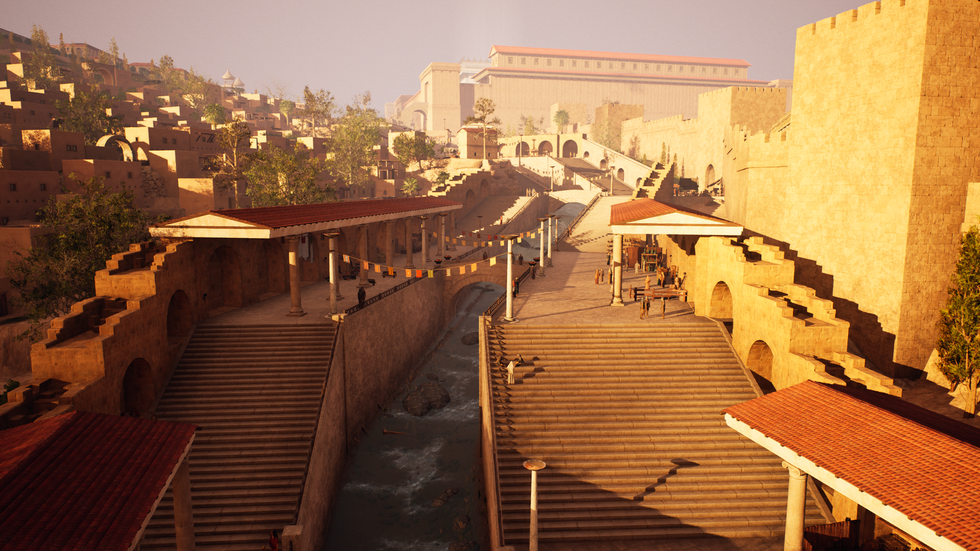 "We tried to weave together the story of our player character with the stories from Jesus," said Solli. "They have certain meeting points where they connect, and then you can explore."
For instance, the player will be presented with the choice of whether to help a distraught mother and father find their son. For those with some biblical insight, this particular quest might be easier than most.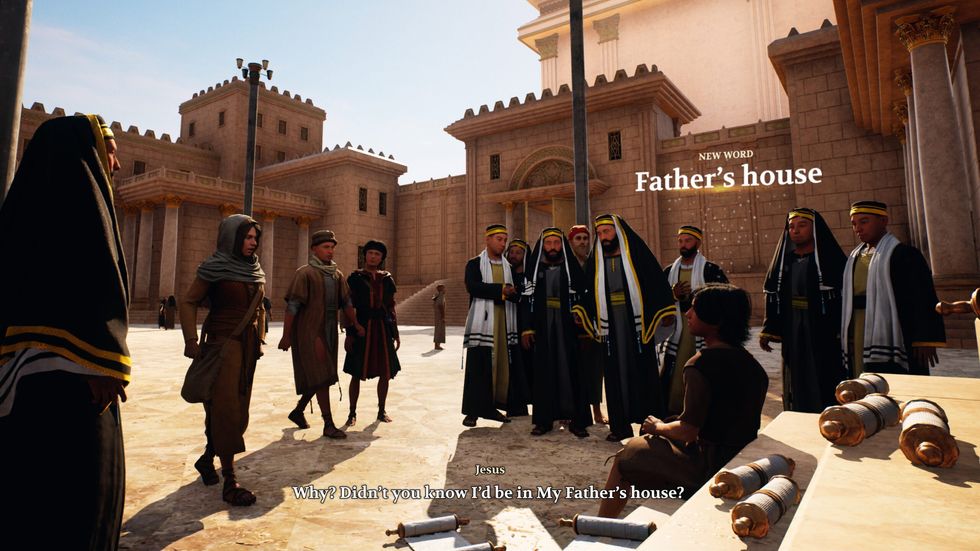 In another instance, Solli indicated the player comes across Christ healing the leper. The designer did not let on whether the player will be the first person whom the healed man, sworn to secrecy in Mark 1:40-45, blabs to.
Beyond the 130-140 Christ-centered narrative events in the game, including the Crucifixion and the Resurrection, the player will encounter additional facts and stories from the Bible, Old and New Testament alike, while exploring the virtual world. Sometimes these insights, including details about Jewish traditions and the history of Israel, come in the form of text, whereas at other times they are visualized in real time with interactive elements.
While this digital encounter with the Gospels could potentially be a solitary experience, Bible X has incorporated multiplayer elements, such that friends can join in via their mobile phones. Certain side quests appear to rely upon the help of others. For instance, in the prototype, an NPC asks the player to help him find his lost sheep. While in this case, additional players are tasked with flagging them and ensuring they're successfully shepherded back to the flock, other quests will call upon them in other ways, such as having them solve puzzles.
"Jesus says that where two or more are gathered in my name, I will be among them. ... That's the inspiration of [the multiplayer component] because when people are gathered around Jesus' word, they can talk about it and have fellowship," said Solli.
The game is nonviolent, but not without danger. The player must rely upon stealth abilities and gear to steal past the various guards and soldiers posted throughout the region. This muted sense of peril is compounded by the creeping awareness that a failure to log the forgotten truth of the past might mean the future's condemnation.
The significance of success
Solli indicated that his team at BCC Media understand that their mission is to fill the "blank space" in the video game industry with a game "that could convey the greatest message ever, using the most advanced and the best medium out there ever to basically help young people understand and also dive into the huge and vast world of the Bible."
Although it remains to be seen how Gate Zero will ultimately be received, Bible X was greeted with a great deal of enthusiasm in July, raising around $327,847 to support the development of Gate Zero, otherwise funded by BCC Media.
Bill Donohue, president of the Catholic League for Religious and Civil Rights, told Blaze News that "any medium that offers an accurate account of the biblical story, and encourages young people to grow in the Christian faith, should be welcomed by Christians. With proper parental guidance, it can serve as a platform for more serious study. Gate Zero promises to do just that."
While admitting to a limited exposure to the game, Donohue indicated that it "would be an important cultural marker" should Gate Zero break into the mainstream. After all, "Young people, especially boys, are being inundated with morally debased videos, so wholesome alternatives are badly needed."
"Some parents may carp that this is not a blue-chip medium, but if a video game presents a realistic opportunity to evangelize the young, its unconventional approach should not be a factor," continued Donohue.
Noting that "video games are a 'final frontier' for Christian art and entertainment," Dr. Daniel Blackaby, author and director of the Blackaby Bible Institute, suggested that a breakthrough hit could pave the way for Christian game developers to "increase their influence in the booming video game industry."
Schut noted that the significance of a Christian game succeeding in a big way would largely depend on the nature of the game. A deeply political game might make headlines but runs the risk of feeding into the culture wars and missing out on an opportunity to advance "the peace of Christ."
"But a game that shared the Bible in a creative and engaging way could have significant educational benefits," said Schut. "A game that teaches profound virtue would have the value of changing people's lives for the better. A game with a Christian vision of creativity would harness the natural God-given creativity of gaming culture."
Blackaby noted that a possible downside to this kind of virtualization of biblical engagements would be creative license.
"Any adaptation of a historical event or a pre-existing text will inevitably take creative license to adapt the source material into a compelling narrative," Blackaby told Blaze News. "Yet taking creative license with the God-inspired text of the Bible presents a very unique challenge. Visuals are powerful. They stick with people. Therefore, to create visual representation of the Gospels, particularly when needing to take creative license to 'fill in the gaps,' should not be done lightly."
Schut indicated that while there are risks that come with trying to make and publish a good Christian game, the greater risk might be abandoning the attempt altogether.
"The video game industry is a massive cultural influencer. If you want want a difference in the world, don't hold this world at arm's length," said Schut. "Video games hold amazing opportunities for creativity, fun, playfulness, and community building. Let's get involved and bless that world."
If Gate Zero can get the ball rolling in that regard and act "as a level to bring young people to the Christian faith," Donohue said we "should not hesitate to embrace it."
The game is set to come out next year on PC, though the developers hope for Xbox and PlayStation versions in the future.

Like Blaze News? Bypass the censors, sign up for our newsletters, and get stories like this direct to your inbox. Sign up here!
Want to leave a tip?
We answer to you. Help keep our content free of advertisers and big tech censorship by leaving a tip today.
Joseph MacKinnon is a staff writer for Blaze News.
HeadlinesInGIFs
more stories
Sign up for the Blaze newsletter
By signing up, you agree to our
Privacy Policy
and
Terms of Use
, and agree to receive content that may sometimes include advertisements. You may opt out at any time.