But that ain't the half of it.
What else happened?
You see, on the eve of the election, Hurst and his girlfriend were pulled over by Radford City police after a sheriff's deputy allegedly saw them tampering with campaign signs at a polling place, WSLS-TV reported.
Police photos show campaign signs for Republican candidates such as Governor-elect Glenn Youngkin and Hurst's opponent, Delegate-elect Ballard, flipped over and on the ground, the station said.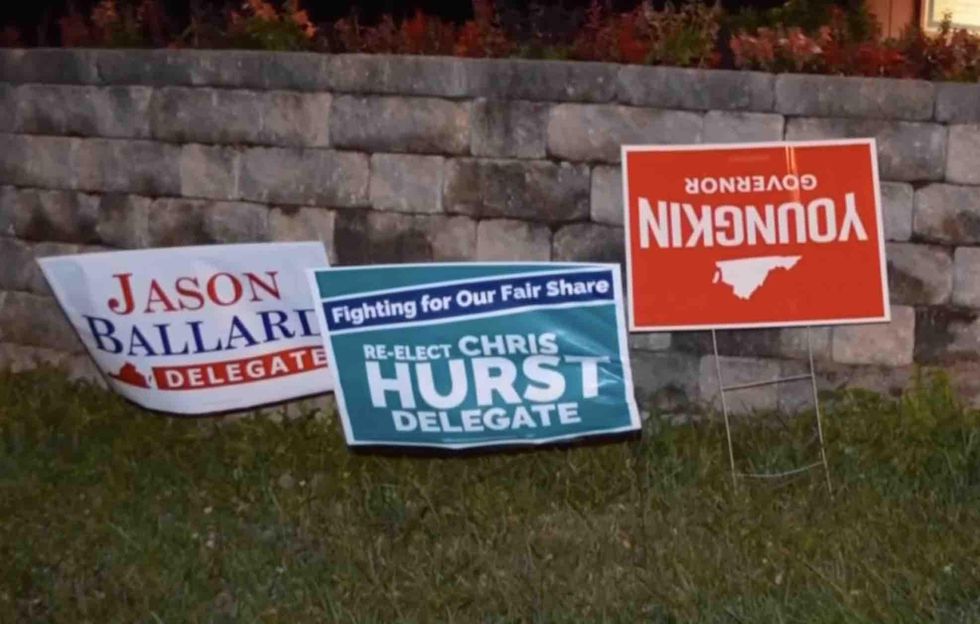 Image source: YouTube screenshot
'A little hijinks'
The following is a transcript from the police bodycam video showing the conversation between Hurst and the officer who pulled him over, WSLS reported:
Officer: "I think what you need to do after I deal with you here is go back and fix those signs. What do you think? You try to resort to doing this? Instead of doing a fair election? Chris, quit playing. Quit playing. Y'all are up there turning over signs at the polling area and you're sitting here acting like you don't know what's going on?"

Hurst: "...Here's what I would say. I would think that something that was a little hijinks and steam blowing off is exactly what everybody over on the other side of the mountain does and people all over this district do."

Officer: "So you're going to resort to that and represent us?"

Hurst: "I need you to just do your job here tonight and I'll do mine. I have nothing more to say to you, officer. I'm sorry for actions that I may have done or my partner may have done, but I think you're getting a little emotional here."

Officer: "I'm not getting emotional at all, you're supposed to be representing us. You're supposed to be out here representing us and not out here acting like a school kid. How am I supposed to vote for you if you're out here doing this?"

Hurst: "Were you planning on voting for me?"

Officer: "Well, that's all up in the air now."

Hurst: "I'm sorry if I lost your support, sir."
At Tuesday night's watch party, Hurst told media members the campaign sign incident was a prank, the station said.
"We flipped over a couple of yard signs, took them, put 'em upside down and put them right side up," Hurst said. "That's what we did."
When asked "whose" signs he messed with, Hurst replied they were "Republican signs .. one Jason Ballard sign and one [Glenn] Youngkin sign."
But WSLS said police photos show more than two signs were tampered with.
Here's a statement from Hurst about the incident via WXFR-TV:
This has been a real drag out race, it's been very competitive, and, in some degree, it's been sometimes nasty. You know, election eve, you've run a really hard race, run a very long campaign, and you just do a prank to be a goof and, you know, it just happens to be done by somebody who is very apologetic for what they've done and realizes that, you know, I have people looking up to me and I have a real responsibility that I need to live up to, and I think in my actions, legislatively and what we've been able to accomplish for this district, I continue to show that we get results for the New River Valley, but again I apologize to people for disappointing them and it's something I'm just looking to move forward from.
Radford police release body cam video of traffic stop involving Chris Hurstyoutu.be
Anything else?
Hurst also was cited at the traffic stop for driving with a suspended license and given a "driving while suspended notification," the station said.
But Hurst told WSLS his license was suspended due to an insurance lapse and that he wasn't aware of it until he was pulled over Monday night. Hurst told WXFR he took care of the insurance issue Tuesday morning.
Hurst also was pulled over in 2020 on suspicion of drunk driving, after which his blood alcohol concentration came in above the legal limit at .085 in a portable breath test, WSLS reported in a separate story. The officer released Hurst without charging him because he believed his blood alcohol concentration would drop below the legal limit by the time he brought Hurst in for a formal breathalyzer test, which is the only admissible test in court.
What's more, the station said it would have been unlikely for Hurst to be prosecuted in court since the Constitution of Virginia dictates that legislators are immune to arrest while the General Assembly is in session unless they've committed treason, a felony, or a breach of peace.