Tuesday night, the family of a Columbus, Ohio, teenager claimed that police shot her without provocation or justification. In order to forestall any potential civil unrest, Columbus police promptly released bodycam footage showing that, in fact, the girl was attempting to stab two different people at the time she was shot, and that officers repeatedly gave her verbal warnings to get down before firing shots.
The still frame video from just seconds before the shooting demonstrates that she was literally in the process of attempting to stab someone when police shot her.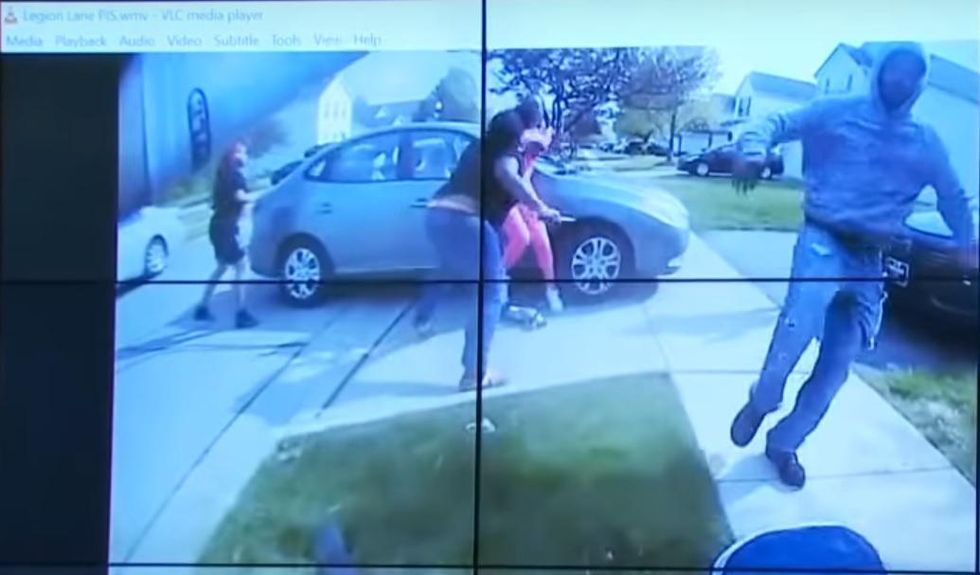 Image source: YouTube screenshot
You might have thought that this would have ended the ruckus over this particular incident, and that everyone would have acknowledged that it is of course appropriate for officers to use lethal force to prevent someone from being stabbed to death right in front of them.
Unfortunately, you would have been wrong.
A number of prominent liberals took to social media on Wednesday, even after the body camera footage was released, and claimed that either the officer was at fault, or that his actions were evidence of a broken policing system. For instance, the official Twitter account for the national American Civil Liberties Union tweeted, "We'll say it again — a system that kills children with impunity cannot be reformed." The ACLU's tweet did not have any thoughts for the child who could have been killed if the cop had not intervened.
Ma'Khia Bryant was 16 years old and had her entire life ahead of her. For the second time in less than a week, we… https://t.co/I8NOFRMLsg

— ACLU (@ACLU)1619020562.0
When asked to comment on the shooting, rather than acknowledging that the shooting was in any way justified, the White House's statement treated this incident as an example of "police violence" that "disproportionately impacts black and Latino people and communities[.]"
Psaki was asked about the Columbus police shooting of Ma'kiyah Bryant, a teen killed while trying to stab another g… https://t.co/1Q2S8DfhaZ

— Jerry Dunleavy (@Jerry Dunleavy)1619025507.0
The White House's statement did not mention the black teenager whose life might have ended if the police had not acted.
While some liberals may have just been working from bad or incomplete information, having taken the family's initial word that the shooting was unprovoked, some actually went a step farther and seriously suggested that attempting to stab someone is no big deal and not something police should shoot anyone for.
Prominent liberal activist Bree Newsome tweeted, "Teenagers have been having fights including fights involving knives for eons. We do not need police to address these situations by showing up to the scene & using a weapon against one of the teenagers. Y'all need help. I mean that sincerely."
She then followed that hot take up with, "Everyone should be frightened that the ruling white elite have done such a thoroughly successful job of not only disconnecting us from the means of basic self-sufficiency but also convincing us we need armed white officers to manage our children & communities. Frightening."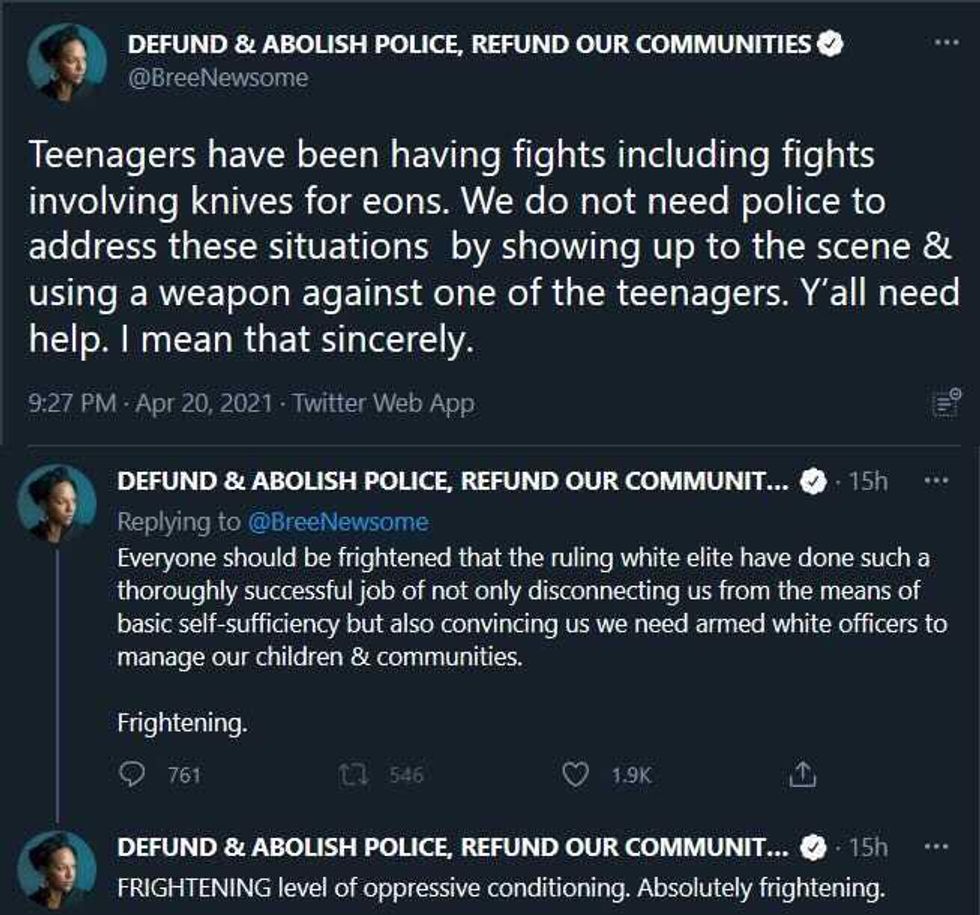 Apparently, it is more frightening to some that police would stop one person from stabbing another person than it would be for a person to get stabbed.
Former Obama adviser Valerie Jarrett also entered the fray, conceding that the officer COULD have stopped one person from stabbing another person, but not that he SHOULD have.
A Black teenage girl named Ma'Khia Bryant was killed because a police officer immediately decided to shoot her mult… https://t.co/7ewkCo1frU

— Valerie Jarrett (@Valerie Jarrett)1619018017.0
Just because an officer can use deadly force does not mean the officer should. Let's spend more time responsibly tr… https://t.co/4tStPtQNaM

— Valerie Jarrett (@Valerie Jarrett)1619031718.0
From the video, it is clear that the officer is far enough away that he could not have physically reached out and made any kind of physical contact with the attacker at the moment he fired his gun, so it is a mystery what "minimum force" would have resolved this situation without someone ending up getting stabbed.