While the video and the song were intended to be a commentary on how the wrong mindset can lead people into self-destructive habits, many on social media were outraged with and offended by the scene.
"Taylor Swift's music video, where she looks down at the scale where it says 'fat,' is a s****y way to describe her body image struggles. Fat people don't need to have it reiterated yet again that it's everyone's worst nightmare to look like us," read one tweet that had more than 43k likes.
"The Taylor swift fat discourse is killing me. Ppl saying it's not harmful are f***ing stupid, just rotted. If my poor fat 13 year old self had sat down and watched a skinny blonde woman stand on a scale and it say fat I would have cried. If she's fat what hope was there for me?" responded another commenter.
"I feel like the fact that EVERY single person defending Taylor Swift is white and thin themselves kinda reinforces the point lol nobody who has experienced actual fatphobia is coming to her defense!!! Just the thin girls who 'feel fat sometimes' and are now experts," read another critical tweet.
In order to appease the outraged crowd, the video was edited and the "fat" display scene was taken out, although the overall scene remained. Variety confirmed that the scene was excised from the music video on Apple Music, and it was also cut from the video on YouTube.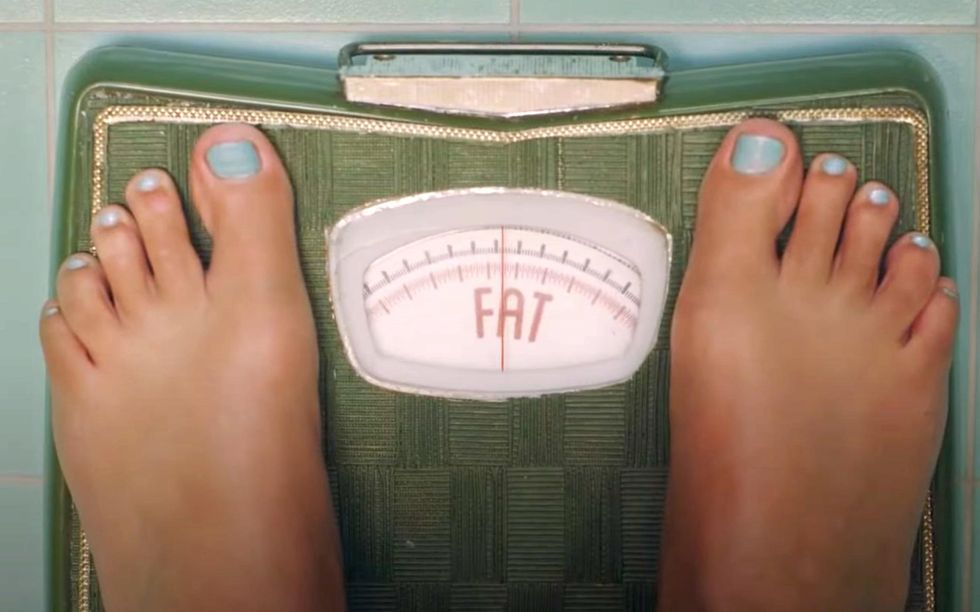 Image Source: Taylor Swift YouTube video screenshot
Even after the scene was deleted, other activists criticized that move as well.
"Taylor Swift removed an important part of a music video that made people uncomfortable and it pisses me the f*** off. She wasn't being fatphobic, it was commentary on how unrealistic beauty standards the music industry. Why do people not have any media literacy skills?" read one tweet.
"As a fat person who has been fat most of my life, I think that the Anti-Hero video being edited to remove the word 'fat' on a scale is the one of the saddest things I've ever seen in my life," read a very popular tweet with over 93k likes.
Despite the online fat-shaming rancor, Swift's new album "Midnights" broke the Spotify record for most streams in a single day in the history of the music platform.
"How did I get this lucky, having you guys out here doing something this mind blowing?! Like what even just happened?!" she responded.
Here's more about the fat-shaming Swift video:
Taylor Swift's Anti-Hero Music Video Edited After Fatphobic Backlash | E! Newswww.youtube.com