A Florida man with an active pipe bomb was caught by police near a Tampa Bay-area rally in support of a participant of the Jan. 6 riots at the U.S. Capitol building. Garrett James Smith, 22, was wearing identity-concealing black bloc clothing and gear that is commonly associated with Antifa members.
There was a crowd of approximately 85 protesters gathered at the Pinellas County Justice Center in Clearwater on Thursday night. The rally was to show support of Jeremy Brown — a former U.S. Army special forces soldier, member of the right-wing Oath Keepers group, and one-time congressional candidate — who was arrested on Sept. 30 for "knowingly entering or remaining in any restricted building or grounds without lawful authority" during the Capitol riot. Brown is currently being held at the Pinellas County Jail without bond on federal charges.
"At approximately 7:24 p.m., deputies in the area observed a male, later identified as Smith, dressed in all black clothing, a face covering, and carrying a black backpack, running away from the direction of the protest," the Pinellas County Sheriff's Office said in a press release.
Deputies pursued Smith and caught him about a block away from the Jan. 6 protest. Law enforcement arrested Smith on a charge of loitering and prowling. Police then found a "pipe-type explosive device" in Smith's backpack.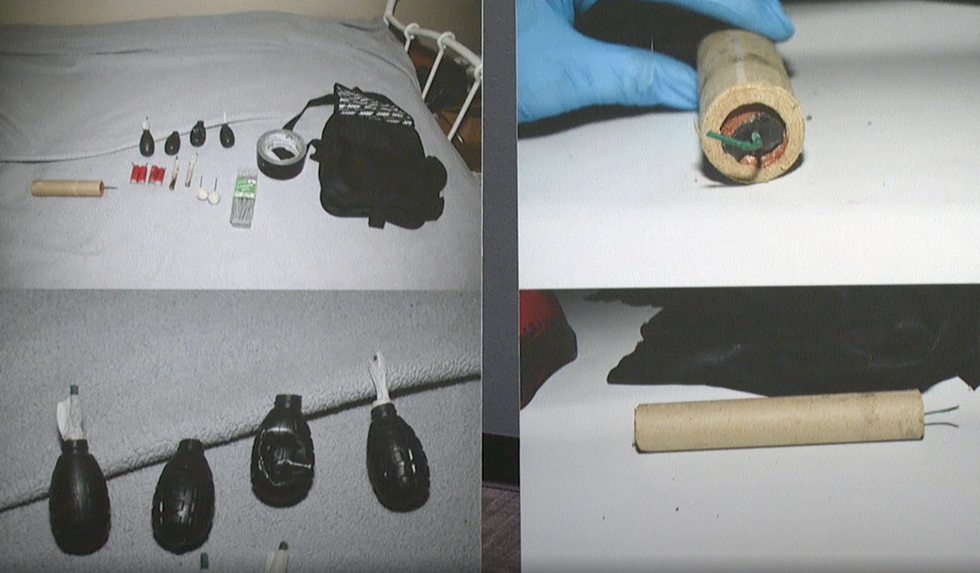 Pinellas County Sheriff's Office
Pinellas County Sheriff Bob Gualtieri said there was a black helmet in the backpack that has "logos that have been seen in protests by groups in Oregon and other places of the country."
According to Smith's family, he traveled to Portland, Oregon, and returned several months ago, Gualtieri said.
The helmet appeared to have three red arrows with a circle around them painted on it.
Writer Chris Tomlinson explained the origin of the "Three Arrows" symbol:
The Three Arrows, the symbol of the Eiserne Front (Iron Front), originate in Weimar Germany and were adopted by the Social Democrats (SPD) to fight the Nazis, Communists (who they rightfully saw as puppets of the Soviet Union) and Monarchists who wanted the Kaiser to return.

The Iron Front were a paramilitary organization that believed in violence.

More recently the Three Arrows have been adopted by the US Antifa movement.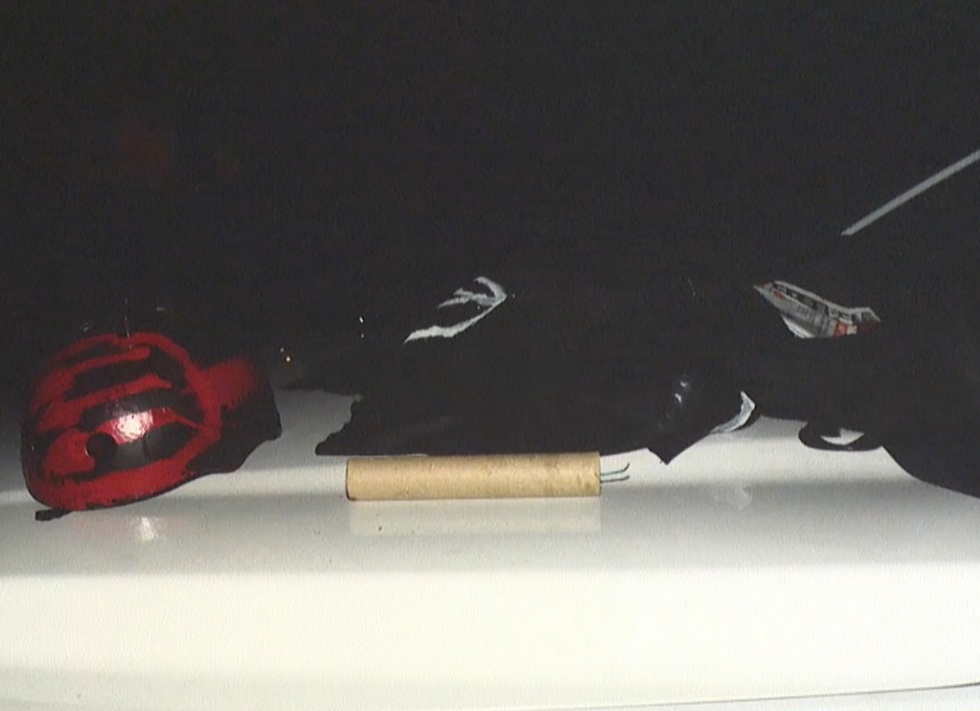 Pinellas County Sheriff's Office
There was also a "Direct Action Checklist" in the backpack. The handwritten checklist has three categories: "Clothing," "Armor," and "Gear."
The list recommended wearing all black clothing, a balaclava, gloves, a black helmet, shaded goggles, a gas mask, knee pads, elbow pads, a sports chest plate, and a personal shield. The checklist also listed other questionable items such as smoke rockets, zip ties, duct tape, a black umbrella, black balloons, flammable rags, matches, a slingshot, pepper spray, a collapsible baton, construction nails, laser pointer, road flares, and binoculars.
Many of these items are synonymous with what Antifa members have used during protests and anti-government riots.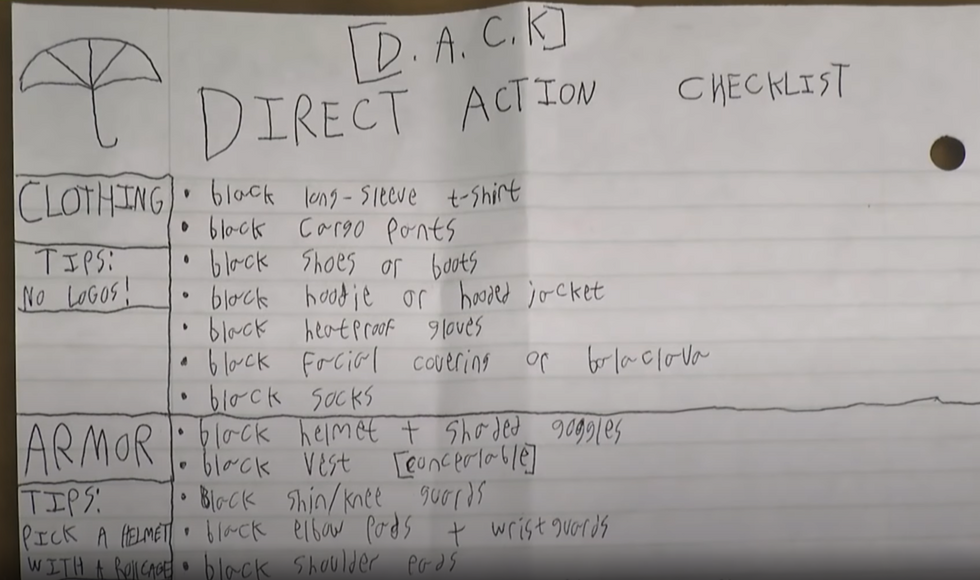 Pinellas County Sheriff's Office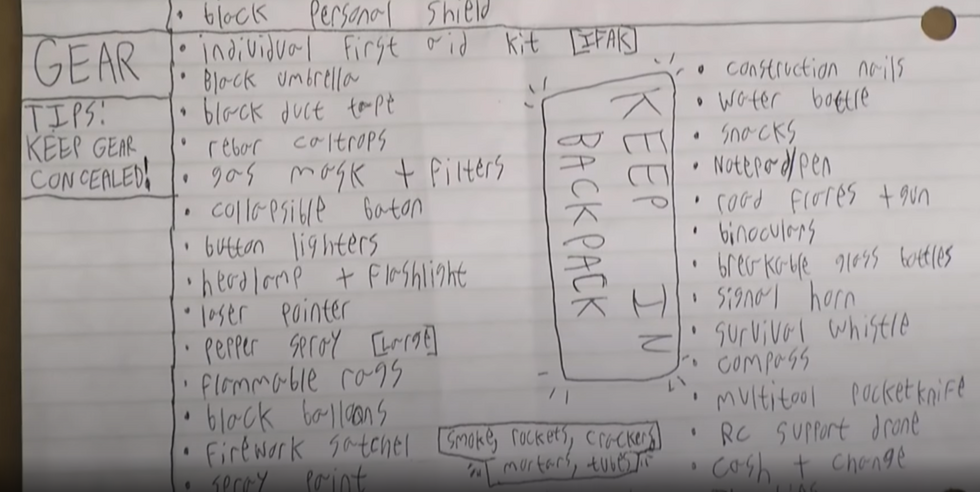 Pinellas County Sheriff's Office
Authorities searched Smith's residence in Oldsmar, Florida, where he lives with his parents. The search found more explosive devices, as well as tape and nails for use in grenades.
"Bomb squad investigators from the Hillsborough County Sheriff's Office and the Tampa Police responded to the home and determined the devices were homemade IEDs," The Post Millennial reported.
Gualtieri said during a Friday press conference, "Smith refused to give any information, he refused to talk to deputies, so we really have no idea as to what his political leanings are and whether he supported or opposed the protesters at the jail. We also don't know exactly what his plan was or why Smith was running away from the protest area when he was apprehended by deputies and before he had an opportunity to detonate the explosive device."
However, The Post Millennial noted, "The arrest affidavit lists 'ANTIFA' and anti-government violent extremism as aggravating factors in his arrest."

Smith — who does not have a criminal history — was charged with three counts of making and possessing a destructive device and one count of loitering and prowling. He is being held on a $300,250 bond.
"Smith has no criminal history, no social media accounts that we can find, and there's no prior intelligence information about Smith," Gualtieri said. "Smith is what we call a 'sleeper,' and these are the most concerning individuals because there's no opportunity to intervene and thwart their criminal activity until they actually act."

"We're fortunate in this situation that something caused Smith to flee before he ignited the explosive device and the deputies were able to apprehend him," Gualtieri added.
PCSO Press Conference January 7, 2022www.youtube.com