A Florida sheriff said in no uncertain terms that homeowners in his county are "more than welcome to shoot at" all those who break into their houses.
"We prefer that you do, actually," Santa Rosa County Sheriff Bob Johnson said at a Thursday press conference.
What are the details?
Johnson had been briefing the media on the arrest Wednesday of Brandon J. Harris — a "frequent flyer" crook with long rap sheet. Johnson said his outfit's first "interaction" with him took place when Harris was just 13 years old.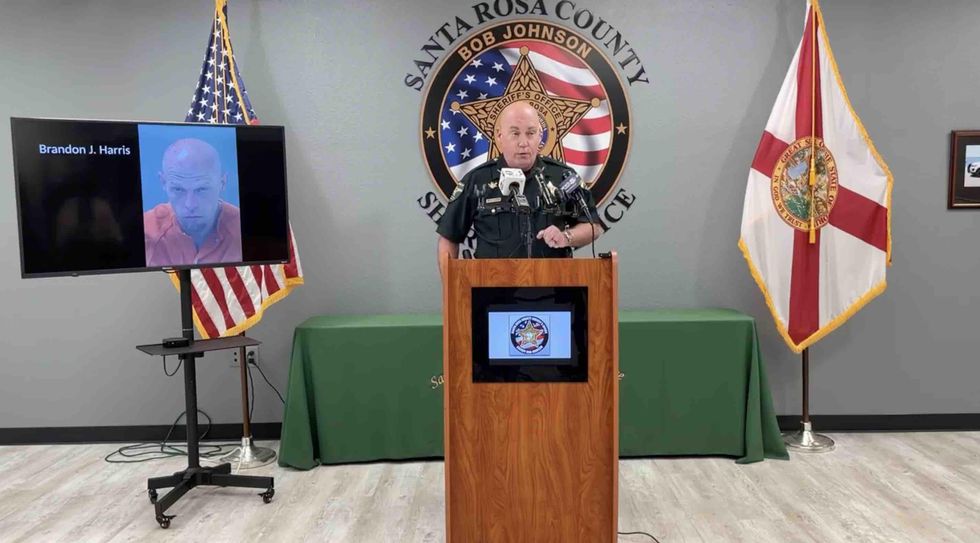 Image source: Facebook video screenshot via Santa Rose County Sheriff's Office FL
Johnson said authorities got multiple calls after 4:30 p.m. about a suspicious person in a Pace neighborhood, and the sheriff said Harris broke into several residences.
About 40 minutes later, Johnson said Harris broke into a home — but the homeowner fired a gun at Harris multiple times without hitting him, and Harris remained on the loose.
Johnson said Harris broke into yet another home, and authorities captured him when Harris jumped through a window's glass after he was cornered in a bedroom.
At the time of his arrest, Harris was wanted on two felony warrants and one misdemeanor warrant, the sheriff said. For this latest run-in with the law, Harris was charged with felony attempted burglary with assault, two counts of felony burglary to an occupied dwelling, felony burglary to an unoccupied dwelling, resisting arrest without violence, criminal mischief, and attempted larceny. His bond was set at $157, 500.
Open season declared
"We don't know which homeowner shot at [Harris]. I guess they think that they did something wrong, which they did not," Johnson said. "If somebody is breaking into your house, you're more than welcome to shoot at them in Santa Rosa County. We prefer that you do, actually."
Johnson added, "Whoever that was, you're not in trouble. Come see us. We have a gun safety class we put on every other Saturday, and if you take that, you'll shoot a lot better and hopefully save the taxpayers money."
He also noted that "if somebody's breaking into your house, you've got all the right in the world to defend yourself. Of course [Harris] didn't get hit, and now we've gotta pay for him."
Anything else?
Johnson said Harris chased a woman into her house during Wednesday's incident, but fortunately the woman — who had kids inside the home — locked the door just before Harris got to it and began pulling on it.
Johnson said Harris has been arrested 17 times, the Miami Herald reported.
Pace is in Florida's panhandle about 15 miles north of Pensacola, the paper added.