Outspoken liberal late-night TV host Jimmy Kimmel took time out of his Tuesday program to let outspoken leftist Hollywood heavyweight George Clooney mock the administration of President Donald Trump and climate change skeptics as "dumbf***ing idiots."
Kimmel — who's no stranger to waxing political during his monologues — said the Trump administration has attempted "everything they can to do nothing about climate change" and that "they just don't listen to scientists." Kimmel then ripped those who he said see "scientific fact" as "some kind of partisan scare tactic" — and that such a view "endangers all of us."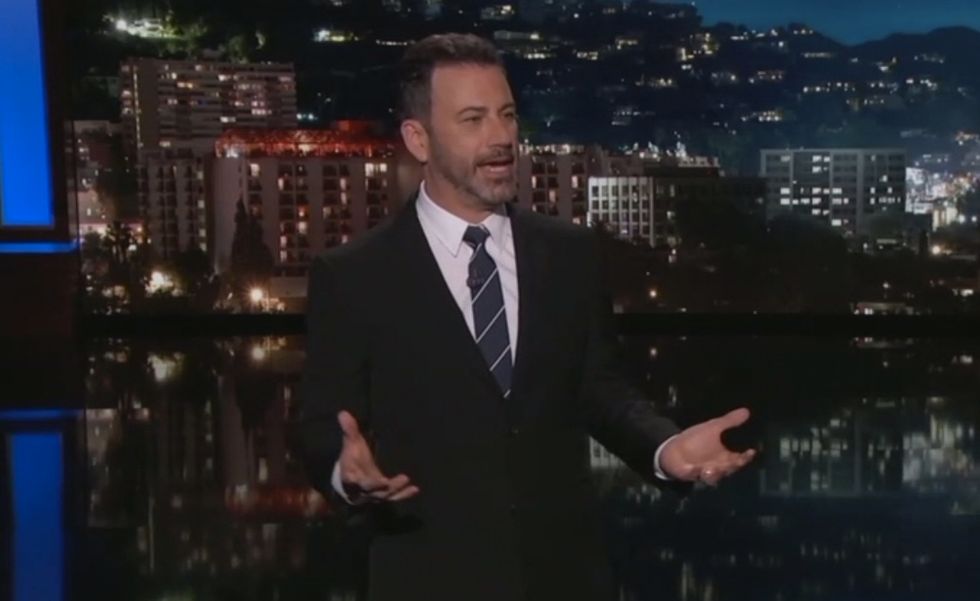 Image source: MRC-TV video screenshot
With that he handed the reins to Clooney who, Kimmel said, is "spearheading a new initiative to raise awareness of this foray into ignorance."
The screen then shifted to Clooney's fake, F-bomb-laden public service message, which also ripped anti-vaxxers and "knuckle draggers" who believe dinosaurs and humans existed "at the same time."
What else did Clooney say?
Clooney — a star used to speaking his mind — said that "volumes of invaluable knowledge gathered over centuries are now threatened by an epidemic of dumb f**ing idiots saying dumb f***ing things."
Following an unflattering clip of Trump — among our "most stable geniuses" — Clooney then said "rampant dumbf***ery now threatens our health, our security and our planet. Fortunately, there is hope at United to Defeat Untruthful Misinformation and Support Science — UDUMASS."
He added that "just $20 will convince one [bleep] idiot that climate change is real; $50 will teach five brainless [bleep] to vaccinate their kids, and $200 will convince 10 [bleep] knuckle draggers that dinosaurs existed but not at the same time as people."
Clooney concluded by saying "together we can win the fight against dumbf***ing idiots, but we can't do it alone ... Don't be a [bleep]ing idiot. The world needs your support, you dumbass."
(H/T: NewsBusters)