© 2023 Blaze Media LLC. All rights reserved.
Guerrilla political artist Sabo speaks out after lighting up American Airlines in anti-woke poster campaign
Guerrilla political artist Sabo has taken American Airlines to task over its woke policies and leftist posturing via a series of incendiary posters plastered around Dallas' American Airlines Center.
Fans making their way to the Jake Paul and Nate Diaz boxing match at the arena were confronted Saturday in Victoria Park and elsewhere around the city's downtown with Sabo's signature sardonicism.

One set of posters showed the two fighters with the caption, "Woke air presents," providing "He/Him" pronouns below the fighters' names along with a note that "American Airlines Center's policy is gender inclusive."
Sabo
Another set of American Airlines-targeted posters read, "We have first class, business class, and woke class, where your middle seat can identify as a window seat."
Right outside the arena was a poster depicting a transvestite in a pilot's costume with the caption, "Welcome to woke American Airlines! My pronouns are he/she/it/lost/baggage."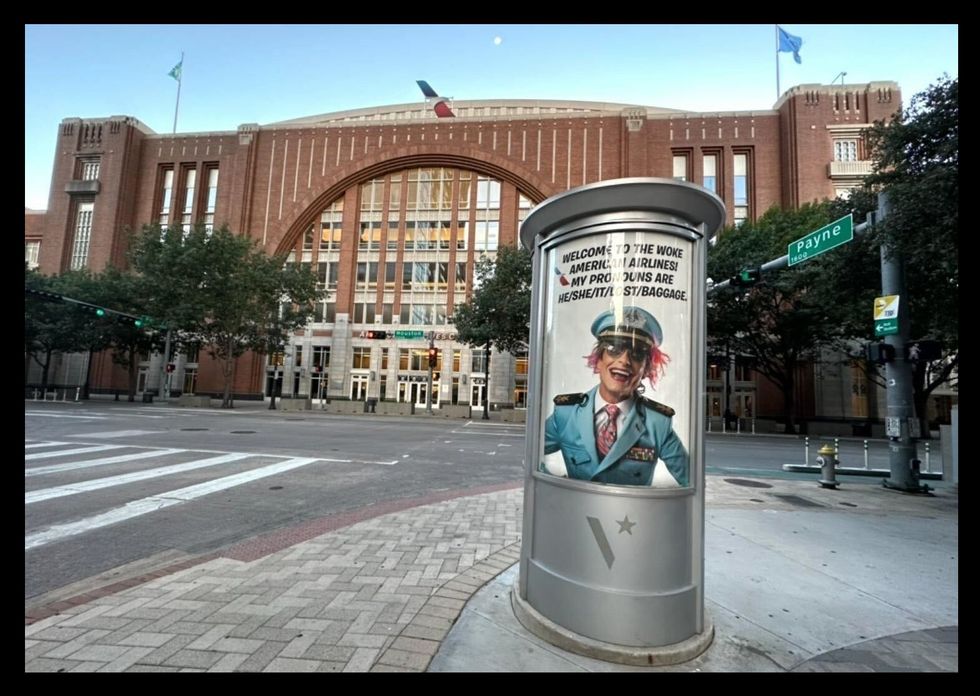 Sabo
Sabo's play on the company's embrace of made-up pronouns is in reference to American Airline's 2019 policy allowing customers to identify as non-binary with corresponding "U" or "X" designations when flying.
To ensure its employees are up to date on the latest in gender ideology and activistic language, USA Today indicated the airline has worked with the Trevor Project, an activist group that claims that "gender is a social construct" and holds fast to the notion that sex-change mutilations and cross-sex hormone therapies can be meaningful remedies for at-risk teens.
In addition to its active promotion of radical gender ideology and partnership with activist outfits like the Human Rights Campaign and the National LGBT Chamber of Commerce, American Airlines has thrown around its weight and reputation to see conscientious objectors to the LGBT agenda crushed.
For instance, in 2017, the airline joined 36 other corporations in an amicus brief in the Supreme Court's Masterpiece Cakeshop v. Colorado Civil Rights Commission case, endorsing the principle that would see a Christian baker forced to make a "gay wedding cake" in violation of his own conscience.
Sabo told TheBlaze that he has "absolutely no problem" with gay or transgender individuals but rather with the "force feeding of this wokeness and transgenderism," particularly in schools, libraries, and by big corporations like American Airlines.
While long critical of leftist overreach and cultural deregulation, the guerrilla artist stressed that what pushed him over the edge was the involvement and targeting of children by LGBT activists — a phenomenon he regards as especially pernicious and worth condemning in no uncertain terms.
Sabo said it's gotten to the point where "I don't care if you're gay or straight, leave the kids alone."
This is hardly Sabo's first rodeo. He has been lampooning leftists and elites in public exhibitions for years.
In 2017, he posted graphics around Los Angeles of a crying late-night talk show host Jimmy Kimmel with the caption, "Estrogen Hour."
The same year, he commandeered a billboard to draw attention to accusations that former Democratic Sen. Al Franken's (Minn.) had inappropriately touched women.
In 2019, he altered a "Once Upon a Time in Hollywood" movie billboard to include the names and faces of rapists Jeffrey Epstein and Roman Polanski.
The guerrilla artist saw fit to hit the streets once more with his politically charged graphics not just because the airline's active advancement of woke ideology couldn't go unanswered, but because the alternative, online memes, just don't have the same impact.
"I can crap out memes all day long," he said. "There's an added bravado and added something to getting it out on the street. ... There is a lot more danger and adrenaline when you put it out on the street versus online."
To ensure success, Sabo went out around 3 a.m. when all the bars were closed and virtually everyone else had gone to bed. In addition to minimizing his chances of an unwanted encounter, this timing allowed for more time for the poster paint to dry.
Still, he claimed he nearly got arrested five times, adding, "How they didn't arrest me is just incredible."
Sabo, who has collaborated with Blaze Media in the past, also plastered a poster downtown Dallas that depicted a plane with a coiled fuselage, like that seen in the promotional material for the 1980 comedy film "Airplane!," with the caption, "If you like old comedies, then you'll love our corporate policies. ... Get woke with American Airlines where diversity comes before safety."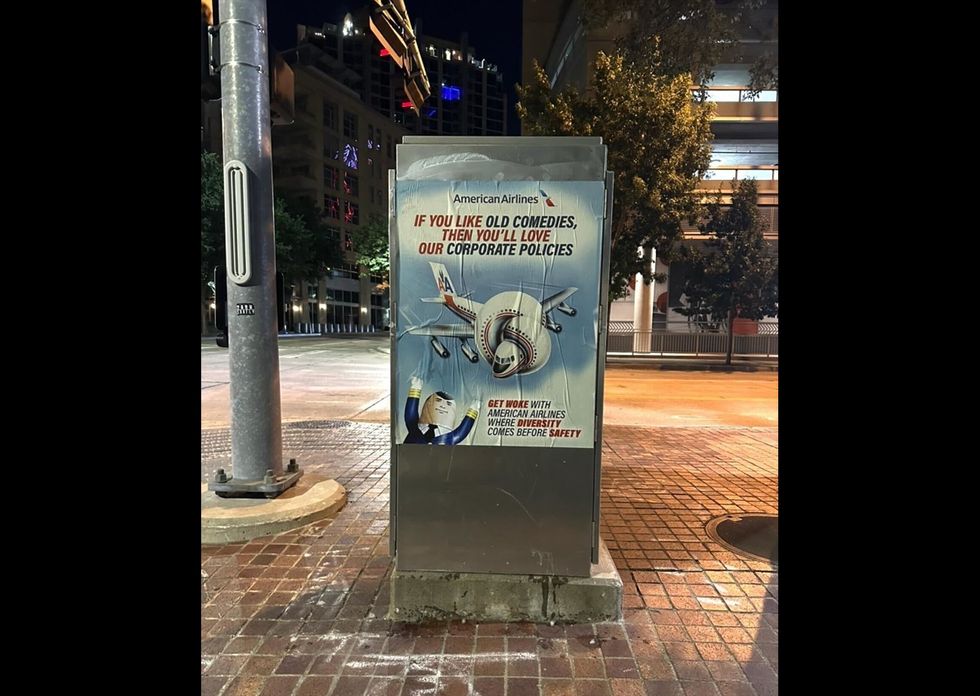 Sabo
In recent years, the airline has set for itself "representation goals," whereby board seats and other key roles at the organization were filled, at least in part, on the basis of applicants' race, sex, and sexual preference.
When pressed on whether identitarian DEI guidelines applied to the hiring of pilots, former CEO Doug Parker answered, "Oh, absolutely, of course," reported the Dallas Express.
Concerning the identity-based hiring scheme, Sabo told TheBlaze, "American Airlines seems to be pulling a woke agenda with their pilots."
"When you want to be gay, that's fine, but when you start making decisions on who you're going to hire based on something as pointless as [sexual preference]," Sabo suggested there's bound to be trouble.
"We kind of want the best pilots regardless of who they sleep with or what plumbing they have," he said.

The airline's current CEO, Robert Isom, has nevertheless committed to "embedding diversity, equity and inclusion" in everything the company does.
Sabo is not the only person vexed by the company's aggressive roll leftward.

Forbes reported that an American Airlines pilot sued the company, Fidelity Investments, and others on June 1 claiming they had violated the Employee Retirement Income Security Act by offering 401(k) plans that include ESG factors.
Brian Spence's complaint alleged that the defendants "have breached their fiduciary duties in violation of ERISA by investing millions of dollars of American Airlines employees' retirement savings with investment managers and investment funds that pursue leftist political agendas through environmental, social and governance ('ESG') strategies, proxy voting, and shareholder activism—activities which fail to satisfy these fiduciaries' statutory duties to maximize financial benefits in the sole interest of the Plan participants."
When asked who or what he intended to target in his next art campaign, Sabo indicated California Gov. Gavin Newsom (D) was a contender, noting, "I truly think that he's going to run for president."
He said the Hollywood script-reader's strike might also be the subject of another campaign.
Like Blaze News? Bypass the censors, sign up for our newsletters, and get stories like this direct to your inbox. Sign up here!
Want to leave a tip?
We answer to you. Help keep our content free of advertisers and big tech censorship by leaving a tip today.
Joseph MacKinnon is a staff writer for Blaze News.
HeadlinesInGIFs
more stories
Sign up for the Blaze newsletter
By signing up, you agree to our
Privacy Policy
and
Terms of Use
, and agree to receive content that may sometimes include advertisements. You may opt out at any time.