A homeowner in Auburn, Washington, shot a man who was trying to steal his car from his driveway Monday morning, police told KCPQ-TV.
What are the details?
A preliminary investigation indicated the homeowner left his car running in his driveway and was in his house near 25th Street SE and Dogwood Street SE when a suspect approached and tried to steal the car around 6:20 a.m., the station said.

KIRO-TV said the suspect got into the vehicle, which was identified as a Toyota Camry.
The homeowner saw what was happening on security cameras, ran outside, and confronted and shot the suspect, KIRO added.
The suspect ran from the home, but police caught him a few blocks away, KIRO noted.
KCPQ said the suspect was taken to Harborview Medical Center for non-life-threatening injuries.

Police have not announced charges and are still investigating the incident, KCPQ added. The homeowner declined to comment on the incident, KIRO said.
Police also are trying to determine if anyone else was involved in the incident, KIRO reported.
"In a lot of situations when it's cold out, like this morning, we do see a ton of car thefts because of cars that are left running," Auburn Police Department Public Information Officer Kolby Crossley told KIRO.
KIRO added that its news crew noticed a car with a "prominent bullet hole in its passenger-side window." KCPQ caught the same sight on video: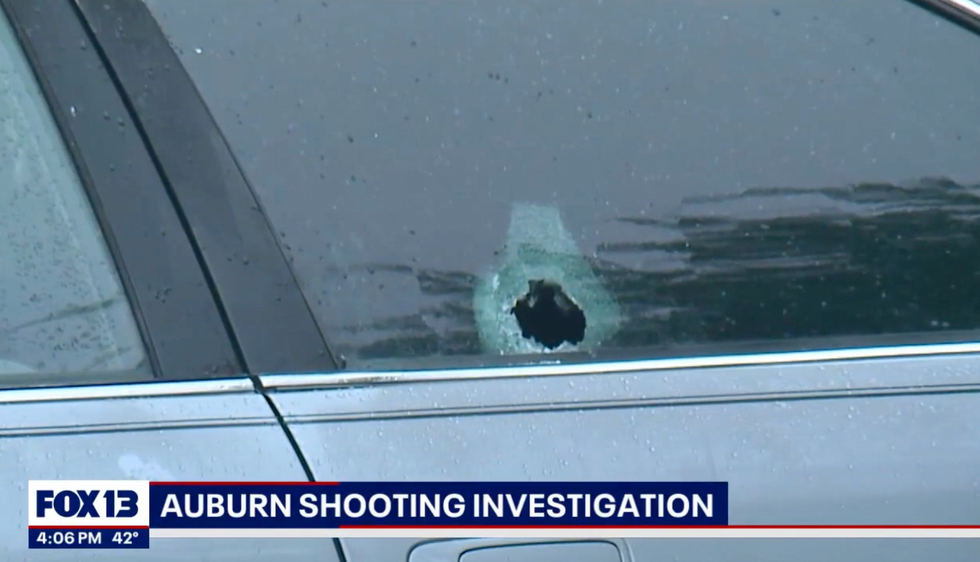 Image source: KCPQ-TV video screenshot
Neighborhood resident Ben Greif told KIRO he heard gunshots and observed some of the police response.
Greif added to the station that he suspected an attempted theft: "We know ... people [are] trying to get into other people's cars to either steal items ... or potentially going for [catalytic] converters or something like that."
Like Blaze News? Bypass the censors, sign up for our newsletters, and get stories like this direct to your inbox. Sign up here!