A man was brutally beaten in an attack recorded on video after he confronted a carload of masked thugs for their dangerous intersection takeover in Oakland, California, over the weekend.
So-called "sideshows" involve drivers peeling out and racing in circles within street intersections while crowds form around the drivers, while everyday motorists are forced to wait. The lawless gatherings have resulted in injuries and deaths.
What happened?
Video shows the beatdown victim during Sunday's sideshow throwing a bucket at one of the cars involved — and as you might expect, the occupants got out and attacked the man:
A separate video shows the full brutal attack as the man is knocked to the sidewalk and repeatedly punched and kicked as a surrounding crowd howls like it's a movie — and, of course, they turn it into one after pulling out their cell phones and recording it.
No one helps the motionless man as blood drips down his cheeks. The viciousness wasn't enough, though: One of the attackers pulls the victim to his knees and kicks him twice in the buttocks.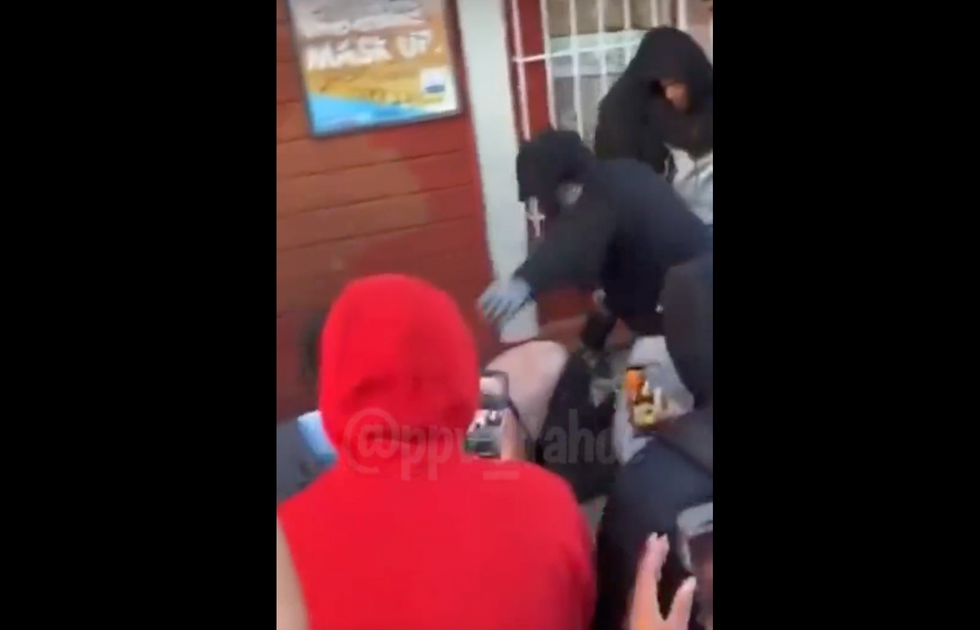 Image source: Twitter video screenshot via @ppv_tahoe
Of course, the sideshow intersection takeover continued.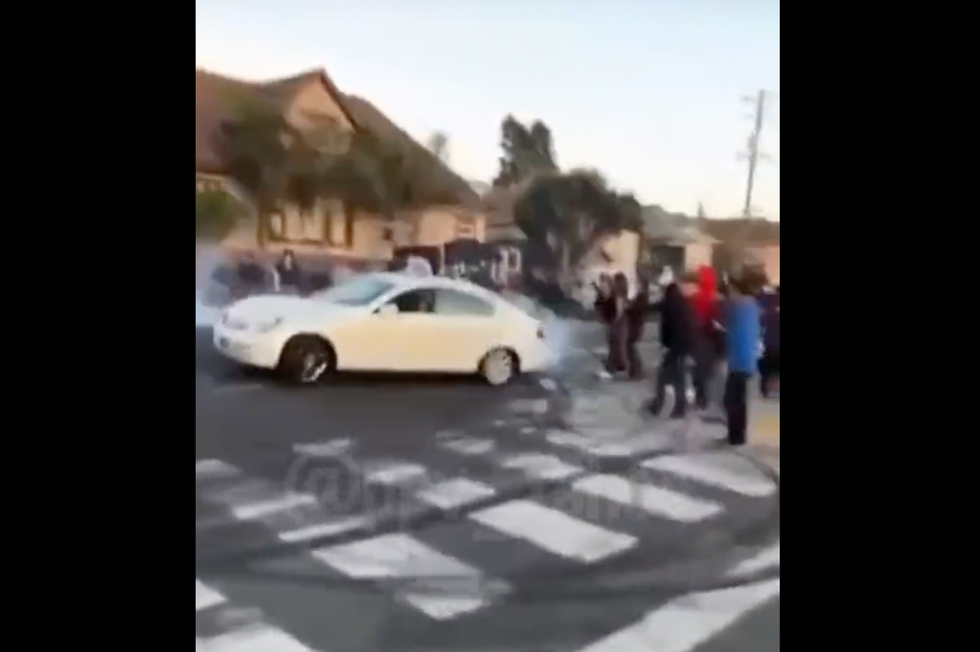 Image source: Twitter video screenshot via @ppv_tahoe
Soon someone yells at the victim, "You got knocked the f*** out!" — and apparently the bucket he originally threw at the car is placed over his head.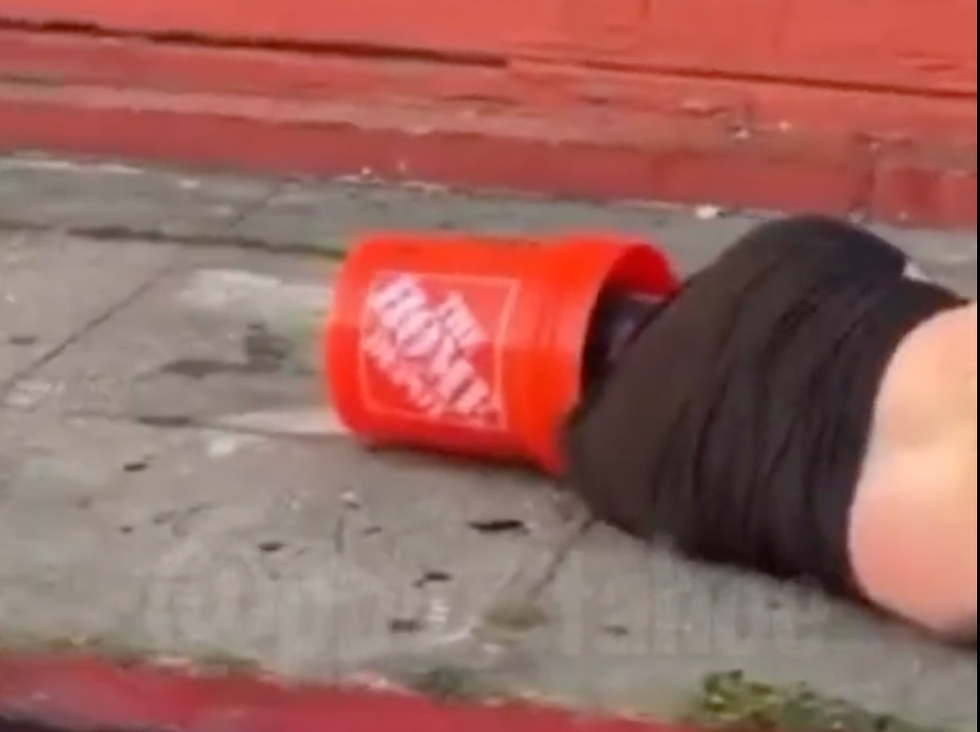 Image source: Twitter video screenshot via @ppv_tahoe
Here's the video of the beatdown. Content warning: Readers may find the attack disturbing; profanity and racial slurs are uttered as well:
What else?
According to KTVU-TV, the attack took place at 34th and Adeline Streets, and the victim's condition could not be confirmed Monday. The station added that Oakland police indicated they are aware of the attack and added that there were numerous sideshows across the city Sunday — which resulted in one arrest, a recovered gun, and a pair of towed cars.
Another sideshow video at the 34th and Adeline intersection shows a skidding red Mustang hitting at least two onlookers as well as fire hydrant, after which water shoots into the air.
Oakland City Councilmember Noel Gallo, who has been trying to crack down on sideshows for years, told KTVU that people shouldn't try to stop the sideshows: "Please do not, you know, interfere. Let the police officers respond to that."
Well, a police vehicle at a different Oakland intersection was recorded on video not dealing with the sideshow participants but instead carefully navigating around them and then leaving the intersection. KTVU said the intersection in question is 42nd Avenue and International Boulevard: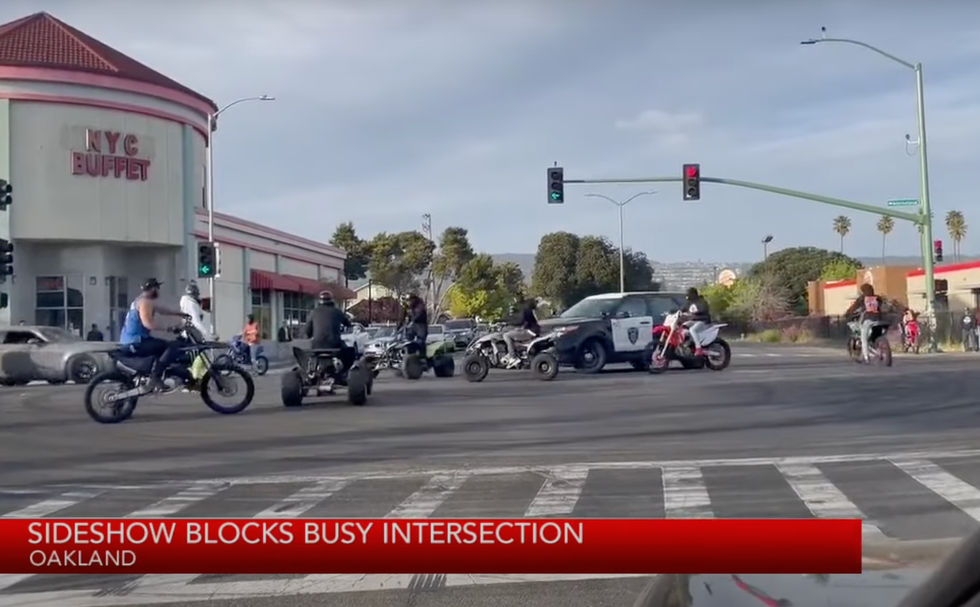 Image source: YouTube screenshot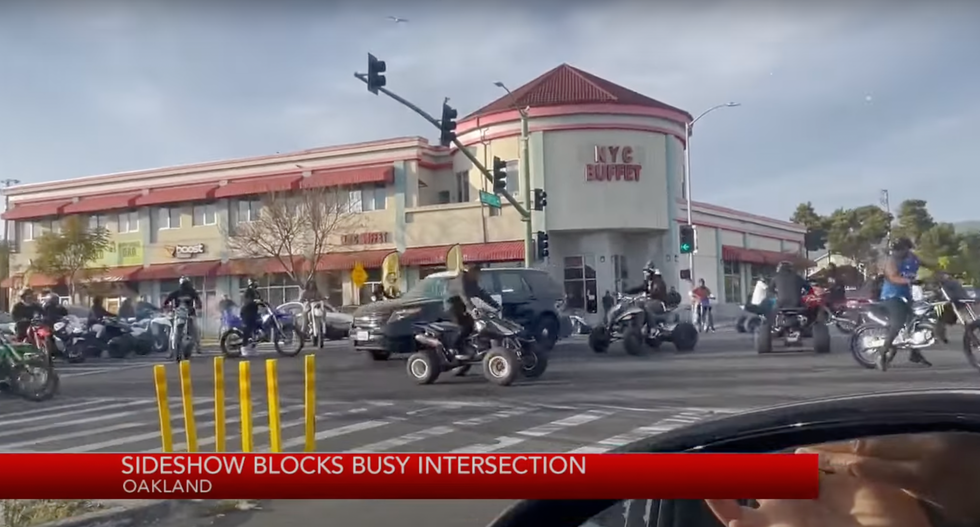 Image source: YouTube screenshot
A woman who recorded the video of the separate sideshow spoke glowingly about what was described as a "cultural Bay Area phenomenon."
"You know, after the fact, you're like, 'Oh my God. I saw this. This is great. This is Oakland." She added, however, that innocent bystanders do pay a price for it.
Oakland sideshow blocks busy intersectionyoutu.be
Anything else?
Police also told KTVU they are investigating an assault against a driver during Sunday's International Boulevard and 42nd Avenue sideshow.
Councilmember Gallo added to the station that "we're not trying to criminalize, we're trying to protect the residents of Oakland. We're just trying to enforce the laws that we have and make it not only safe for the community, but also safe for the individuals that are involved in the sideshow."
Oh, and an April 23 sideshow on the Bay Bridge brought traffic from Oakland to San Francisco to a standstill as about 100 motorcyclists popped wheelies and did donuts across all bridge lanes, KTVU said.
Sideshow shuts down Bay Bridgeyoutu.be
Like Blaze News? Bypass the censors, sign up for our newsletters, and get stories like this direct to your inbox. Sign up here!