Now that the San Francisco school board voted to paint over a historic mural depicting the life of George Washington at a high school bearing the first president's name — as a form of "reparations" over charges that the mural "traumatizes students" and "glorifies slavery, genocide, colonization, manifest destiny, white supremacy, oppression" — hundreds of educators are protesting the move, USA Today reported.
Over 500 academics signed an open letter imploring the board to think twice about its decision, calling it a "gross violation of logic" as the cycle of 13 murals actually represents "a significant monument of anti-racism."
What's the background?
Russian-American painter Victor Arnautoff created the mural series on the walls of George Washington High School before it opened in 1936, and at the time it was the "largest WPA-funded, single-artist mural suite on the Pacific Coast," the Richmond District Blog noted.
But some of the mural's images came under fire during the civil rights movement over its depictions of slavery and Native Americans, the outlet said.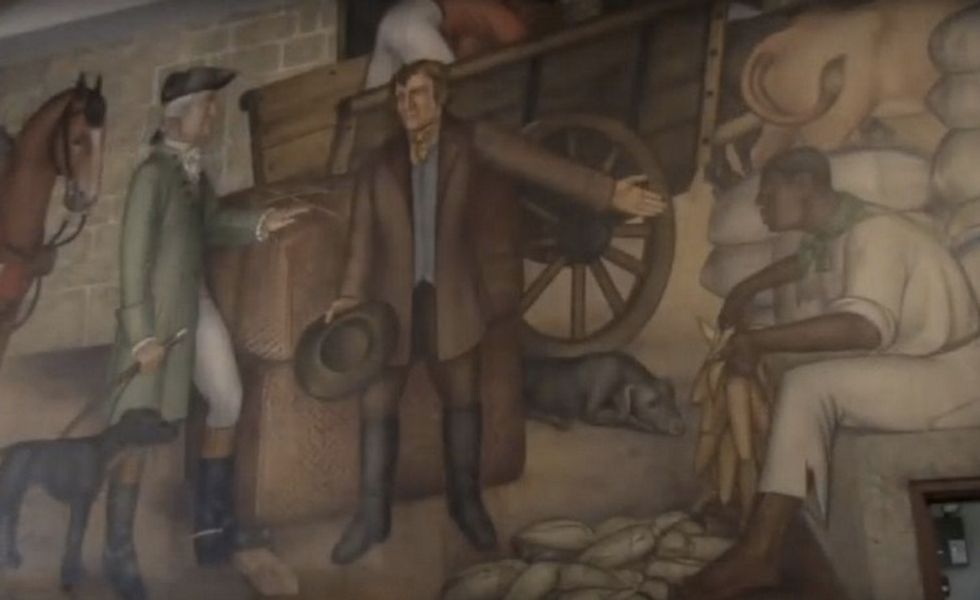 Image source: YouTube screenshot
In one mural, entitled "Mount Vernon", George Washington appears to be in conversation with another Caucasian man who gestures towards a seated African-American man holding corn, presumably a slave. In other parts of the mural, African-Americans are engaged in acts of manual labor like hauling large bales of hay and picking cotton in the fields, while Caucasian men are also laboring at other tasks with tools. Washington's servant, who is pictured holding his horse, is also African-American. The mural is a clear depiction of slavery in the United States, and of George Washington as a slave owner.
The school district created a "Reflection and Action Group" to determine what to do about the mural series after a proposal to designate the high school as a historic landmark, the outlet said, adding that the group eventually recommended it should be removed — i.e., painted over as the mural panels are directly upon the school's plaster walls, the Richmond District Blog said.
The following is the group's statement on the matter, according to the outlet:
We come to these recommendations due to the continued historical and current trauma of Native Americans and African Americans with these depictions in the mural that glorifies slavery, genocide, colonization, manifest destiny, white supremacy, oppression, etc. This mural doesn't represent SFUSD values of social justice, diversity, united, student-centered. It's not student-centered if it's focused on the legacy of artists, rather than the experience of the students. If we consider the SFUSD equity definition, the "low" mural glorifies oppression instead of eliminating it. It also perpetuates bias through stereotypes rather than ending bias. It has nothing to do with equity or inclusion at all. The impact of this mural is greater than its intent ever was. It's not a counter-narrative if [the mural] traumatizes students and community members.
Covering the mural could take a year and cost $600,000, KQED-TV reported.
Educators speak out
Stanford University art professor Enrique Chagoya told USA Today that Arnautoff's artwork actually critiques Washington and challenges his legacy by depicting him as a slave owner and linking him to attacks against indigenous people for westward expansion.
Rachael Z. DeLue, a Princeton University professor of art history and American studies, told the paper the mural shouldn't be erased.

"If we cover it up and we whitewash it, not only are we doing a disservice to history, but we're also doing a disservice to those who suffered at the hands of European-descended Americans: slaves and Native Americans who were traumatized and killed," DeLue added to USA Today. "It's also the case that this isn't simply of the past. The legacies of slavery and federal policy about Native Americans live on in the present."
Paul Von Blum, senior lecturer in African American studies and communications studies at University of California, Los Angeles, noted to the paper that students should toughen up.
"I know it causes students to cringe, but that's the function of art," Von Blum told USA Today. "And art should never be censored."
What are some alternatives to the mural's destruction?
Some of the petition signers told the paper that detailed descriptions and the artist's background and intentions should be added to the mural. DeLue added to USA Today that blinds could cover the mural and then be raised during educational discussions.
"One cannot teach history, American history or world history, without confronting violence and trauma," DeLue noted to the paper. "But that doesn't mean that students have to be bombarded with it. So the solution, I think, would involve acknowledging the right of a Native American or African American student to be upset by it."
Views seemed quite different just a few years back
In 2010, the San Francisco Arts Commission posted a video on restoring the school's artwork — including the controversial George Washington mural panels — and officials in the clip seemed to be in favor of preserving history rather than destroying it.
Former Principal Ericka Lovrin said "the grandeur of these murals" is "fantastic," and that many students are "very, very proud" of them and "so happy that they're being preserved."
Mural Restoration at Geo. Washington H.S.youtu.be