© 2023 Blaze Media LLC. All rights reserved.
'I knew what I had to do, and I just did it': Customer shot while wrestling gun from armed robber in Circle K
Dalton Wheeler was in the middle of his pre-work routine Friday — buying a Red Bull from the Circle K on Cherry Road in Rock Hill, South Carolina, and catching up with the clerk, Miss Kathy, WBTV-TV said.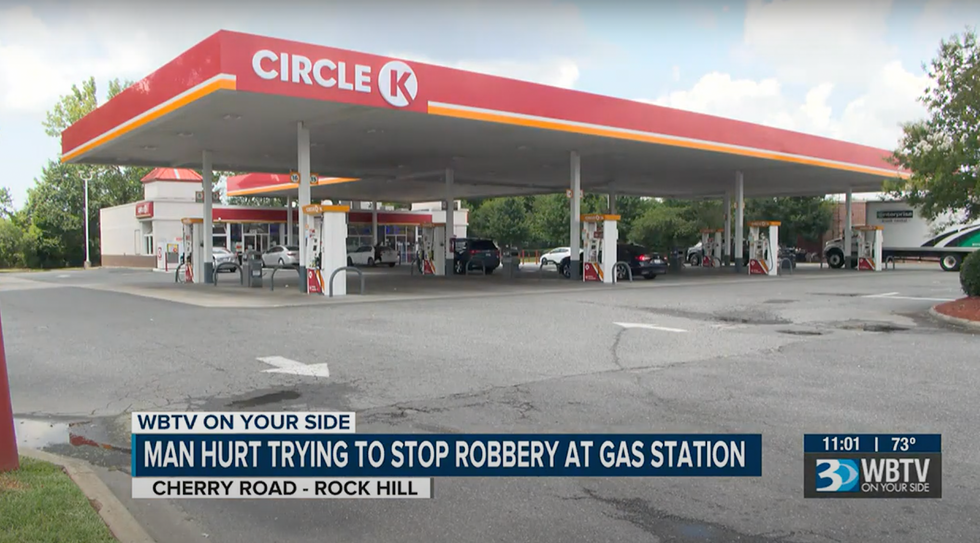 Image source: YouTube screenshot
"We crack jokes all the time," Wheeler told the station. "Sweet lady."
Wheeler said he was outside the store when he noticed a suspicious-looking man heading inside, WBTV said, citing Rock Hill police.
"I see the guy come around the corner in all black — black hoodie and a black face mask," Wheeler recounted to WSOC-TV.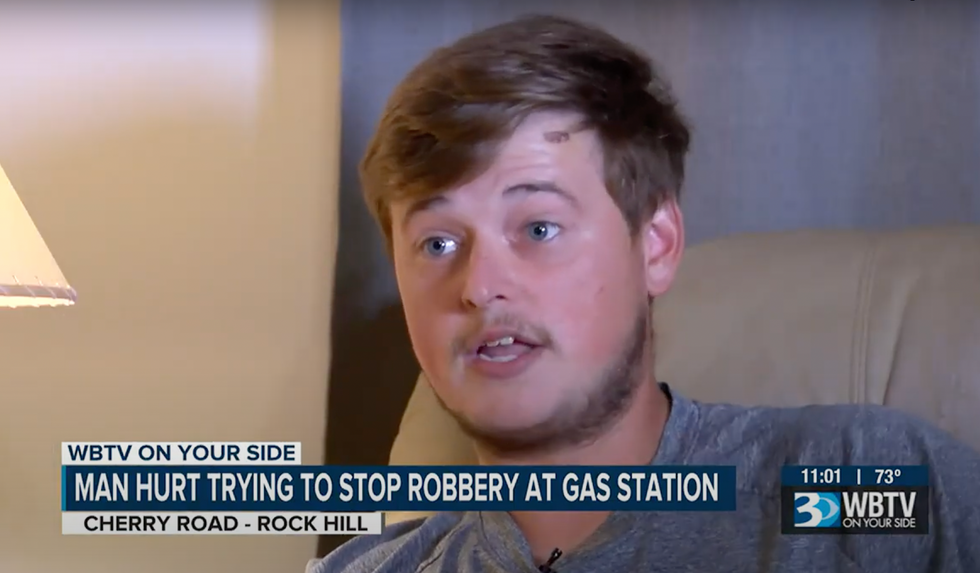 Image source: YouTube screenshot
That man, identified as 18-year-old Richard Stayberg, was at the register where the clerk was retrieving money to hand over to him, officers told WBTV.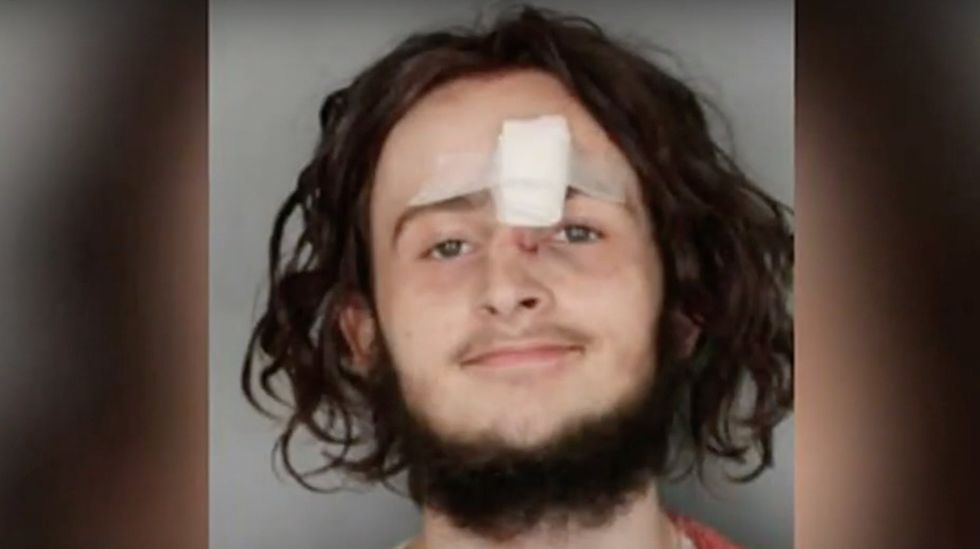 Image source: YouTube screenshot
So Wheeler headed back inside the store. "I wasn't fearful, I wasn't scared — I was ready," he told WBTV.
"I just walked up to him like I'm going to get behind him in line and buy what I'm going to buy, and then I just clothesline him," Wheeler told WSOC. "I get him on the ground, and then I turn around and look at [the clerk] and I said, 'Did I do the right thing?' And she's like 'yes,' and immediately emotions just dropped."
Police added to WSOC that the suspect pulled a gun from his waistband, and as the pair fought over the weapon, Wheeler was shot twice. Police told WBTV said Wheeler was found with wounds to the hand and buttocks.
"I knew what I had to do, and I just did it," Wheeler added to WBTV.
What happened next?
Stayberg left the store, but officers soon found him nearby, WBTV reported, adding that he was charged with armed robbery, assault and battery of a high and aggravated nature, and possession of a weapon during a violent crime.
"I didn't even break a bone in my hand," Wheeler told WSOC of his wound there. "I was shot with a very high-caliber pistol. My hand should be shattered and gone, but it has full function."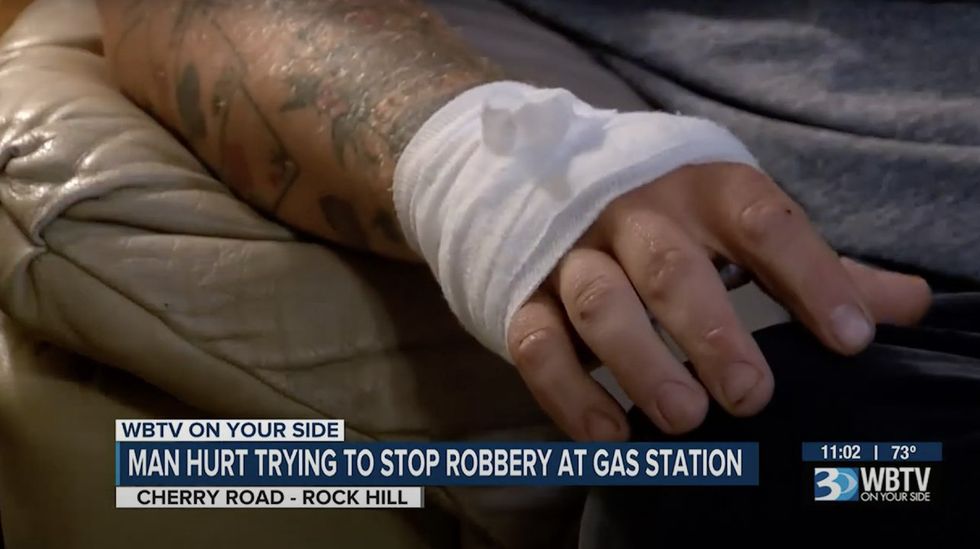 Image source: YouTube screenshot
Wheeler's fiancee, Mary Jo Harrison, told WBTV that their 4-year-old son Wyatt "definitely sees his daddy as a hero."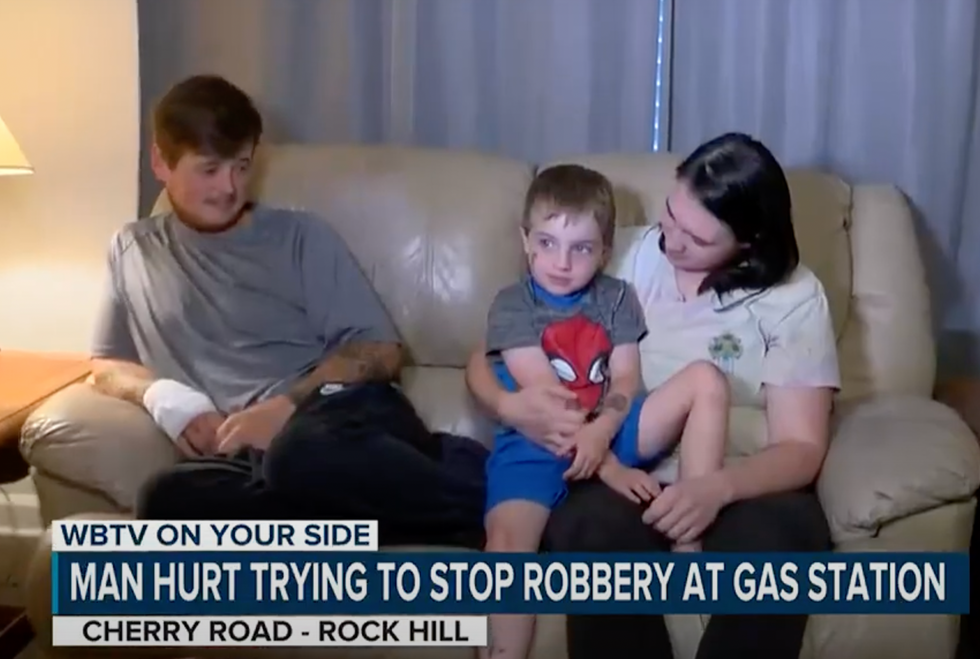 Image source: YouTube screenshot
Harrison also began a GoFundMe page to help with expenses as she said Wheeler will be out of work for an "unknown amount of time" as he recovers. In addition, she said their "rent is due the first, also power bill, and food expenses, and our son starts school in fall."
Man Hurt Trying To Stop Robbery At Rock Hill Gas Stationyoutu.be
Like Blaze News? Bypass the censors, sign up for our newsletters, and get stories like this direct to your inbox. Sign up here!
Want to leave a tip?
We answer to you. Help keep our content free of advertisers and big tech censorship by leaving a tip today.
Sr. Editor, News
Dave Urbanski is a senior editor for Blaze News.
DaveVUrbanski
more stories
Sign up for the Blaze newsletter
By signing up, you agree to our
Privacy Policy
and
Terms of Use
, and agree to receive content that may sometimes include advertisements. You may opt out at any time.