© 2023 Blaze Media LLC. All rights reserved.
Inconsistent treatment of Steven Crowder on YouTube raises concerns about censorship and manipulation
Let's start with the obvious: Internet search algorithms can be complex things that are affected by a number of different factors. The particulars of those algorithms are a "secret sauce" that no company will fully disclose for trade secret reasons.
However, even with all of that being said, YouTube's handling of searches related to late night comedian Steven Crowder ought to raise some eyebrows, at the very least.
Here is the back story: Crowder's YouTube channel has more than 4 million subscribers, making it one of the more widely subscribed channels on YouTube. The "Change My Mind" episodes, in particular, have been some of the most widely watched videos on YouTube. For instance, the "Only 2 Genders" episode has about 32 million views, and "I'm Pro-Gun (2nd edition)" has more than 14 milion views.
The trouble began when Crowder and his team noticed that if you went to YouTube and typed in "Steven Crowder change my mind," YouTube's search algorithm — for reasons that were not clear — did not surface at the top (or anywhere near the top) of the search results any of these videos that have millions and millions of views, despite the fact that the videos literally have all the words "Steven Crowder change my mind" in the titles of the videos.
Moreover, none of the results on the first page of searches went to Crowder's personal YouTube page — a link to subscribe to his page was the seventh search result, but the rest of the results were videos ABOUT Crowder from other channels (including some from us here at BlazeTV, even though our channel is much smaller than Crowder's since we are relatively new entrants to the YouTube market).
Crowder provided screenshots of his search results as of Sept. 30, which matched what I saw when I did this same search earlier this week.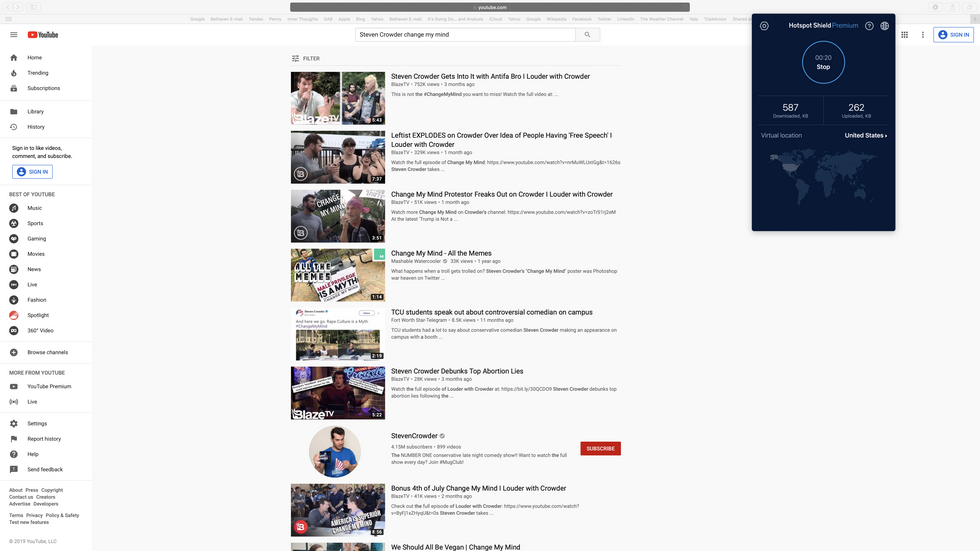 Image source: Louder with Crowder
Let's compare this with what you get if you type in "How it should have ended," which is the name of another popular YouTube channel: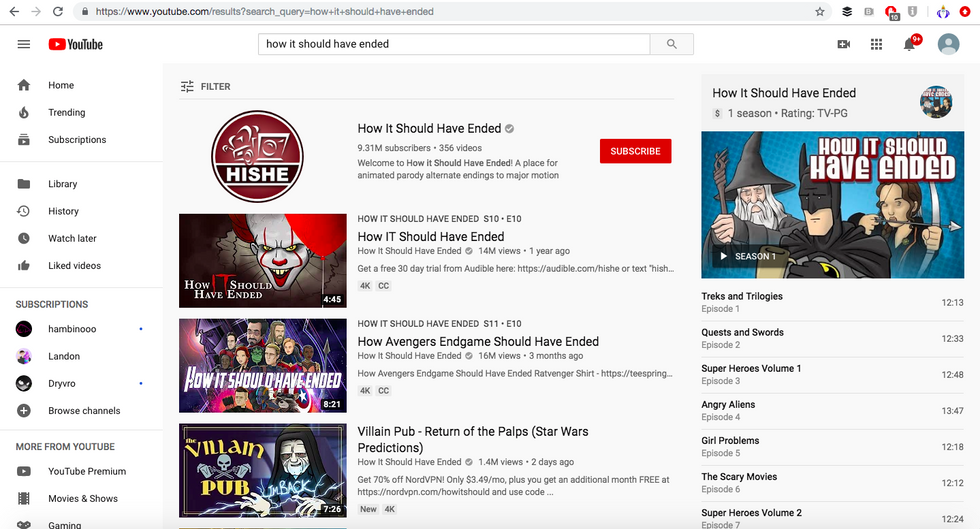 Image source: Screenshot of YouTube search results from October 4, 2019
Immediately at the top is a link to subscribe to the channel, and ALL of the rest of the top results are from THEIR channel — even though none of their videos have as many views, as, say "There Are Only 2 Genders." You have to scroll down before you start getting results that are not from their channel.

Same thing if you do a search for BlazeTV personality "Lauren Chen" — you get a subscribe link to her page at the very top, followed by videos directly from her page, followed by videos about her from other channels (including some from BlazeTV). Interestingly, for Chen, YouTube's search results prioritize videos from her channel OVER this video from PragerU that is ABOUT Lauren, which appears to have the most views of any in the search results.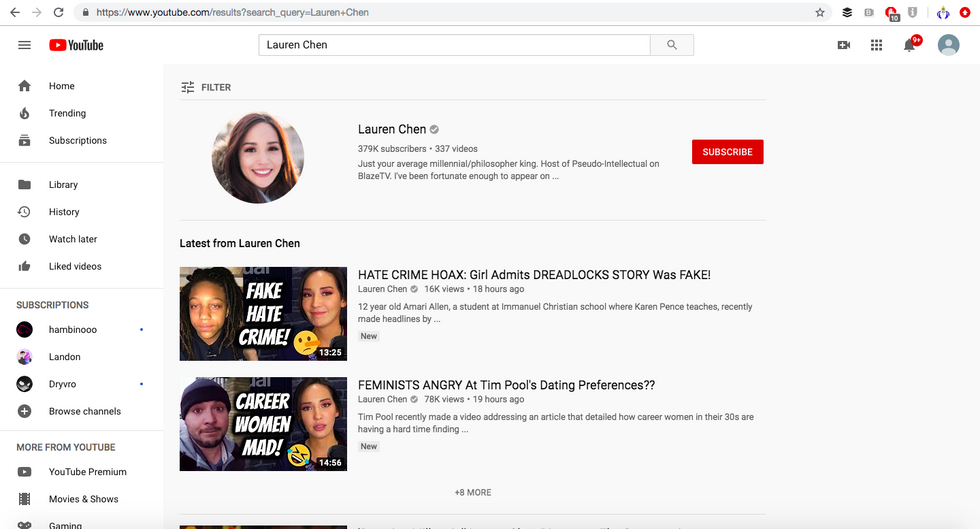 Image source: Screenshot of YouTube search results as of October 4, 2019
In other words, YouTube's search algorithm understands, when it comes to "How it Should Have Ended" and Lauren Chen, that if you search for the name of a major YouTube content creator, you're probably looking for videos they created. You might well want to see videos about them and not by them, but those videos are lower priority in search results ... even if they have more views.

But not when it comes to Crowder. As of Sept. 30, the search results seemed to actually exclude results from Crowder's own channel, at the expense of prioritizing content from other channels, even though none of that content had even close to the number of views that the average ACTUAL "Change my Mind" videos has.
Bizarrely, as Crowder noted, this applied only to search results in the United States, as searches performed via VPN to Argentina yielded search results that look more or less like you would expect them to look.
Then Crowder started complaining. He tweeted about the problem, wrote about it at Louder With Crowder, and recorded a video about it. And now, like a switch has been flipped, this is what the search for "Steven Crowder change my mind" looks like: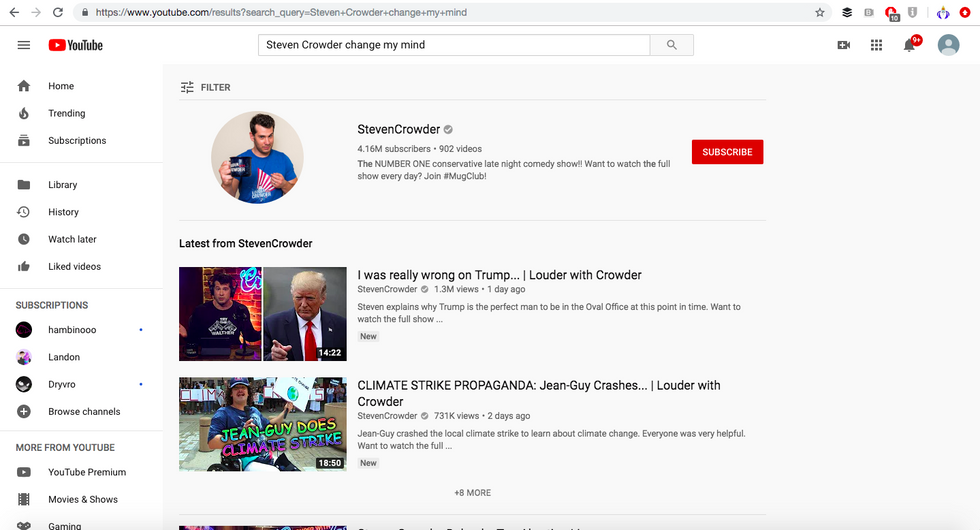 Image source: Screenshot of YouTube search results as of Oct. 4, 2019
Pretty miraculous, huh? However, even though the top content is now actually from Crowder's channel (and the subscribe button has been moved up), there are STILL no actual "change my mind" results at the top, which means that "Only 2 Genders" and "I'm Pro Gun" — with more than 40 million views between them — are not even VISIBLE in the top page of search results.

In fact, before you get to the first actual "Change My Mind" episode, you have to scroll through a bunch of videos that are critical of Crowder that have paltry numbers of views, like this Fort Worth Star-Telegram video from 2018 about people protesting Crowder's appearance at TCU — a video that still has fewer than 10,000 views as of the time of writing this article.
It goes without saying that the number of views is not the be-all, end-all, but it IS a pretty good indication that people find the given video relevant to their interests, and you would assume that it would enter prominently into a search algorithm's calculus.
Obviously, the handling of these results raises some questions. So I reached out to Google and asked them three questions (verbatim):
Although I did not take a screenshot myself, the screenshot provided here of how searches looked for these terms as of September 30th looks identical to what I saw when I performed these searches myself earlier this week. Do you dispute or have reason to dispute that the screenshots here were accurate representations of the search results in question as of September 30th?
Do you have an explanation for why searches for these terms look so different now, after Mr. Crowder began to complain about the issue?
DO you have an explanation for why results for the same searches look so different when the search is performed overseas?
In response, YouTube spokesperson Ivy Choi emailed me the following statement:
Users who search for a specific channel or person are not always looking for videos from that person — they may be looking for videos about that person. That is why our algorithms may display a variety of content, including the channel page, videos about the person from other sources and the latest uploads from the channel. As always, users that want to watch videos from a specific channel can click on the channel's page at the top of the search results.
While it is technically a response, you will note that it is not responsive to any of the questions that were actually asked. Nor, for that matter, does it address the fact that Steven Crowder's channel page was NOT at the top of the search results, as of earlier this week. Follow up inquiries were no more successful in obtaining actual answers to the questions that were asked, although YouTube does note that they believe people from different countries may find different content relevant. It is still puzzling, at the least, that results from Argentina look more or less "normal" with respect to Crowder while those from the United States do not.
It certainly appears that Crowder's channel is being treated differently than other, similar content creators by YouTube's search algorithm. And the fact that such a drastic change was effected after Crowder began to complain about the issue proves, if anything, that YouTube can (and sometimes does) put their finger on the scales in certain respects when it comes to certain channels.
Given the massive, filter-down influence that search results have when it comes to disseminating information in the modern world, YouTube users deserve better answers and transparency regarding the search results process than they are currently getting.
Want to leave a tip?
We answer to you. Help keep our content free of advertisers and big tech censorship by leaving a tip today.
Managing Editor, News
Leon Wolf is the managing news editor for Blaze News.
LeonHWolf
more stories
Sign up for the Blaze newsletter
By signing up, you agree to our
Privacy Policy
and
Terms of Use
, and agree to receive content that may sometimes include advertisements. You may opt out at any time.