CNN's chief White House correspondent Jim Acosta — who's gained notoriety through his often excessive questioning of President Donald Trump and being infamously called "fake news" by the commander-in-chief — appears to have all but answered charges that he's biased against Trump in a new book.
Acosta's "The Enemy of the People: A Dangerous Time to Tell the Truth in America" deals with his perceived bias against the president by noting "neutrality for the sake of neutrality doesn't really serve us in the age of Trump," according to The Guardian, reporting that it acquired an early copy of book, which releases June 11.
In the book, Acosta admits to sometimes "grandstanding" and "showboating," the Guardian added, and also that he "opts for the bait" when questioning Trump "which bothers some people."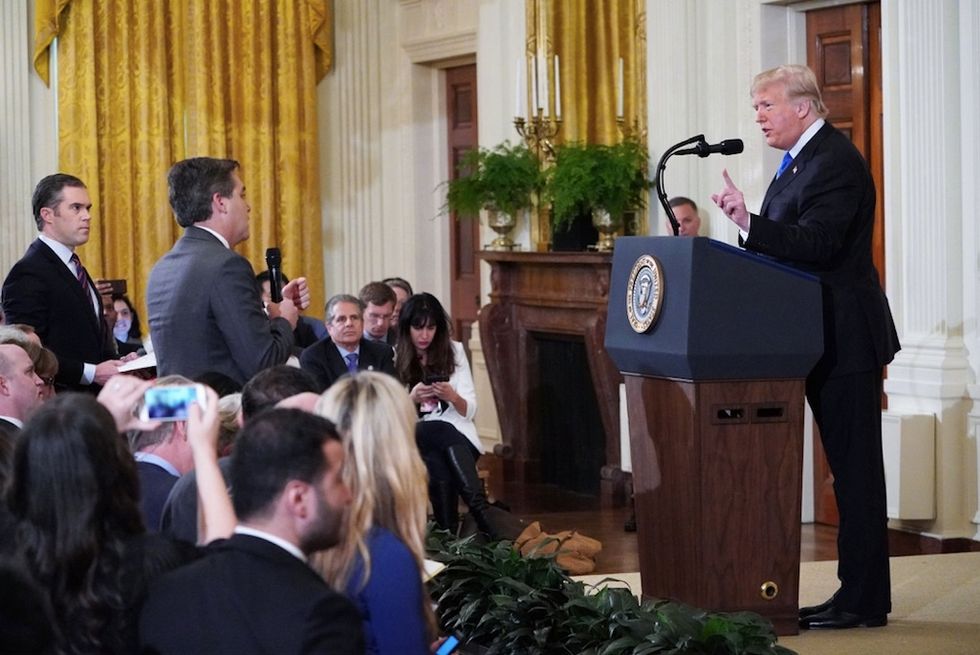 President Donald Trump gets into a heated exchange with CNN chief White House correspondent Jim Acosta as NBC correspondent Peter Alexander looks on during a post-election press conference in the White House on Nov, 7, 2018.MANDEL NGAN/AFP/Getty Images
'It was, in his mind, an act'

In a surprising excerpt, Acosta wrote that, after an early dust-up, close Trump aide Hope Hicks called to say the president wanted him to know he was "very professional today," the paper said.
"He said, 'Jim gets it,'" Hicks was quoted as telling Acosta, The Guardian reported, even though Trump had just referred to Acosta as "fake news" and "very fake news" after being asked about Russian election interference at a February 2017 news conference.
"When he called us 'fake news'," Acosta wrote, according to the paper, "it was, in his mind, an act."
More from the Guardian:

At the start of Trump's presidency, the White House was frustrated by anonymously sourced stories and what it saw as the antagonistic stance of mainstream outlets from CNN and NBC to the Washington Post and the New York Times. Because Republicans controlled Congress and Trump needed an enemy that could be presented as dangerous and effective, Acosta writes, the president decided to attack the media.

The notion that the media was the " enemy of the people" emerged swiftly and caused great consternation among a press corps spooked by virulent abuse at Trump rallies. Acosta cites three unnamed sources who say the controversial line of attack originated with Steve Bannon, then Trump's chief White House adviser.

Acosta's own White House hard pass was revoked in November 2018, after he questioned Trump about his claims of migrant "caravans" from central America; Acosta refused to give up the microphone when pressed by a White House staffer. The confrontation, in which Trump called Acosta "a rude, terrible person," had been brewing for months.
Is Acosta a reporter or pundit?

This week, Fox News cited an unnamed CNN employee as saying, "Jim Acosta is, a lot of times, asking the right questions, but it doesn't always need to be about him and his grandstanding. Acosta is supposed to be a correspondent reporting the facts, but you can't tell the difference between him and a paid pundit," the Guardian added.
Anything else?
Earlier this year, Acosta said Trump's "enemy of the people" rhetoric directed toward certain media outlets and reporters creates a climate in which "journalists can get murdered."
He also compared Trump to a playground bully: "Are we supposed to roll over? Are we supposed to take it? Some colleagues say to just take it, but I'm still thinking about the folks at home, thinking about my own kids, are we supposed to let the bully beat us up at the playground every day?"
A short history of Donald Trump's clashes with CNN's Jim Acostayoutu.be