Former Vice President Joe Biden said that while most of white America doesn't want to admit that systemic racism still exists, it must do so and "root it out," ABC's "Good Morning America" reported.
Biden spoke Monday — Martin Luther King Jr. Day — at a Washington breakfast hosted by the Rev. Al Sharpton and his National Action Network, "GMA" noted.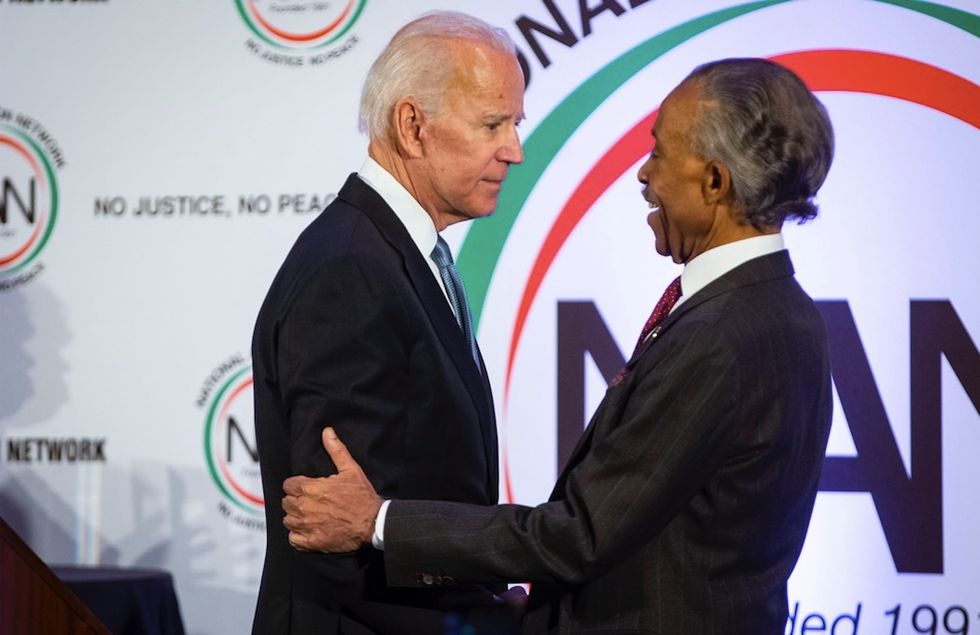 Former Vice President Joe Biden is greeted by Rev. Al Sharpton during the National Action Network Breakfast on Monday in Washington, D.C. Photo by Al Drago/Getty Images
The former vice president pointed to "the systematic racism that most of us whites don't like to acknowledge even exists," noting, "We don't even consciously acknowledge it. But it's been built into every aspect of our system."
He added, "Because when your schools are substandard, when your houses are undervalued, when your car insurance costs more for no apparent reason, when poverty rates for black Americans is still twice that of white Americans ... white America has to admit there's still a systematic racism. And it goes almost unnoticed by so many of us."
Biden recalled a moment that gave him hope for greater racial equality: A ride with former President Barack Obama on their way to being inaugurated.

He remembered "waiting for a black man to come 28 miles from Philadelphia to pick me up and take me on a 128-mile ride to be sworn in as president and vice president of the United States. Don't tell me things can't change!"
Many are wondering if Biden will announce a 2020 presidential run, a decision that likely will place him at or near the top of the growing field of Democratic candidates.
Another potential candidate, former New York City Mayor Michael Bloomberg, had this to say at the breakfast: "Whatever the next year brings for Joe and me, I know we'll both keep our eyes on the real prize, and that is electing a Democrat to the White House in 2020 and getting our country back on track."