© 2023 Blaze Media LLC. All rights reserved.
'I Kissed Dating Goodbye' author attends Pride Parade after leaving Christian faith, announcing divorce from wife of 21 years
'Enjoyed swapping stories, gentleman!'

Joshua Harris — the former pastor and author of "I Kissed Dating Goodbye" — attended a Pride Parade in Vancouver, British Columbia, Sunday after grabbing headlines a month before by leaving his Christian faith and announcing that he and his wife of 21 years are divorcing.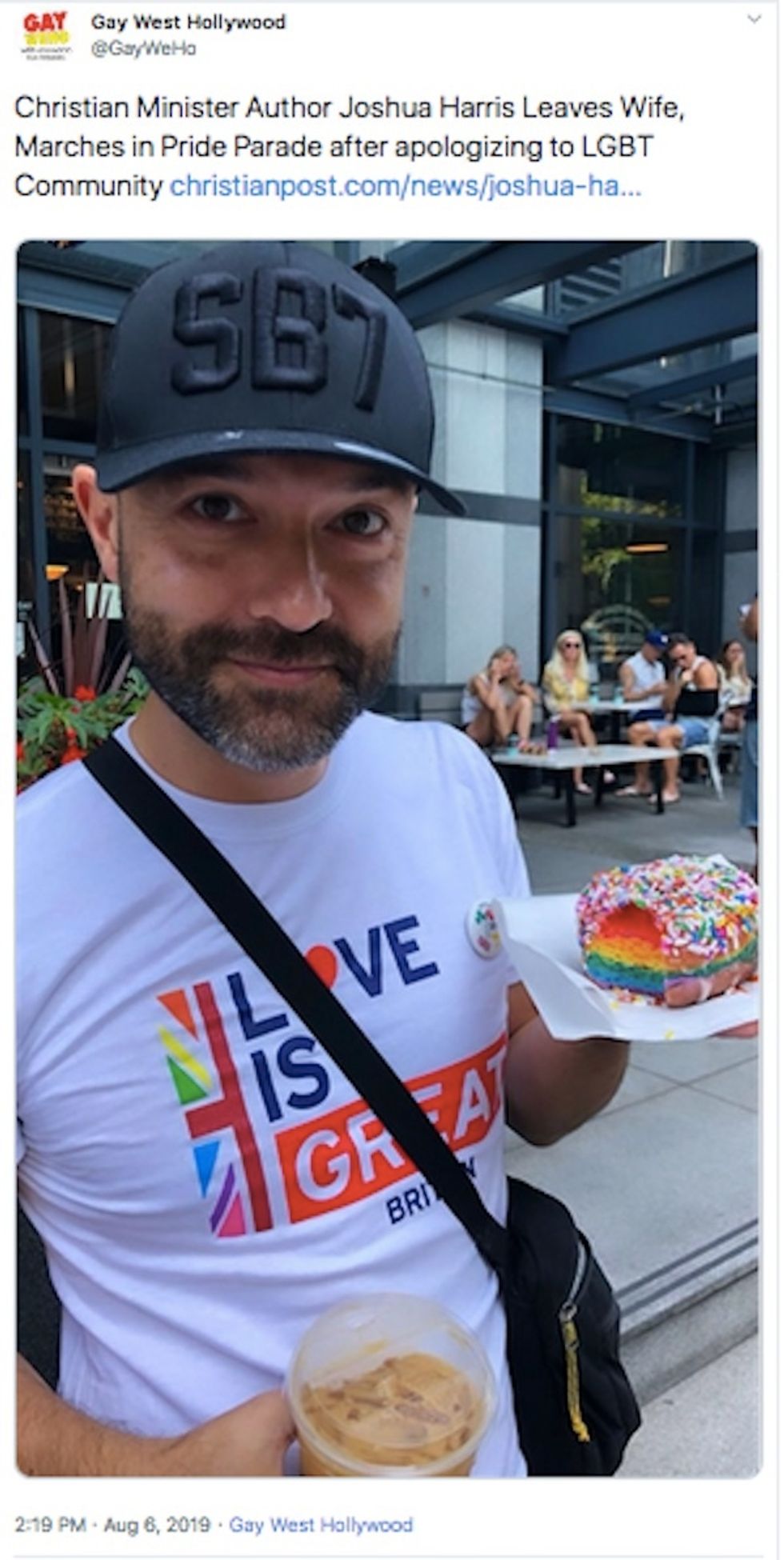 Image source: Twitter
Pink News UK said Harris uploaded photos from the Pride Parade to his Instagram Story.
The Christian Post reported that Harris shared a photo of himself with Matthias Roberts, host of "Queerology: A Podcast on Belief and Being," and gay rock singer Trey Pearson.
"Enjoyed swapping stories, gentleman!" he wrote in the photo caption, the outlet said.
Pearson posted the same photo on Twitter:
Image source: Twitter
What's the background?
In July, Harris revealed on Instagram that he had "undergone a massive shift in regard to my faith in Jesus. The popular phrase for this is 'deconstruction,' the biblical phrase is 'falling away.' By all measurements that I have for defining a Christian, I am not a Christian."
He also apologized to the LGBTQ community "for the views that I taught in my books and as a pastor regarding sexuality. I regret standing against marriage equality, for not affirming you and your place in the church, and for any ways that my writing and speaking contributed to a culture of exclusion and bigotry."
Not long before that Harris also said he and his wife are "separating" and that "in recent years, some significant changes have taken place in both of us."
In 2016, Harris apologized to Christians he hurt when he advised against dating in his best-selling 1997 book, "I Kissed Dating Goodbye, calling it a "huge mistake," the Christian Post reported.
How did LGBTQ community react to Harris at Pride Parade?
The day after Pearson posted the photo showing him at the Pride Parade with Roberts and Harris, he added some context.
"Joshua's book and purity culture was damaging to men and women," Pearson posted. "The whole idea of that culture did a lot to me. Joshua was at Pride with his queer friends and I was happy to grab a beer with him, talk about his progression in faith, and his journey. He mostly wanted to hear mine."
But at least one LGBTQ member wasn't happy.
"He has blood on his hands and doesn't belong at Pride until and unless he makes amends to those he's hurt over the years," one person reacted in reference to Harris. "I am devastated to see you and Matthias supporting someone who's done so much harm because of one milquetoast apology that is obviously a remarketing attempt."
Roberts appeared to apologize for the photo, saying Harris "was already there. I was so interested to meet him, but should have thought more about how tweeting a photo would harm and retraumatize many. I'm so sorry. Everyone's anger and grief and disappointment in me is well placed."
What are Christian leaders saying?
Heath Lambert of First Baptist Church in Jacksonville said a Harris-penned foreword would be removed from his book, "Finally Free: Fighting for Purity with the Power of Grace," the Post reported.
"In 'Finally Free' I am trying to be clear about a Christian approach to sexuality," Lambert said, according to the outlet. "Joshua's recent actions and statements only confuse that attempt at clarity and will lead others astray."
"The Lord knows Joshua's heart," Lambert added. "Was Joshua a Christianized unbeliever who never knew Christ? We do not know, but God does. Is he a Christian who has fallen into grievous sin, and is in need of restoration? We do not know, but God does. What we do know is that Joshua Harris is in absolute spiritual peril. He needs our love, and he needs our prayers. He has mine, and I trust he will have yours as well."
The Gospel Coalition, from which Harris resigned in 2014, released a statement hoping Harris will return to the faith, the Post said.
"While we grieve Josh's decision (and have told him as much), we are not without hope (and we've told him that as well). We will continue to call on the God of sovereign mercy, the God Josh once extolled and the God who still sits on the throne," the organization said. "We pray for our friend, for our churches, and for ourselves — that we may keep ourselves in the love of God (Jude 21), as God keeps us from stumbling (Jude 24)."
(H/T: Life Site News)

Want to leave a tip?
We answer to you. Help keep our content free of advertisers and big tech censorship by leaving a tip today.
Sr. Editor, News
Dave Urbanski is a senior editor for Blaze News.
DaveVUrbanski
more stories
Sign up for the Blaze newsletter
By signing up, you agree to our
Privacy Policy
and
Terms of Use
, and agree to receive content that may sometimes include advertisements. You may opt out at any time.