An administrator at Berry Miller Junior High in Pearland, Texas, is on leave after allegedly coloring in a student's haircut design with a permanent marker, KTRK-TV reported.
The administrator reportedly told seventh-grader Juelz Trice his hair carving — featuring what appears to be a stylized letter M — violated dress code and gave him an ultimatum, the station said.
"He came over and said, 'You have two options: You can either go to [in-school suspension] or color it in,'" the student told KTRK. "Everyone was coming up to me. It was like the talk of the school that day and the day after."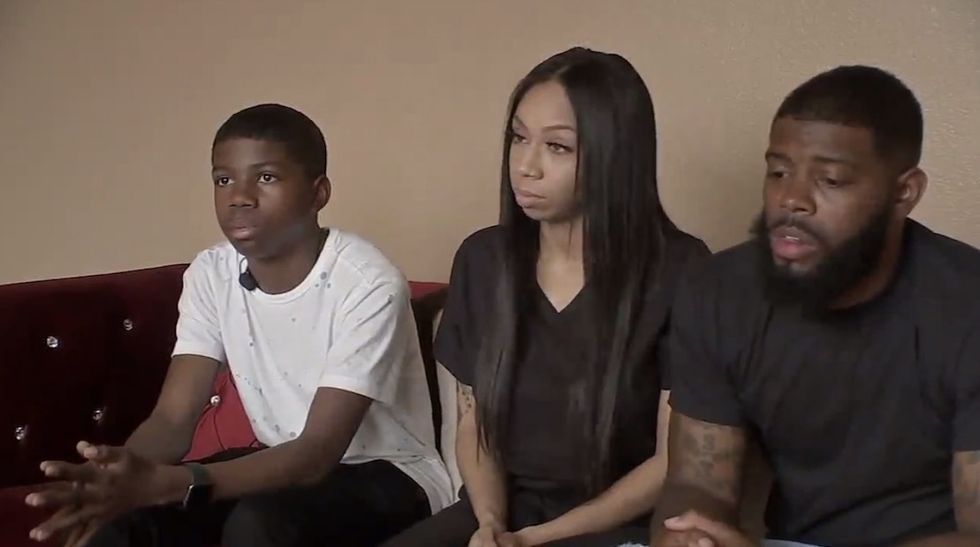 Image source: KTRK-TV video screenshot
The boy's father Dante Trice told the station regarding the administrator and another staff member: "Hold my son against his will and color his hair in, then he said they [were] laughing while they're doing it ... so like my kid's a joke."
Mother Angela Washington posted the following on Facebook last week:
What did the school district have to say?
Pearland Independent School District told the Houston Chronicle in a statement that Juelz's haircut violated dress code, which prohibits "extreme hair styles such as carvings, mohawks, spikes, etc." But officials also acknowledged to the paper that coloring in a hair carving "is not condoned by the district and does not align with appropriate measures for dress code violations."
District officials didn't specify if the administrator used a marker on the student's head, the Chronicle added.
What did a school board member have to say?
Pearland ISD Trustee Mike Floyd told the paper that the administrator in question "should not be a leader on a campus with very impressionable children."
"From what we're seeing emerging right now in the public discourse, it's just absolutely inappropriate what occurred," Floyd added to the Chronicle. "The real problem is there's a clear and obvious display of a lack of judgment."
What else did the parents have to say?
"When it first happened, I was very upset because I didn't find out until after he got off the bus, and he got into the car and said, 'Look what they did to my head,'" Washington told KTRK.
Dante Trice added to the station that his son could have been placed at medical risk because of chemicals from the marker touching open pores from the haircut he got the day before.
"I'm totally disappointed," Dante Trice told KTRK. "Totally disappointed."
Anything else?
Juelz returned to school, the station said, and Washington indicated that the administrator in question called to share his side of the story.
"They were very apologetic, but it still happened," she added to KTRK. "You know, for an adult, no one should think that's the correct way to handle a situation."
Officials told the station further action will take place apart from the administrator being placed on leave.
Here's another video report about the incident: