White House adviser Kellyanne Conway said House Intelligence Committee Chairman Adam Schiff (D-Calif.) "ought to resign today" for "peddling a lie" that President Donald Trump and his 2016 campaign colluded with Russia, Fox News reported.
Following the determination that neither Trump's campaign nor anyone associated with it colluded with Russia to influence the 2016 election, Conway on Monday appeared on "Fox & Friends" and took aim at several Democrats, including Schiff.
"He ought to resign today," Conway declared regarding Schiff, adding that it's an "oxymoron" that the congressman is head of the House Intelligence Committee. "He's been on every TV show 50 times a day for practically the last two years, promising Americans that this president would either be impeached or indicted."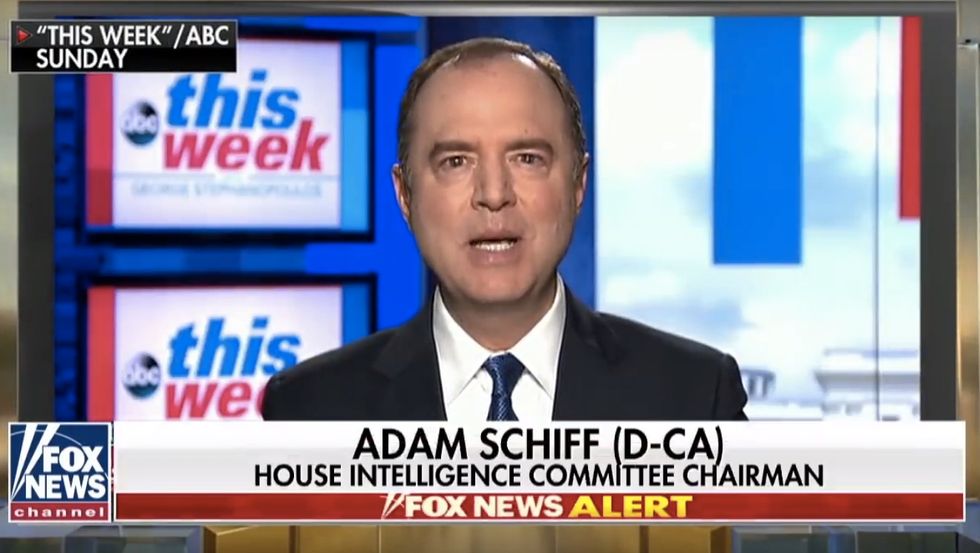 Image source: YouTube screenshot
'Day after day, unchallenged'
She added that Schiff has been "peddling a lie, day after day after day, unchallenged ... and not under oath. Somebody should have put him under oath and said, 'You have evidence; where is it?'"
More from Fox News:
Schiff earlier this month said he thinks a 2016 offer for dirt on Hillary Clinton by a Russian lawyer to members of the Trump campaign and the subsequent meeting is "direct evidence" of collusion on the part of the president's team.

Last night, Schiff said he believes there is still "significant evidence of collusion" linking the Russian government with President Trump's 2016 presidential campaign, despite reports out of the Justice Department that Special Counsel Robert Mueller will not be recommending any further indictments in his investigation.
Conway hammered at all those who pushed the collusion accusation.
"Those who let this lie fly for two years, haranguing and harassing and trying to embarrass and worse those of us connected to the 2016 campaign, beginning with the president and his own family, really do owe people — owe America — an apology," she told "Fox & Friends."
'You got a big, ol' nothing'
Conway also ripped collusion theorists in the face of the apparent nothing burger after special counsel Robert Mueller's long and expensive investigation that included interviews with around 500 witnesses, over 2,800 subpoenas, and 13 requests for foreign government evidence, the network said.
"You came up with nothing — no obstructive conduct, no collusion, no more indictments," Conway added. "And by the way, nobody named Trump or [son-in-law and senior adviser Jared] Kushner indicted, folks. And people would whisper in our ears, 'Look out, don't be in a meeting with them, everybody's gotta duck!' I mean what a bunch of nonsense. .... You wouldn't let the 2016 election go, and now you're running up against 2020, and you got a big, ol' nothing."
Anything else?
Conway wasn't alone in her demand that Schiff step down. House Minority Leader Kevin McCarthy (R-Calif.) also called on him to resign, saying Schiff "has met the standard that he has imposed on other members of Congress of when they should step back from their positions. He has exceeded that standard, and there is no question he should step down from the Intel chairmanship."
On the other side of the aisle, the office of House Speaker Nancy Pelosi (D-Calif.) defended Schiff, saying he's "done an outstanding job and that's the reason why he's subject to these ridiculous attacks."