A Kentucky mayor who is sick and tired of people not taking the coronavirus pandemic seriously took to Facebook on Monday to express his feelings in no uncertain terms.
"Listen up dips**ts and sensible people," Mayor Gabe Brown of Walton, Kentucky, wrote in a public neighborhood group on the social media platform.
"I might not have the best bedside manor [sic]. I might not put you at ease like the Governor does, but I don't care. You need to realize that this is a serious ordeal. In fact, it's a big [f***ing] deal. Stay at home," he wrote.
Brown complained that he is tired of participating in conference calls about COVID-19, saying he takes "3 a day." He went on to assure constituents that he hasn't given them information to "induce panic" but so that they would be "informed."
"Maybe, just maybe, I am privy to information that you aren't. I'm sorry for being the gossiping Mayor," he added.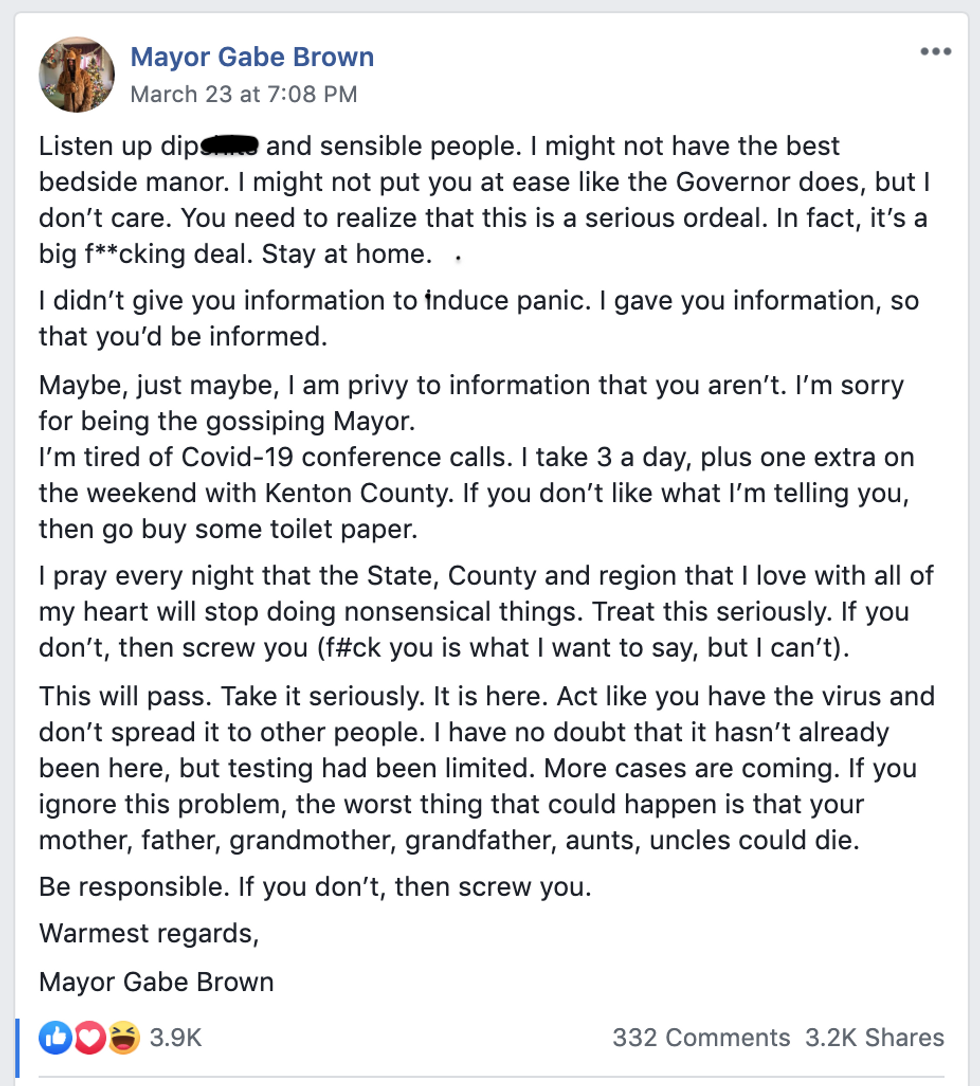 Image Source: Facebook screenshot
"If you don't like what I'm telling you, then go buy some toilet paper," Brown joked, before saying that he prays every night that the government and residents of his state, county, and region will stop doing "nonsensical things."
"Treat this seriously. If you don't, then screw you (f#ck you is what I want to say, but I can't)," he wrote.
The country is in its second week of the president's 15 Days to Slow the Spread initiative that encourages Americans to avoid groups larger than 10, practice good hygiene, work from home if possible, and follow the directions of state and local authorities.
In Kentucky, where the outbreak so far has not been as severe as more populous states such as New York, California, and Washington, officials have nonetheless enacted strict measures to combat the spread.
However, residents in some cases have been less than keen on complying. Last week, a COVID-19 patient in the state refused to self-quarantine, and in response, Gov. Andy Beshear ordered police to stand guard outside his home. Then on Wednesday, Beshear reported that a group of millennials in the state had thrown a "coronavirus party" to flout social distancing guidelines — only for one of them to later test positive for the virus.