In honor of Valentine's Day, PragerU's Will Witt ventured upon the campus of the University of California, Irvine, and held a sign asking passing women if they'd be his "Valentine."
All well and good to mark the annual day of love and romance — but you might say Witt added a bit of fuel to the fire, as he also wore the perpetually controversial "Make America Great Again" hat from President Donald Trump's 2016 campaign while attempting to win over female hearts.
Alas, given he plopped himself in the middle of a college campus — which isn't traditionally the best spot for running into a ton of folks leaning in the right direction, in a manner of speaking — Witt found himself swinging and missing with gusto.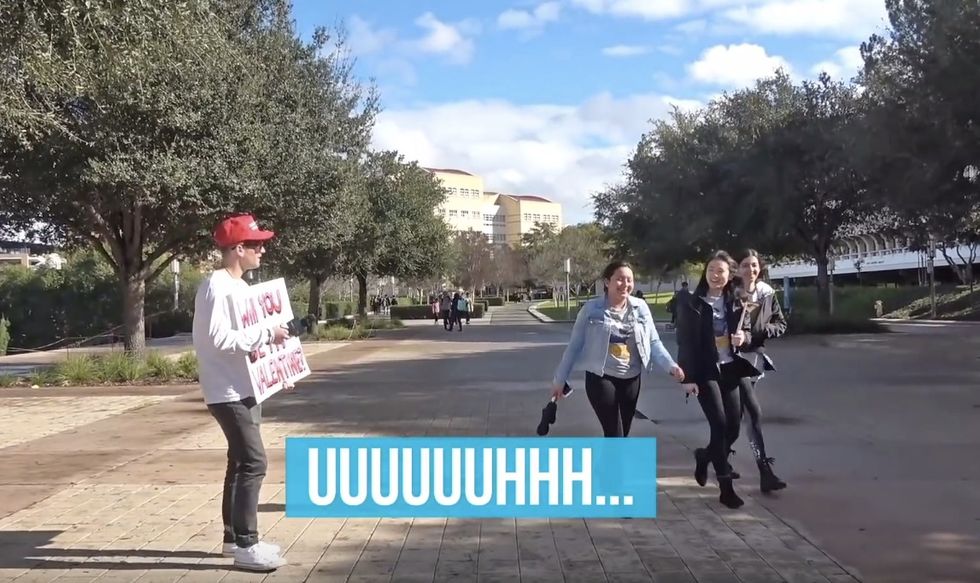 Image source: YouTube screenshot
Case in point: As he asked members of the fairer sex venturing by if they were looking for love, a frequent reply was "not with that hat!"

Check out what happens when an otherwise perfect gentleman donning MAGA apparel tries "looking for love in all the wrong places":