A 19-year-old male shot at — and hit — a vehicle in traffic Saturday night in Nashville, believing the car was connected to a burglary at his father's business, the Metropolitan Nashville Police Department said.
Turns out the vehicle was an unmarked police patrol car, cops said.
What went down?
Sgt. Brian Brown was working extra duty with the Violent Crimes Initiative and on his way to a burglary call when someone in a Toyota Camry traveling behind him on Doverside Drive fired several rounds at Brown's unmarked patrol car, police said.
Two rounds struck Brown's unmarked patrol car, police said, and he wasn't injured.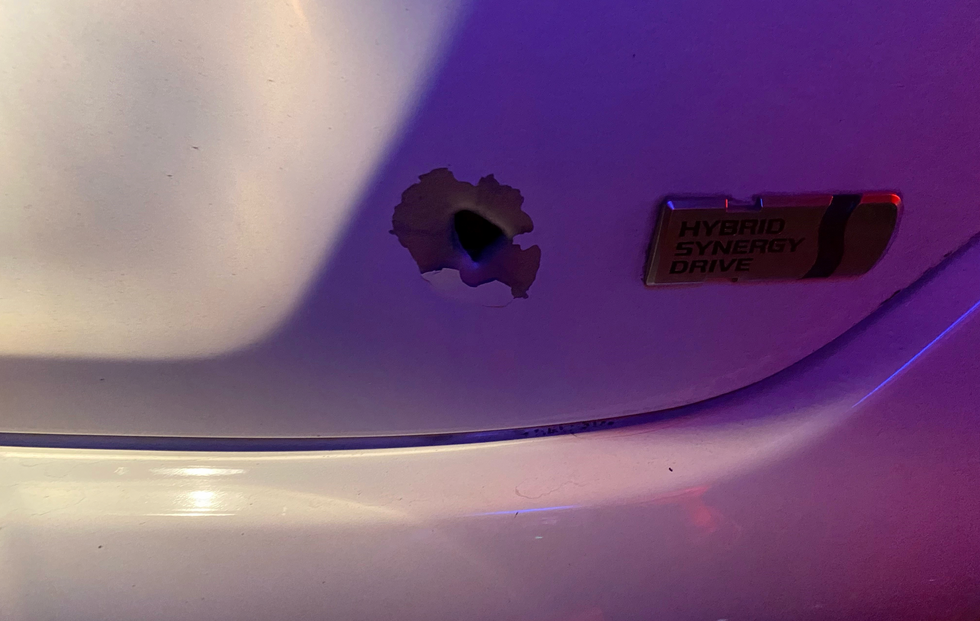 Image source: Metropolitan Nashville Police Department
Brown followed the Camry until the driver stopped on Brick Church Pike, police said, adding that the driver and passenger were taken into custody.
The 21-year-old driver said during an interview with detectives that his passenger mistook Brown's unmarked patrol car for a vehicle involved in a burglary at his father's business, police said. The driver said he drove away quickly because he didn't know his passenger was going to fire gunshots, police said.

Steven Pointer, the passenger, was arrested for attempted criminal homicide, police said, adding that no charges have been placed against the driver at present.
Pointer was being held in lieu of $75,000 bond, police said.
How are folks reacting?
Comments under a Yahoo News story about the incident seemed none too friendly toward Pointer:
"Bond's too low," one commenter wrote. "Dangers to society and vigilantes. Best to put them behind bars for life now and save a few lives down the road from all the additional arrests and crimes that will occur."
"Thank God the officer was not hurt," another commenter said. "Glad they caught the shooter; let's hope he gets what he has coming."
"This Einstein didn't even know who he was shooting at, or did he?" another commenter noted. "Should spend many years in prison for this, but he won't."
"What a smart, young individual," another commenter quipped.
"This story is going to disappear quickly," another commenter predicted, adding that "now, if the cop returned fire and hit one of them, oh boy...everyday for 2 - 3 weeks...along with all the jumpers on the bandwagon."
Like Blaze News? Bypass the censors, sign up for our newsletters, and get stories like this direct to your inbox. Sign up here!