Dramatic new video generating buzz online shows two men assaulting a security guard outside a McDonald's in Chicago. What that security guard did just moments into the attack has sent the footage viral.
What happened?
The video shows two men approach the security guard outside a McDonald's in downtown Chicago. The men slam the security guard against a wall and begin striking him.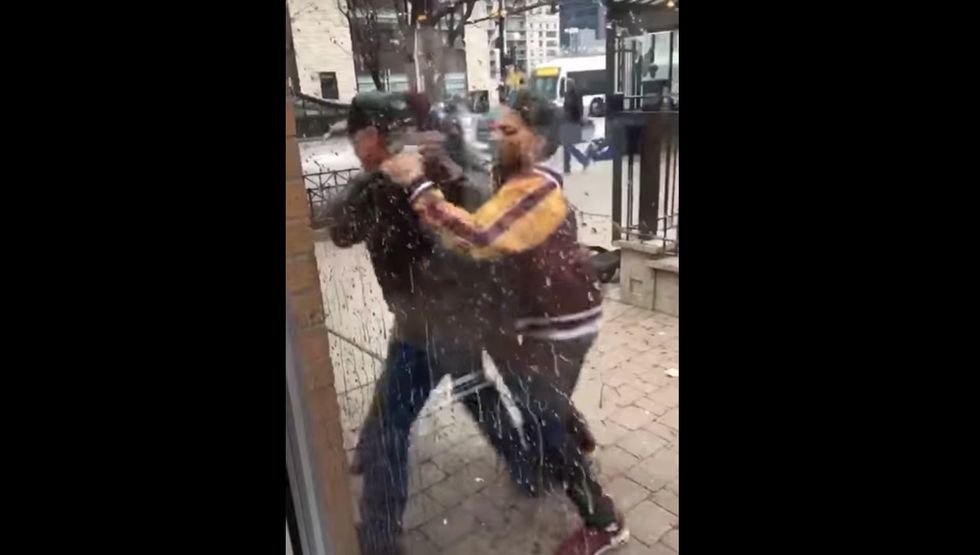 Image source: YouTube screenshot
About six seconds into the attack, as the two men continue to pummel the victim, the security guard reaches toward his waistband. As the fight moves out of frame, one of the assailants suddenly starts running away from the fight.
Suddenly, people inside the restaurant begin screaming, "No! No!"
The reason for the screams? The security guard was armed — and turned the tables by pulling his concealed firearm.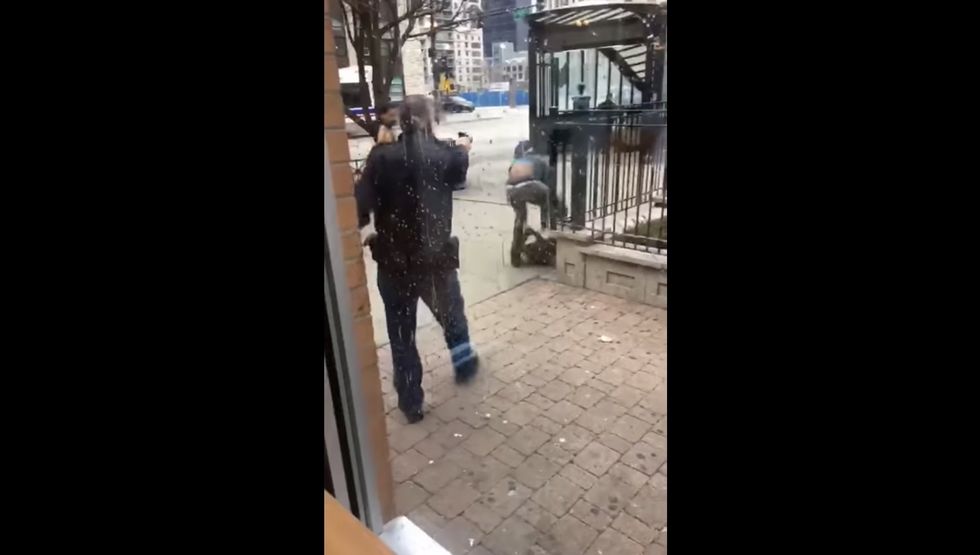 Image source: YouTube screenshot
Fortunately, the security guard exercised self-discipline and did not open fire on his attackers. Pointing the firearm at the attackers was enough to stop the attack and deescalate the tense situation.
The footage ends as the attackers simply walk away from the scene.
Man pulls gun to ward off Chicago teenswww.youtube.com
What are the details?

According to WMAQ-TV, the incident took place on Saturday.
CWBChicago, which reported on the incident Tuesday, has more details:
Chicago police this afternoon offered new information about the incident: The security guard, a suburban policeman, was on-duty for the McDonald's restaurant Saturday afternoon. He was leading the two men out of the restaurant when one of them struck the guard on the head with a glass bottle, police said. A struggle ensued and was captured on video.

A CPD spokesperson on Monday said the department did not have a report about the incident on file. Today, however, Chicago police said officers were called to the scene, but the two offenders were gone by the time cops arrived. The security guard was treated at Northwestern Memorial Hospital.
According to WBBM-TV, the McDonald's where the incident occurred has an unfortunate reputation for being fraught with crime. In fact, Chicago police have been dispatched to the restaurant 35 times in the last month for 23 disturbances, nine batteries, and three assaults.
"The safety and security of our employees and customers is our top priority. We are disturbed by this situation and will continue to take appropriate measures to provide a safe and enjoyable experience for our customers," the franchise owner of the McDonald's, Nick Karavites, told Chicago media.