A mother heard her sentence in a Michigan courtroom Thursday after an incident last December in which she used her car to shake loose her 9-year-old son's grip on the door handle in a school parking lot and then ran over him, fracturing his skull and breaking multiple bones, WZZM-TV reported.
Tiffany Kosakowski of Belmont was sentenced to 30 days in jail — which she can serve on weekends — and placed her on probation for five years, the station said.
"It is simply inexcusable what you did," Kent County Circuit Court Judge Curt Benson told her, WZZM reported.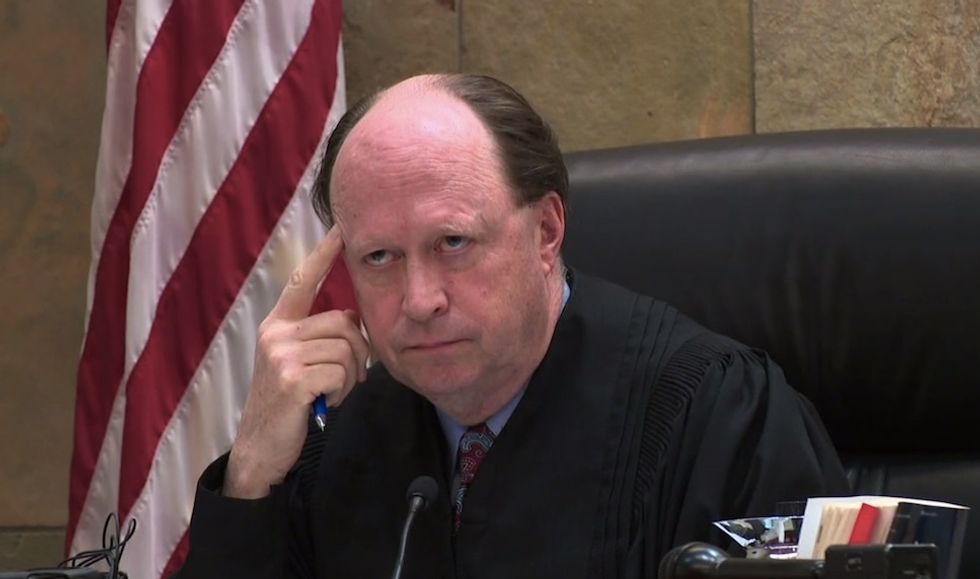 Image source: WZZM-TV video screenshot
Kosakowski pleaded guilty in February to reckless driving causing serious injury for the December 2018 incident outside Chandler Woods Charter Academy, the station said.
What happened?

Kosakowski, 36, dropped off her son Julian at the school, MLive said, and told him to go back when he ran to her car. She told investigators that the boy continued to walk alongside her car as she drove, WZZM noted, citing a court document that said she "admitted to moving the steering wheel from left to right, then accelerating the vehicle knowing [her son] continued to be next to the vehicle."

MLive said that as she drove off, her son held to the door handle nearly 50 yards before he lost his grip and fell under a back tire. He now requires constant care and physical therapy, WZZM said.
The rear wheel went over his "full body, full head," the judge said, according to MLive, adding that "your little boy has suffered terribly."
What did the boy's father have to say?

Benson sentenced Kosakowski after hearing from the boy's father, John Rodriguez, who hadn't seen his son in the 5 years prior to seeing him in a coma at a hospital, the station said.
"His head covered in wires [and] tubes and sensors in his mouth and all over his little body," Rodriguez said, according to WZZM.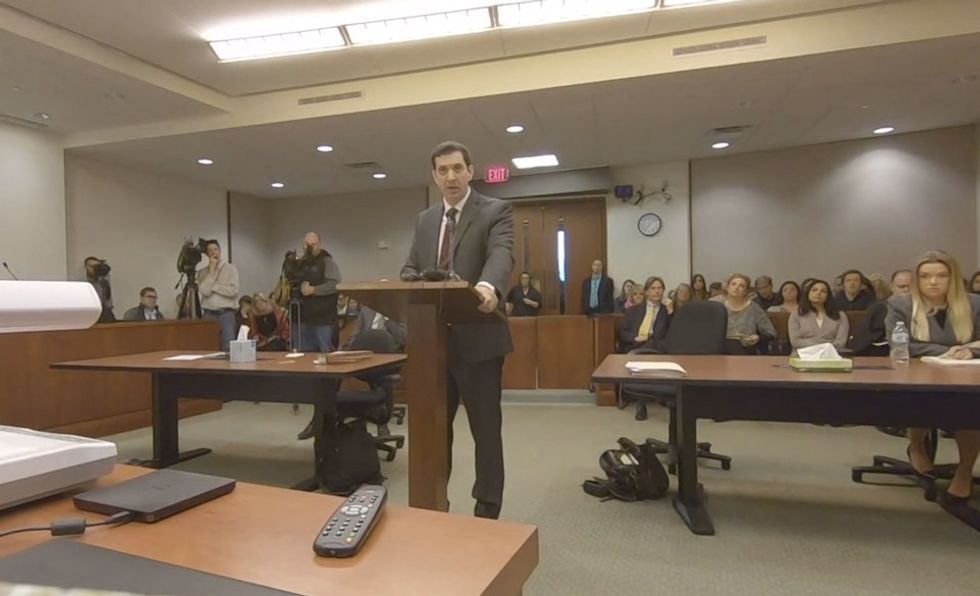 Image source: WZZM-TV video screenshot
Rodriguez said he tried "for years" to intervene regarding Kosakowski's behavior, saying it's been "so unstable, so irrational, and so reckless."
He added that his son was found on the pavement in a pool of blood and will never be the same after a traumatic brain injury, MLive said: "Doctor's words: 'Your son is forever changed.' He must grow into his disability."
What did the mother have to say?
"I just want to express that I am remorseful," she told the court, MLive said. "I'll have to live with this for the rest of my life."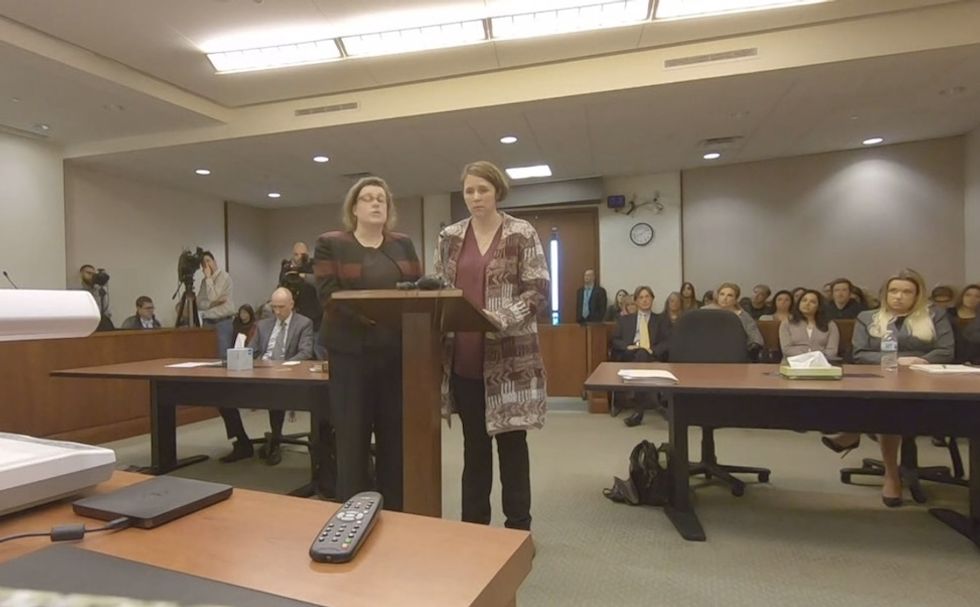 Tiffany Kosakowski (right) with her attorneyImage source: WZZM-TV video screenshot
She added: "All I care about is being there for my son as he recovers and supporting him every day as I have been doing," WZZM reported.
What else did the judge say?

The judge said he received 30 letters supporting Kosakowski but added a caveat: "Of the 30 people who wrote the letters, I'll be quite blunt with you: I am not sure all of them would be as supportive, if they, like I, watched the security footage of this incident which is simply inexcusable," Benson said. "It was really hard to watch, and I am not sure you would enjoy as much support as you evidently do, had that been widely distributed."
Benson said serving her sentence on weekends will enable her to take her son to his doctor's appointments, WZZM reported.
"He's still your little boy, and he still loves his mother," Benson added, according to MLive.
Kosakowski's parental rights will be determined in a separate case in front of a different judge, WZZM said, adding that the boy and his sister are in a relative's custody.
Mother to spend 30 days in jail for running over her son youtu.be