Nathan Phillips — the 64-year-old Native American activist inaccurately touted as a Vietnam veteran amid his confrontation with high schoolers on the steps on the Lincoln Memorial last week — was listed as AWOL (absent without leave) three times in 1975 while on active duty as a Marine reservist, according to Freedom of Information documents obtained by TheBlaze.
The documents show the three AWOL/UA (unauthorized absence) entries in Phillips' record over an eight-month span in 1975 on May 19, Sept. 2, and Dec. 6. It isn't clear from the records how long the AWOLs lasted, but the following dates represent each entry that immediately follows the AWOL entries: May 21, Sept. 8, and Dec. 19.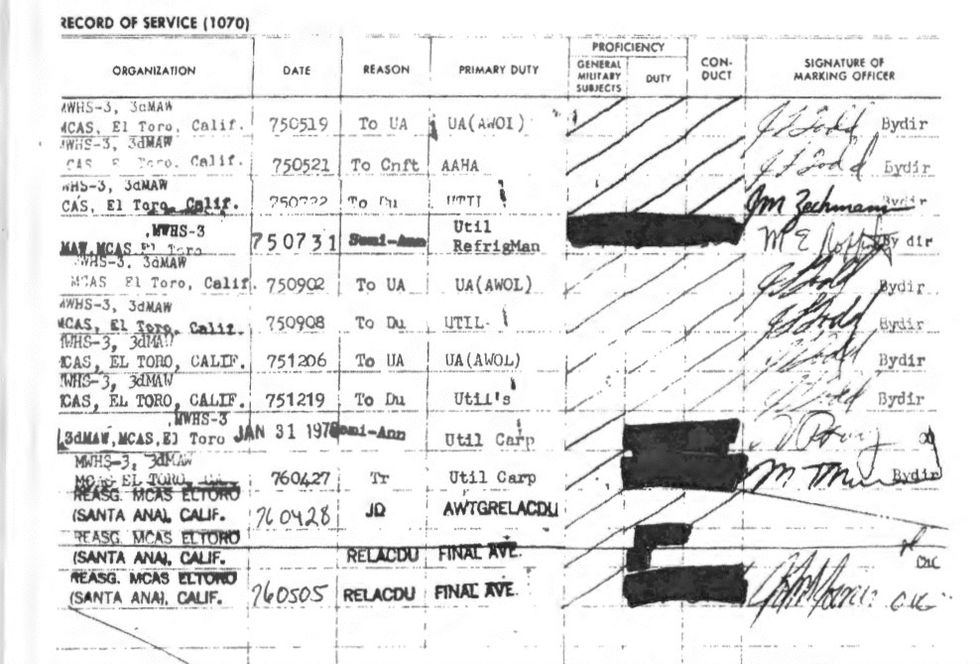 Nathan Phillips' record of serviceImage source: National Personnel Records Center via FOIA
The FOIA documents also show Phillips was on active duty from Aug. 12, 1974, to May 5, 1976 — and with a "discharged" duty status, as opposed to the "honorable discharge" status he's claimed: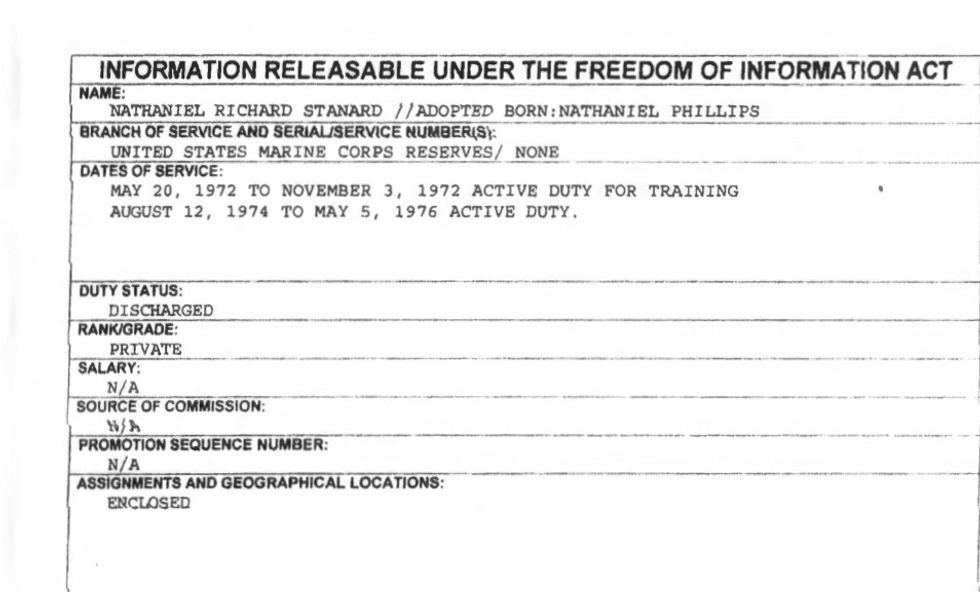 Nathan Phillips' "discharged" duty statusImage source: National Personnel Records Center via FOIA
The Lakota People's Law Project, the organization representing Phillips, didn't immediately respond to TheBlaze's requests Thursday for comment and for more details regarding the AWOL designations and "discharged" duty status on Phillips' military records.
A reported criminal record, too
Phillips also has a criminal record — including assault and escape from jail — according to a report from the Washington Examiner. The paper said Phillips as a youth — and under his adoptive name Nathaniel R. Stanard — was charged with escaping from prison, assault, and several alcohol-related crimes, local news reports from his hometown of Lincoln, Nebraska, indicated.
More from the Examiner:
Phillips, who was 19 at the time, was "charged with escaping from the Nebraska Penal Complex where he was confined May 3," according to a May 9, 1974, article in the Lincoln Star. The court approved a bond of $500 and set a preliminary hearing for May 14.

He pleaded guilty to assault on June 19, 1974, and was fined $200. In addition, he was charged with underage possession of alcohol in 1972, 1973, and 1975, as well as negligent driving. A destruction of property charge against him was dropped in August 1973, but Phillips was sentenced to one year probation for a related charge of alcohol possession by a minor. In December 1978, he was charged with driving without a license.
What's the background?
Phillips became a media darling of sorts after his confrontation with the Covington (Kentucky) Catholic High School students Friday, some of whom wore red "Make America Great Again" hats. An initial clip made it seem as though the students got in Phillips' face and surrounded him, but other video shows he walked right into the middle of their group while banging a drum and chanting. You can read more about the background of the incident here.
Journalists focused on Phillips not only as a Native American elder but also as a Vietnam veteran worthy of the students' respect in those tense moments. But media outlets have since been forced to backtrack on those reports, including the Washington Post which noted Thursday that Phillips' "misrepresented his military history."

In addition, syndicated columnist Phil Kerpen — president of nonprofit organization American Commitment — on Wednesday night unearthed a Facebook live session featuring Phillips discussing his time during the Vietnam War.

Kerpen shared the video with a snippet of Phillips' session in which Phillips said, "I'm a Vietnam vet and I served in the Marine Corps, 72 to 76. I got discharged May 5, 1976. I got honorable discharge, and one of the boxes in there it shows that it was peacetime, or what my box says is that I was in theater. I don't talk much about my Vietnam times."
The Post noted in its update piece Thursday that Phillips "did not deploy and left the service as a private after disciplinary issues."
More from the paper:
Daniel Paul Nelson, a leader in the Lakota People's Law Project, said in an interview Tuesday that his group made the error and that Phillips never told him that he served in Vietnam. The group, Nelson said, "trusted what we had seen" in previous stories about Phillips, some of which also referred to him erroneously as a Vietnam veteran.
"We were trying to do the advocacy work that we do," Nelson told the Post, adding Thursday morning that he had seen the Facebook video in recent hours in which Phillips makes his military claims, was not aware of it previously, and reacted by saying, "I'm bummed. I'm definitely disappointed."
Phillips said during an NBC News interview that aired Thursday morning that "what I've always said is that I never stepped foot in South Vietnam." He also said during the interview that he forgives the students from Friday's encounter.
"Even though I'm angry, I still have that forgiveness in my heart for those students," he told NBC News' Savannah Guthrie.