Nathan Phillips — the Native American who walked into a crowd of Catholic high school boys on the steps of the Lincoln Memorial last week as he chanted and beat a drum and stood face-to-face with student Nick Sandmann, an encounter that's ignited anger and further division among Americans — said he forgives the students.
"Even though I'm angry, I still have that forgiveness in my heart for those students," Phillips told NBC News' Savannah Guthrie in an interview that aired Thursday on "Today."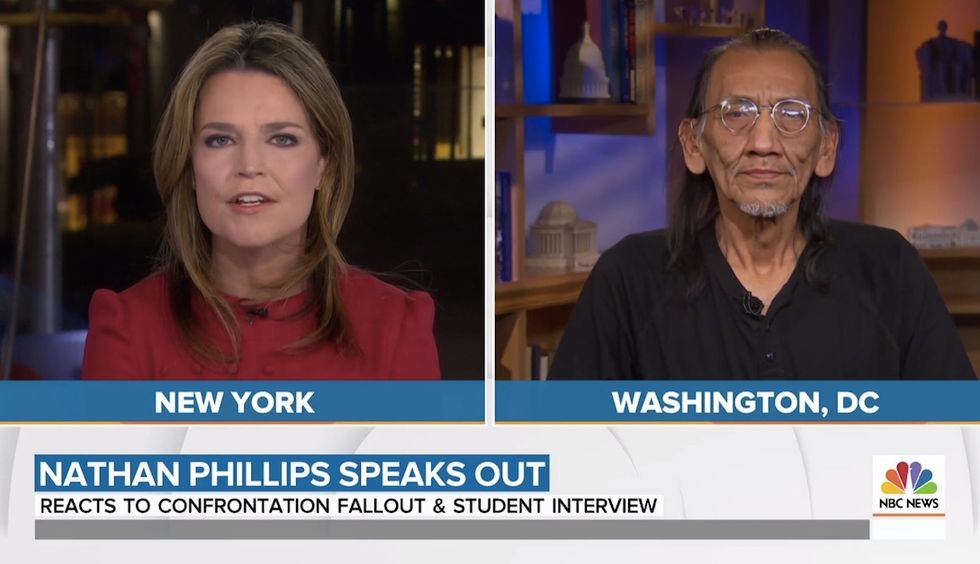 Image source: NBC News video screenshot
Phillips added, "For all those who've been mean to me, I wanna forgive 'em."

NBC News said Phillips was "stared down" by Sandmann, one of the students from Kentucky's Covington Catholic High School following their participation in Friday's March for Life in Washington, D.C.
And of Sandmann, Phillips told NBC News, "I forgive him."
But Phillips didn't sound impressed by Sandmann's statements following the encounter, telling Guthrie the teen's words sounded "coached and written up for him" and smacked of "insincerity, lack of responsibility. Those are the words I came up with."
However, Phillips said he prayed about the situation and "woke up with this forgiving heart and so, I forgive him."
What's the background?
Numerous media outlets accused the students of surrounding and trying to intimidate Phillips based on an initial video that went viral, but additional clips showed that Phillips walked over and into the middle of the group of students.
"The protestor everyone has seen in the video began playing his drum as he waded into the crowd, which parted for him," Sandmann said in a statement. "I did not see anyone try to block his path. He locked eyes with me and approached me, coming within inches of my face. He played his drum the entire time he was in my face."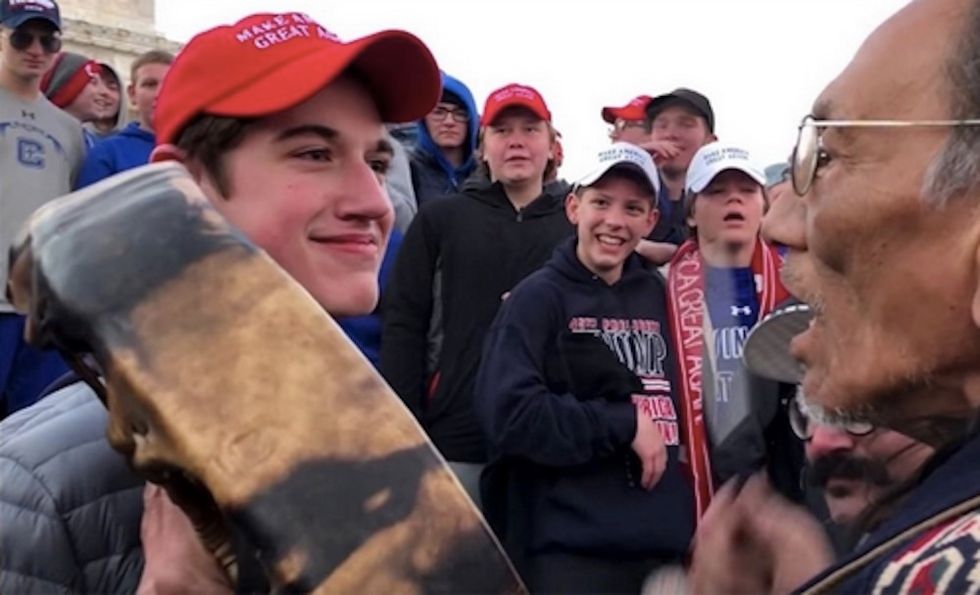 Image source: YouTube screenshot
This is how the NBC News story that accompanies Phillips' Thursday interview describes that moment: "[Phillips] was then met by Sandmann, who stood a foot or two from Phillips' face, with what critics have called a disrespectful smirk on his face. Sandmann said he was smiling."

Phillips also told Guthrie that he was "trying to walk away" and "that mass of young men surrounded me and the folks that were with me." Phillips added that just after spotting a space to walk through "a person was there" and that "I was blocked."
Guthrie also asked Phillips if he heard the students chant "build that wall," a claim he initially made despite the lack of video corroboration — a point she also notes to him.

"You know, I did hear that," Phillips replied. "And I have seen some out there on the internets where you can hear them saying 'build that wall.'"
Here's a collection of clips that shows a more complete version of events. There's no evidence that "build that wall" was uttered, and the video shows Phillips had numerous options of where he could walk. (Content warning: Language):
Prior to the encounter with Phillips, the video showed members of the Black Hebrew Israelites verbally harassing the students with racist and homophobic slurs. The students — a number of whom were wearing MAGA hats — reacted with chants used at their school's athletic events.
Here's a report on the Black Hebrew Israelites' actions. It includes Phillips claiming the Covington students said racist things back to the Black Hebrew Israelites, but "CBS This Morning" indicated that no video evidence backs up Phillips' claim:
Twitter ended up suspending a suspicious account that spread the misleading initial video and a tech expert told CNN Business that a network of anonymous accounts worked to make the video go viral.
What else did Phillips say to Guthrie?
As for the controversy surrounding his military service — media outlets have incorrectly reported that Phillips is a Vietnam veteran when he never went overseas — Phillips told Guthrie that "what I've always said is that I never stepped foot in South Vietnam." He was a Marines reservist at the time of the war.