A progressive Hindu group blamed President Donald Trump after a physical attack against a Hindu priest outside a New York City temple last week.
"When the U.S. president targets immigrants and refugees and encourages chants of 'send her back' at rallies, this results in real harm inflicted on our communities," Sadhana: Coalition of Progressive Hindus said in a news release.
Trump was accused of racism last week for challenging progressive Democratic congresswomen who criticize America to "go back" to the countries "from which they came." His tweets apparently were directed at Rep. Ilhan Omar (D-Minn.), who was born in Mogadishu, Somalia, as well as Reps. Alexandria Ocasio-Cortez (D-N.Y.), Rashida Tlaib (D-Mich.), and Ayanna Pressley (D-Mass.), who were born in America.
A "send her back" chant directed at Omar rose up during a Trump rally in North Carolina on Wednesday after he criticized the Muslim lawmaker's views. Trump distanced himself from the chant Thursday, noting that he "felt a little bit badly about it I was not happy with it. I disagree with it."

What happened?

Swami Ji Harish Chander Puri told WPIX-TV he was walking in his religious garb near the Shiv Shakti Peeth in Glen Oaks, Queens, around 11 a.m. Thursday when a man came up from behind and started hitting him repeatedly.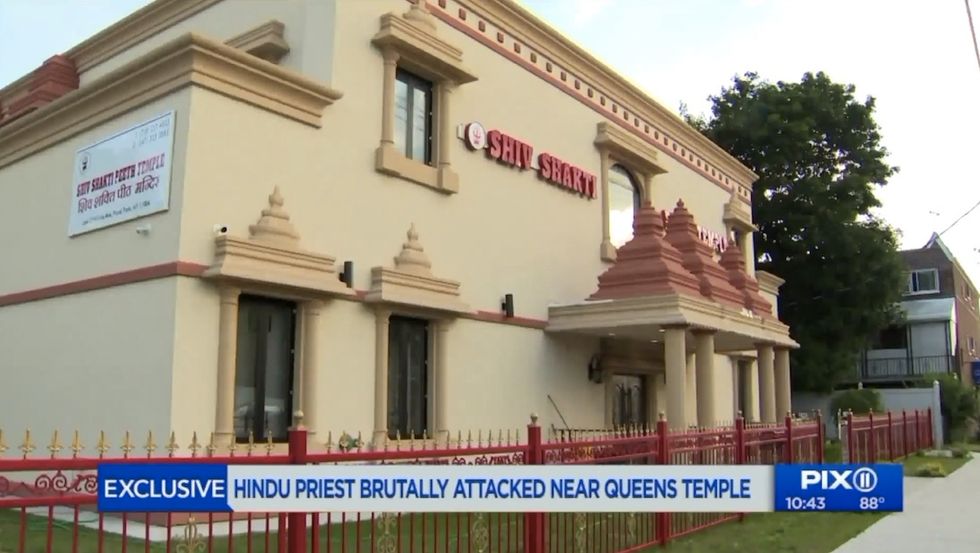 Image source: WPIX-TV video screenshot
The station said he was beaten so badly that he had to be rushed to the hospital.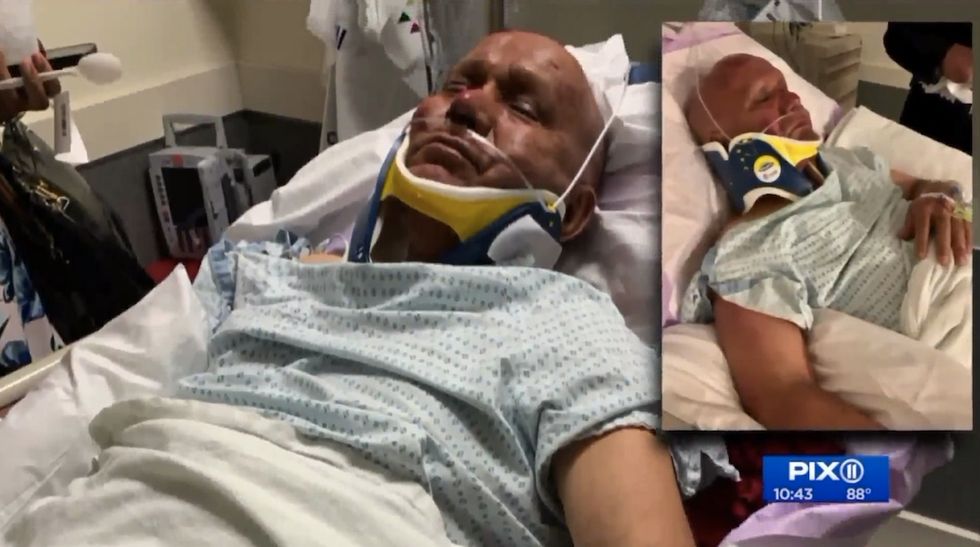 Image source: WPIX-TV video screenshot
People who go to the temple told WPIX the attacker screamed things like, "this is my neighborhood," during the incident.
Police arrested Sergio Gouveia, 52, in connection to the attack, charging him with assault, harassment, and criminal possession of a weapon — and are looking into whether the incident is a hate crime, the station said.
The victim told WPIX he'll be praying for the man who attacked him: "Sometimes people have no control."
What else did the progressive Hindu group have to say?
Sadhana also said a few weeks ago Queens was declared the nation's most diverse large county, citing a new study of 2017 census data. "It is deplorable that in a place as diverse as Queens such an atrocity can occur," the release noted.
Over 80 "community and faith-based" individuals have backed Sadhana's appeal to New York City police to investigate the incident as a hate crime.