Monday was a patriotic America pride day at New Hampshire's Epping High School, so freshman Ciretta MacKenzie put on her shirt and hat, both emblazoned with the phrase "Make America Great Again" — the slogan for President Donald Trump's 2016 campaign.
But not long after arriving on campus, Ciretta was called to Principal Brian Ernest's office, the Union Leader reported.
What happened?
She told WFXT-TV that the principal said her MAGA hat and shirt violated dress code.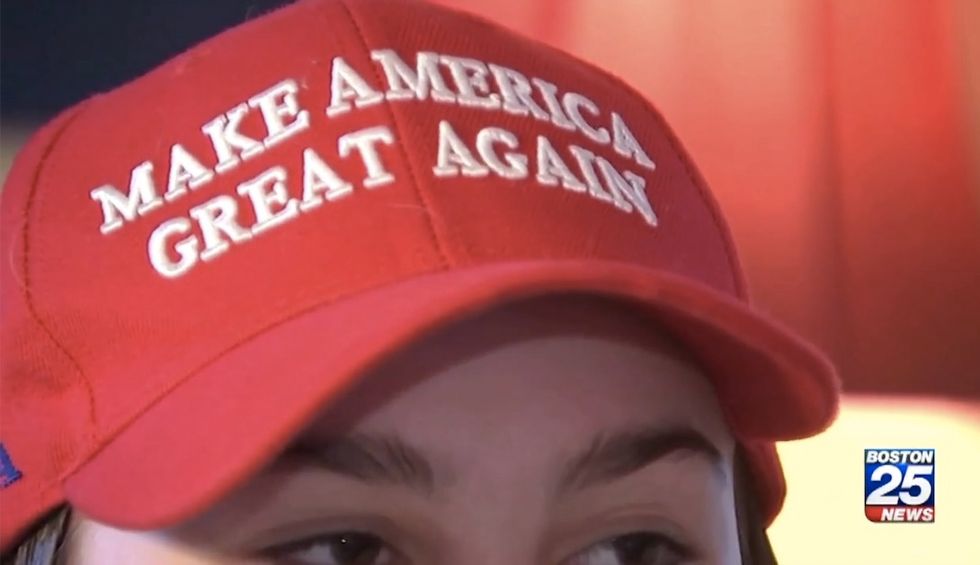 Image source: WFXT-TV video screenshot
According to Ciretta, Ernest also said Trump is a controversial president, and the principal added that he didn't want other students feeling uncomfortable or the day turning political, the paper added.
Ciretta, who turns 15 next week, told the principal she understood but, at the same time, Trump is still the president, the Union Leader reported.
When she asked what would happen if she couldn't find a different shirt, Ciretta told the paper she was informed that she might have to be separated from the other students.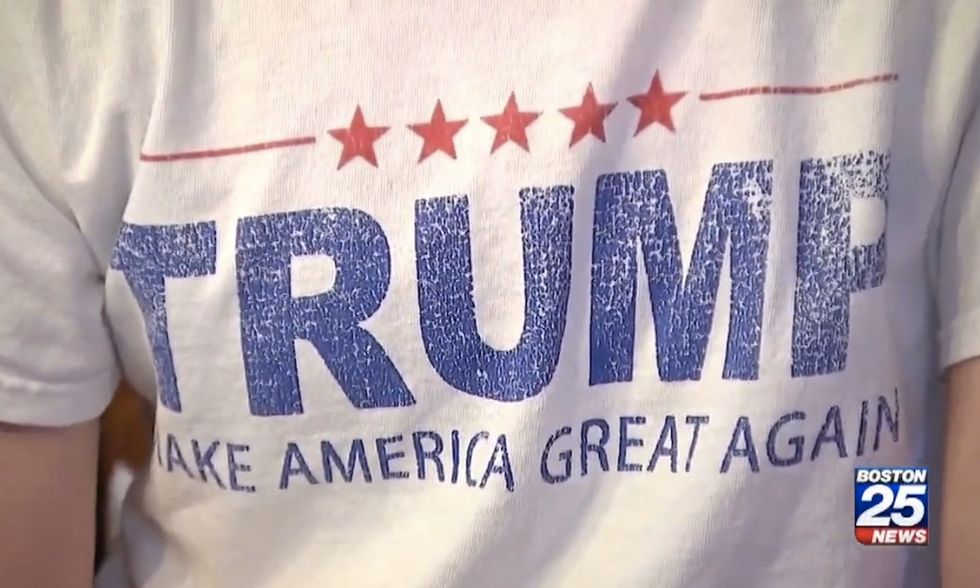 Image source: WFXT-TV video screenshot
Ciretta told WFXT she borrowed a friend's sweatshirt and took off the hat but feels as though her First Amendment rights were violated.
The aftermath

Ciretta told the station she was ashamed after being asked to cover up and was upset by some classmates' comments.
"Some kids are making [me] feel like I'm uneducated and a bad kid for believing what I want to believe, and that's not right," she added to WFXT.
Ciretta also told the station there isn't language about political clothing in the student dress code: "If it said 'no political gear,' I could understand why it was dress coded, but it didn't say that, so I feel like I'm obligated to have my own opinion and other people can have theirs. We don't have to agree; that's fine."
Epping High School freshman Ciretta Mackenzie chose to wear her MAGA gear on 'America Day' at school. She was asked… https://t.co/wbPY4C0LB7

— Julie Leonardi (@Julie Leonardi)1555030325.0
School board chairman: 'I think it's very wrong'
School Board Chairman Dave Mylott told the Union Leader he reviewed the dress code and doesn't believe it prohibits students from wearing shirts supporting Trump or any other political figure. He also told the paper he's concerned about the incident being viewed as a violation of a student's First Amendment rights.
"Personally, I think it's very wrong," he told the Union Leader. "That's a personal opinion."
Mylott added to the paper that if the concern centers on political intolerance among students and others in the school community, then perhaps the school needs better diversity training.
"I don't think it was maliciously intended," he noted to the Union Leader, "but I think it sets a precedent that I don't think we want to have."
Mylott also told the paper he'll address the issue at next Thursday's school board meeting.
What did the superintendent have to say?
Epping School District Superintendent Valerie McKenney told WFXT that two students were asked to change their clothing but didn't mention what the students were wearing. She added to the station that an investigation has been ongoing since Tuesday and that "we will take steps to remedy this situation for all parties involved and ensure that this type of situation never happens again in any Epping school."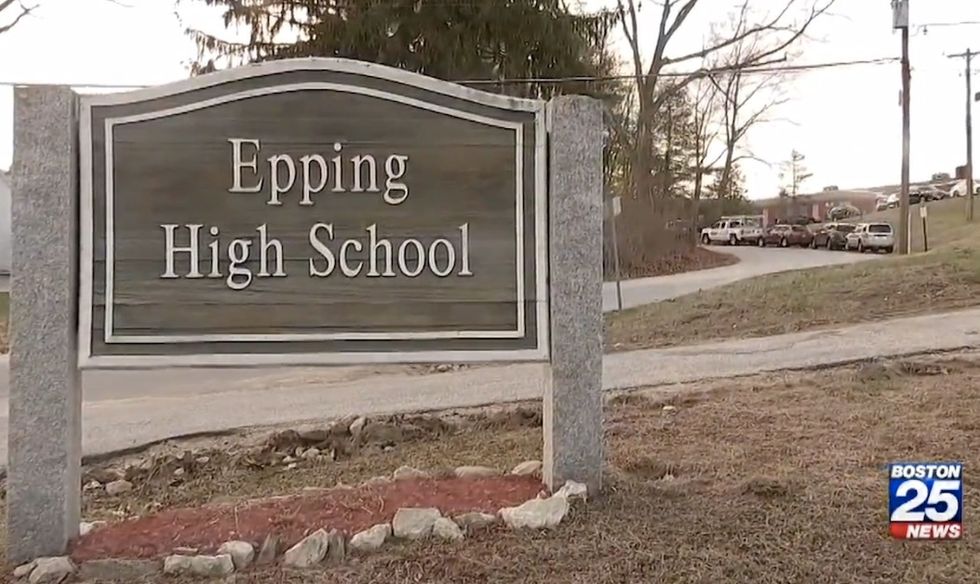 Image source: WFXT-TV video screenshot
The MacKenzie family told the station they were planning on meeting with the principal Friday morning
What else did the student have to say?
"It's just a shirt, and it only says 'Trump Make America Great Again'; it doesn't say anything like 'Build a Wall,' so I don't get how it could be offensive, how it could be disrespectful," Ciretta added to WFXT.
She added to the Union Leader that it would've been better if the principal let her wear her clothing and made it clear that if anyone harassed her during the day that she should report it to administration so the problem could be addressed.
"I don't think I should have been told to cover it up," Ciretta told the paper.
What do her parents have to say?
Ciretta's parents, Jason and Rose MacKenzie, told the Union Leader they were surprised by the principal's actions, adding that their daughter bought her MAGA shirt during her eighth-grade trip to Washington, D.C., last year.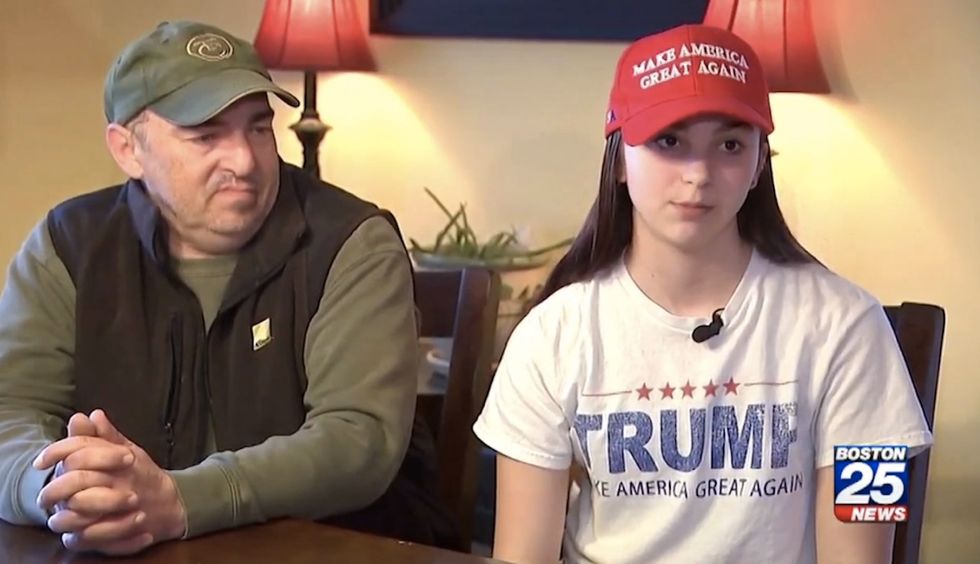 Image source: WFXT-TV video screenshot
Rose MacKenzie told the paper she emailed Principal Ernest and questioned his decision.
The Union Leader said his response read, in part, that "we need to separate political views from patriotism. In today's climate it is important to not mix church or state."
She told the paper she believes Ernest was looking out for Ciretta in case others bothered her at school, and that it's sad he had to think twice about the clothing issue.
"I think it's a good time for people to stop and reflect: 'Am I teaching my child to be respectful of other people's opinions?' In my opinion the school shouldn't be put in that position," Rose MacKenzie added to the Union Leader.
She also told the paper that the "real problem" adults aren't practicing tolerance and respect — and so neither are children.
Jason MacKenzie told the Union Leader the decision was the "easy way out" and that it could have been more of a teachable moment for all students.
"Is censorship the answer or talking about it?" he asked the paper. "I thought it was the wrong way out."
He also told WFXT that politics should be openly discussed at school.
"We don't want politics to be totally removed from school, it needs to be in school," Jason MacKenzie also told the station, adding that "the way they went about it was remove everything; you don't want that."