Far-left U.S. Rep. Rashida Tlaib (D-Mich.) — who's blasted the likes of liberal "Real Time" host Bill Maher and his polar opposite, President Donald Trump, referring to him as "motherf***er" — set her sights on a new target: the Detroit Police Department.
Tlaib on Tuesday tweeted her disdain for the department's facial recognition technology, calling it "bulls**t":
.@detroitpolice You should probably rethink this whole facial recognition bulls**t. https://t.co/ZvHEEQxzWB

— Rashida Tlaib (@Rashida Tlaib)1566275384.0
Oh, yeah?

With that, Detroit Police Chief James Craig sent Tlaib a strong retort: Talk to families of homicide victims before criticizing facial recognition technology, the Detroit News reported.
Craig told the paper that Tlaib and other facial recognition critics are missing important factors: "Nobody ever talks about the victims in these cases. I would offer a word of caution to the congresswoman about using that kind of language in referring to technology that gives these grieving family members closure."
The department also tweeted the following back to Tlaib:
@RashidaTlaib Before you criticize the software, come to our Real Time Crime Center to see how we @detroitpolice re… https://t.co/Z03zYhGULg

— Detroit Police Dept. (@Detroit Police Dept.)1566308327.0
What's the issue?
In facial recognition, still images from video are fed into software that can scan databases to see if there's a match, the News said. But some Detroit citizens say they don't want police using the technology due to privacy concerns and because the software sometimes misidentifies darker-skinned people, the paper added.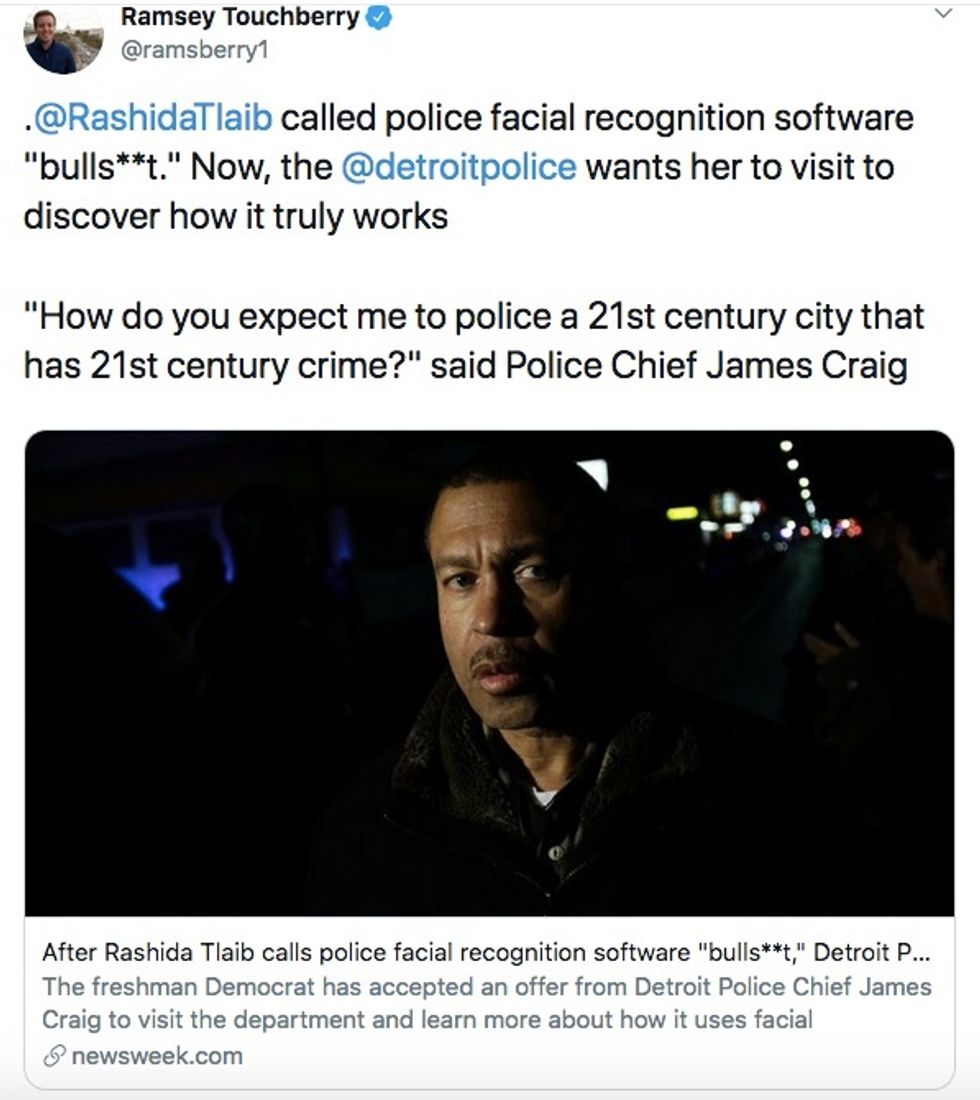 Image source: Twitter screenshot
But Craig said a "rigorous process" eliminates misidentification of darker-skinned people since two technicians and a supervisor must sign off on a computer match before it's forwarded to detectives, the News reported. The chief added to the paper that only about 30 percent of about 500 images have passed such scrutiny.
What did Tlaib have to say about the chief's comments?

After catching wind of Craig's pushback, Tlaib's spokesman told the News that the chief was being "disingenuous" by assuming her objection to facial recognition doesn't take victims' families into account.
"This is about ensuring that all communities are protected," Denzel McCampbell added to the paper. "Experts and researchers have found facial recognition technology to be deeply flawed with a high rate of misidentification, many residents have conveyed the same concerns to her."

McCampbell added to the News that Tlaib "has participated in two congressional hearings in the House Oversight & Reform Committee about this technology and has done a lot of research on it. She remains deeply concerned about this controversial surveillance. We certainly will take Chief Craig up on his offer to visit a Real Time Crime Center, and she looks forward to it."
What did the chief have to say about Tlaib's response?

"I look forward to her visit, and will personally give her a tour," Craig told the paper. "But I also urge her to talk to the families of homicide victims. I did talk to them on Saturday — it was a group of about 75-80 relatives of victims — and when I mentioned facial recognition technology, they cheered."
He added to the News: "I'm looking at using this technology on cold cases where there's a good picture. It hasn't been used that way yet, but why not? The bottom line is, if this technology can help get a violent criminal off the streets sooner rather than later, that's what we should be focusing on."
Craig also told the paper he was with Tlaib on Sunday during a Detroit ceremony and said it's "interesting that she never mentioned her concerns [about facial recognition] when she was face to face."