A council member in Victoria, British Columbia, is taking a stand against "Christian symbolism" that marks the city's seasonal decoration traditions and has secured council's support in reviewing the publicly funded program, the Vancouver Sun reported.
While Ben Isitt acknowledged that overtly religious symbolism has been "dialed back" over the years, he told the paper there's still a long way to go: "I think there are still many elements of Christian symbolism that are paid for with taxpayer dollars and, for me, that doesn't reflect a clear division between church and state."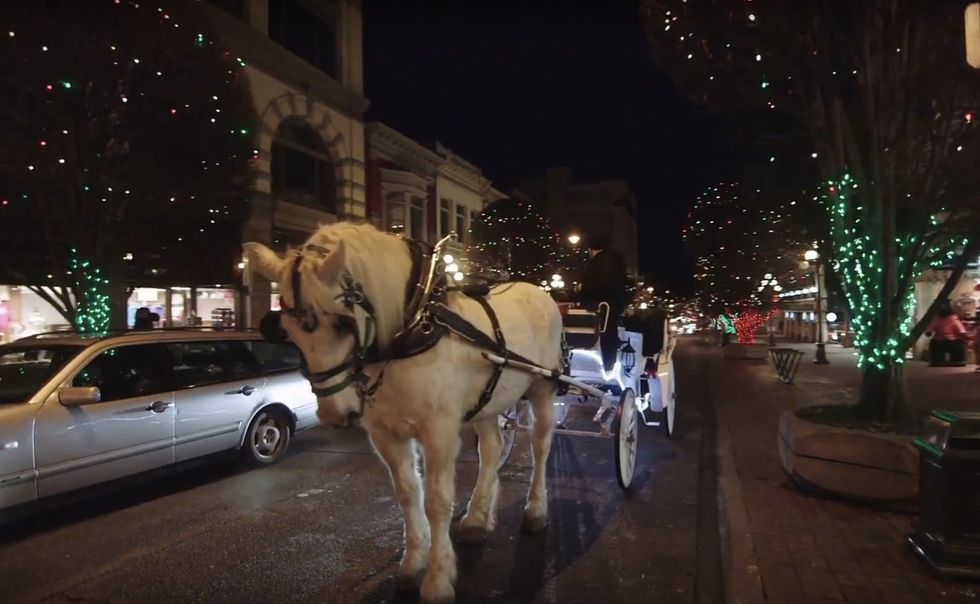 A Victoria street during Christmas season.(Image source: YouTube screenshot)
Take, for instance, what happened to Isitt prior to his public stance: He told the Sun that a poinsettia recently appeared on his desk at Victoria City Hall.

"I don't want a poinsettia," he told the paper. "It is a symbol of the Christian faith."
Isitt also questioned the lighting of the giant sequoia in Centennial Square outside City Hall, the Sun said, as it's a public space and the city should make sure it's inclusive.
"Muslims, unless they are mixed families ... don't have Christmas trees in their homes," he added to the paper. "Jewish people, like me, don't have Christmas trees in their homes."
Isitt suggested that a group with secular humanists as well as Jews, Christians, and Muslims could review the city's publicly funded seasonal decorations are as inclusive as possible, the Sun said.
"Just get a temperature check," Isitt added to the paper. "For me, it's the Christmas trees, it's the poinsettias, it's the hollies that sort of ruffle my sensibilities in terms of the expenditure of tax dollars. And snowflakes and even dragon symbols for Chinese New Year, they don't, for whatever reason."
Council members agreed to have staff report back on ways to further secularize or increase the diversity of cultural elements in seasonal decoration, the Sun reported — but not all of them shared Isitt's passions.
Sharmarke Dubow, a Muslim, told the paper that rather than offending immigrants, Christmas lights can be an interesting aspect of a new culture: "I was born on Christmas Day. This is symbolic, and I like [the lights] on a personal note."
Charlayne Thornton-Joe added to the Sun that efforts have been made over the years to rein in Christian elements of decorations and move to outlines of snowflakes and candles as more reflective of a winter holiday — but that decorating downtown is good business: "We take these opportunities to celebrate, whether it is for tourism or downtown businesses because when the downtown businesses thrive all through the year, our whole community thrives."
Marianne Alto, another council member, told the paper that seasonal lights are subject to interpretation: "My family has never celebrated Christmas, but we always put up solstice lights. That's from a tradition in northern Scandinavia, where life is so dark that it was an opportunity to provide some light in order to help people get through that terribly dark, long season. I do think we need to be cognizant of the fact that while we're seeking diversity, part of diversity is also about tolerance."
Here's a peek at what Victoria looks like this time of year: