Missy Warwood said when she, her husband, and their 5-year-old son Jefferson waked into Bombay Grill in Ogden, Utah, last month for her birthday, the owner immediately turned them away, KSTU-TV reported.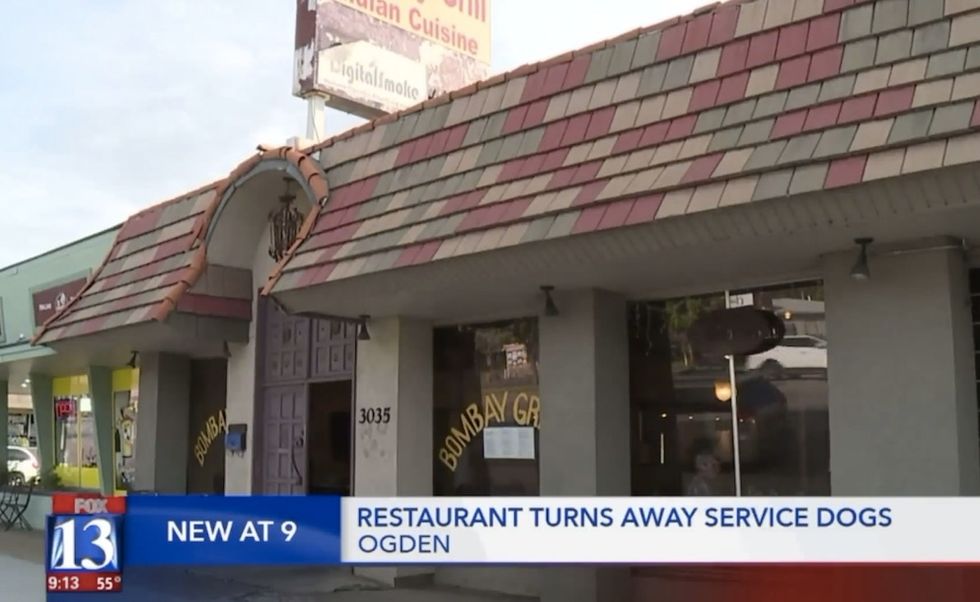 Image source: KSTU-TV video screenshot
Why?
Well, the family also walked into the restaurant with Sage — Jefferson's service dog, the station said.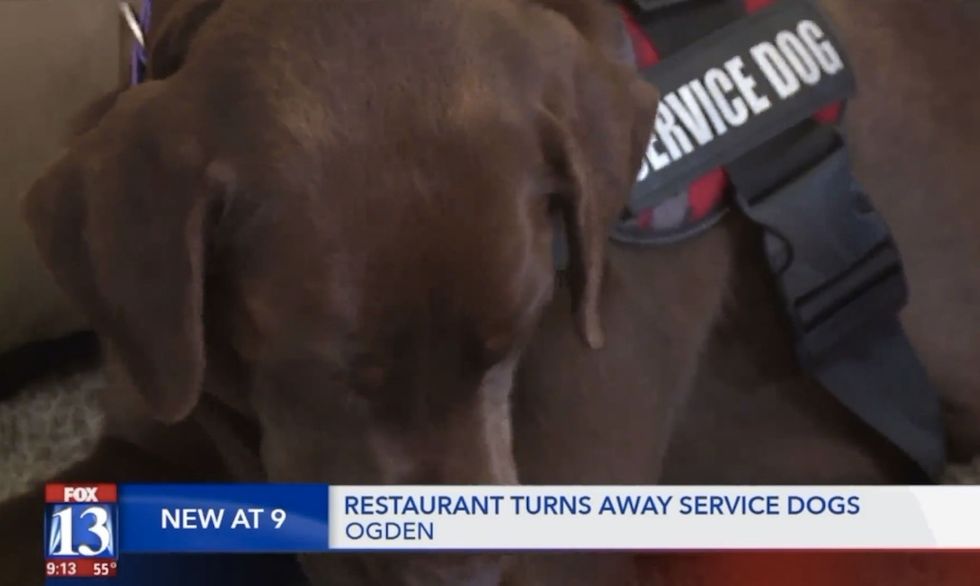 Image source: KSTU-TV video screenshot
Jefferson has Down syndrome and doesn't speak, KSTU reported, and Warwood said that Sage is considered Jefferson's medical equipment. Sage keeps Jefferson safe and calm, she added to the station, and lets the family live life normally in public.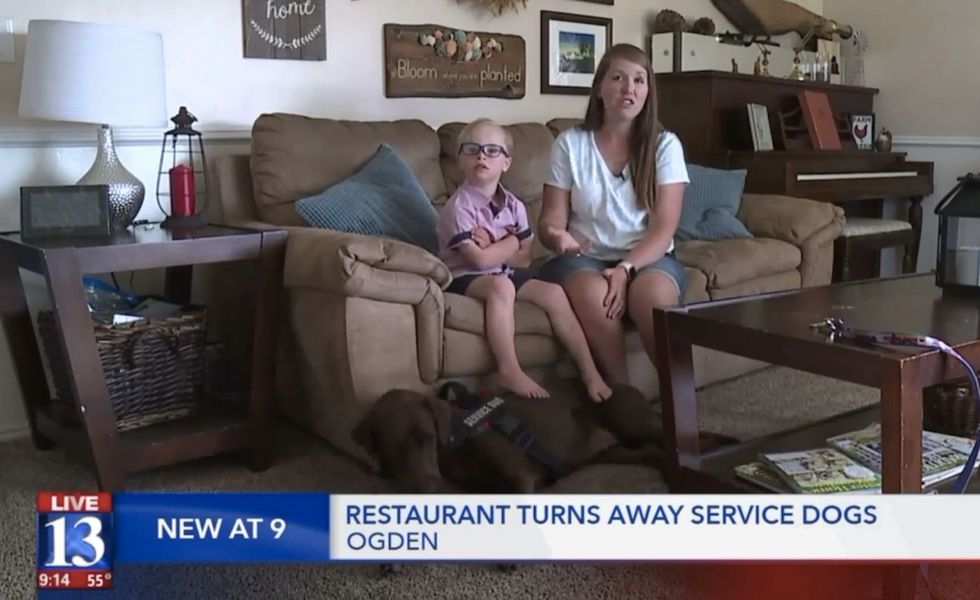 "Out and about, Jefferson wanders and runs and doesn't sit still," his mother told KSTU as Jefferson started crawling into her lap during an interview after the incident.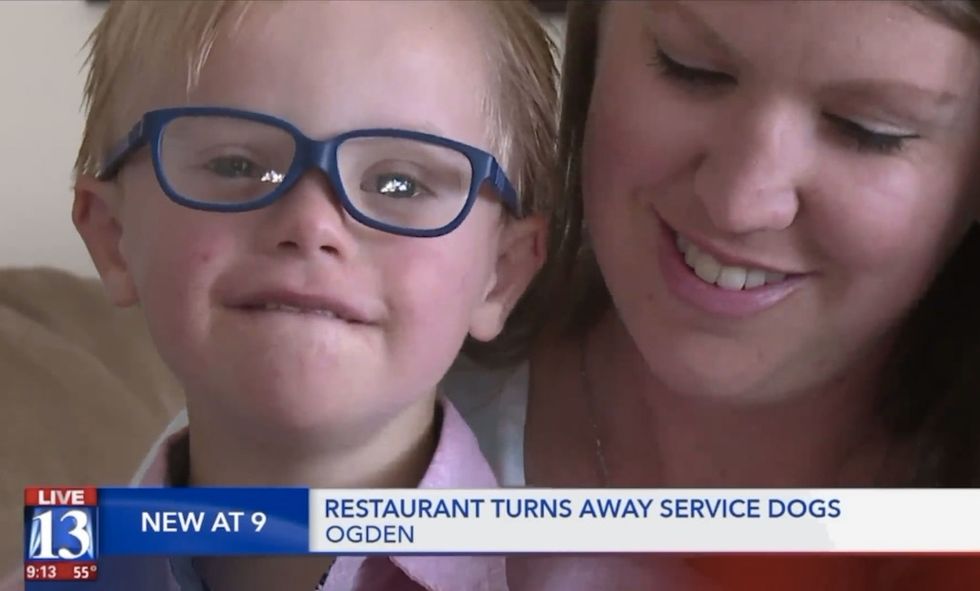 Image source: KSTU-TV video screenshot
But when they walked into Bombay Grill, Warwood told the station that the owner told them "no dogs."
"We tried to educate him and let him know that we have every right to be here. It's my son's service dog. He needs it," she recalled to KSTU. "And he said, 'No. It's my opinion, it's my restaurant. And I say, no dogs.'"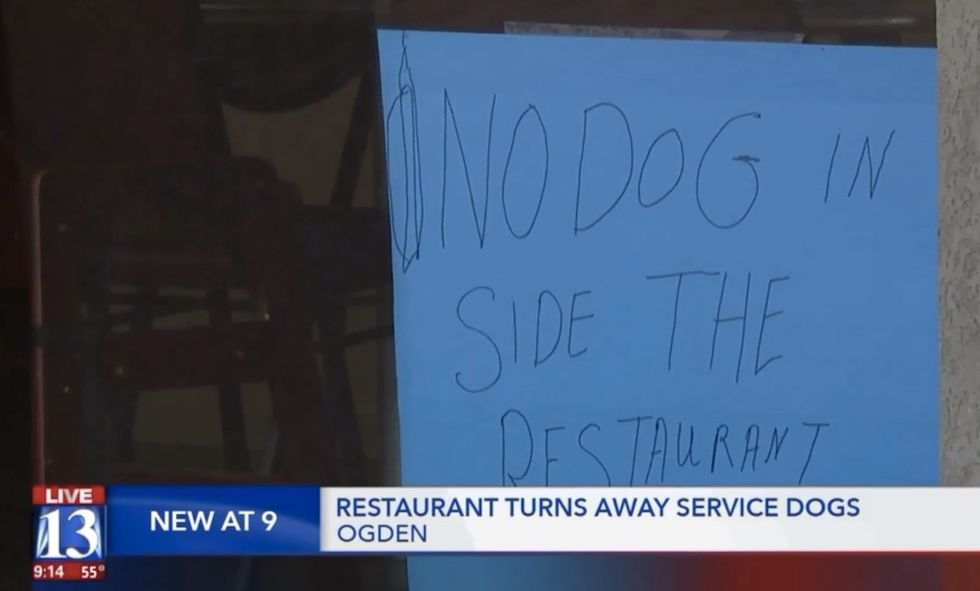 Image source: KSTU-TV video screenshot
After they left the restaurant, Warwood made sure that Americans with Disabilities Act regulations were posted to the restaurant's Facebook page so the owner could read up on the law — which bans businesses from discriminating against people with disabilities and requires businesses that serve the public to let customers bring service animals into customer areas, the station said.
Another incident

Then this month a group of veterans affiliated with the service dog organization 4 Paws 4 Patriots told KSTU they tried to eat lunch at Bombay Grill — and once again, no dogs allowed.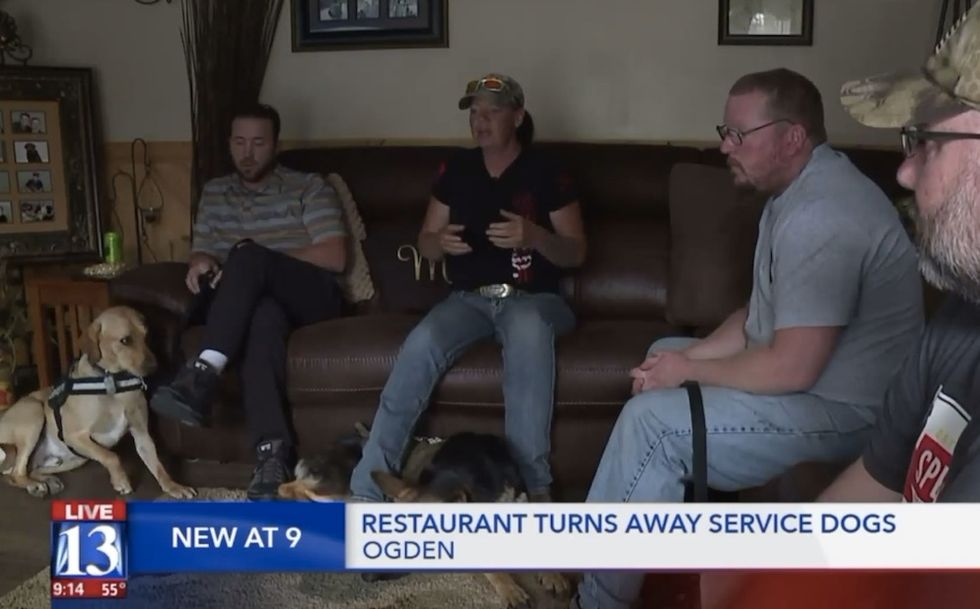 Image source: KSTU-TV video screenshot
One of the veterans, Abraham Swank, told the station that his service dog, Temperance, helps him with his mobility and anxiety. Swank added to KSTU that he wouldn't be able to leave his house by himself or go in public without Temperance's help.
Veteran D Berard added to the station that her service dog, Xena, helps her with post-traumatic stress disorder.
"I also have severe hearing loss," Berard told KSTU. "If there's something behind me that I'm unaware of, she'd make me aware of it."
Veteran James Mann — who was with his service dog, Potter — took cellphone video of the Bombay Grill owner looking at the group and saying, "Sir. No dogs," the station said.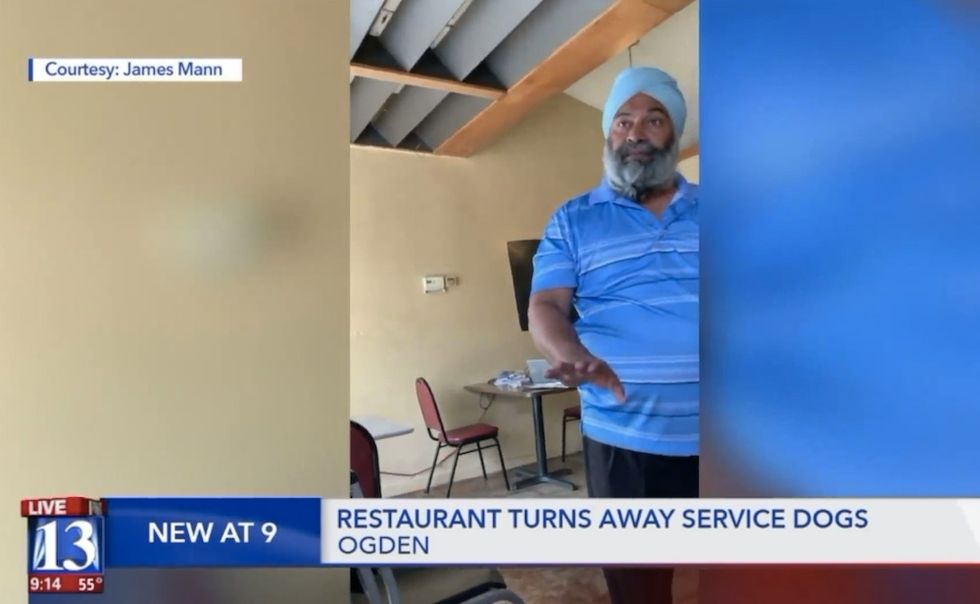 Image source: KSTU-TV video screenshot
The group tried to explain to him that denying them service is like denying service to someone in a wheelchair, KSTU said, but the owner replies "I know" then says dogs still aren't allowed.
The owner offered to serve the group outside, the station reported, but the veterans said there was no seating area outside, and it was too hot.
Then after the group continued trying to speak to the owner, he told them the restaurant was closed, KSTU reported, adding that the owner later told the station he closed the restaurant until the group left then reopened it.
What else did the restaurant owner have to say?
Bombay Grill told the station it doesn't allow any dogs inside because they worry that other customers might be afraid of dogs.
The owner told KSTU that his restaurant is his responsibility and that a dog attacked a customer in the past.
But when the station said it asked him about ADA laws, the owner replied that he knows the laws and has read them — and still stands behind his policy, and that customers with service dogs can order to-go or sit outside.
'Rejecting a person'
Berard told KSTU the owner's stance goes deeper than just noncompliance with the law.
"I want them to understand, it's not just the act of rejecting an animal," she told the station. "They are also rejecting a person, an individual, who has a disability that they are already living with every single day."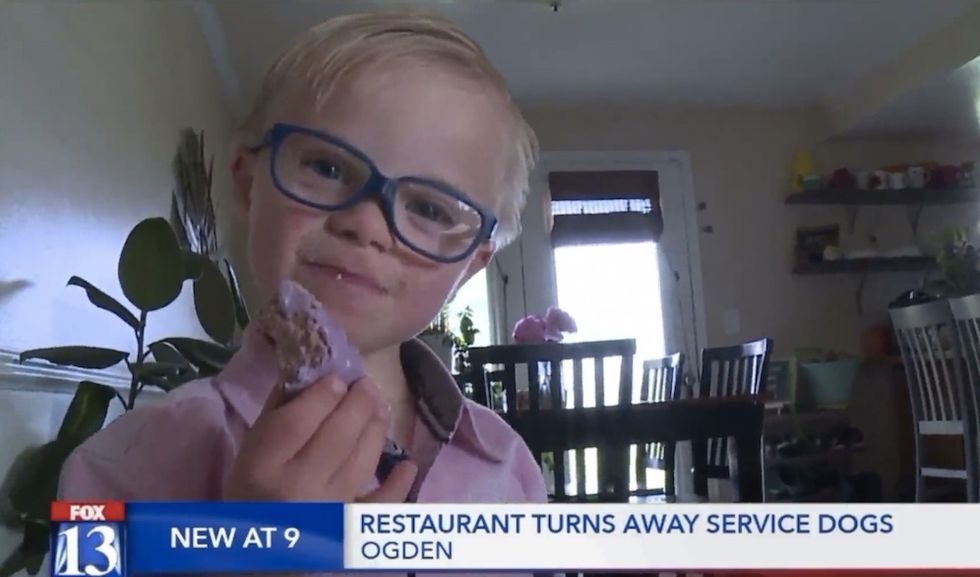 Image source: KSTU-TV video screenshot
Here's KSTU's video report: