In his last known political act, billionaire Ross Perot, who sadly succumbed to his battle with leukemia on Tuesday, worked to help re-elect President Donald Trump.
During the height of his battle with cancer in March, Perot wrote Trump's re-election campaign two checks for the legal maximum amount of $2,700, the Boston Globe reported.
One check will benefit Trump in the primary cycle, while the other will go toward Trump's general election campaign. Federal election law restricts individual political donations to $5,400 per election year.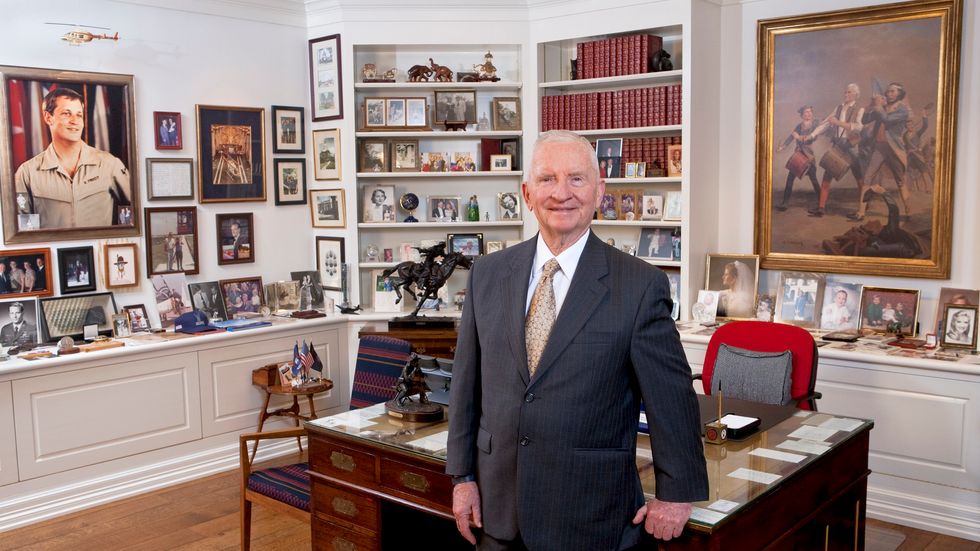 Ross Perot in 2008 Ed Lallo/Bloomberg via Getty Image
Perot, a business magnate who lost his independent campaigns for president in 1992 and 1996, is thought of as Trump's populist predecessor who paved the road for Trump's successful campaign in 2016.

Both businessmen employed similar bombastic campaign strategies, including a focus on a nationalistic agenda and leveraging the media to boost their campaigns. The only difference? Perot ran as a third-party candidate, while Trump used the Republican Party to win the White House.
"If Donald Trump is the kind of Jesus of the disenchanted, displaced non-college white voter, then Perot was the John the Baptist of that sort of movement," Democratic strategist James Carville quipped in 2016, the Globe noted.
Perot, however, did not endorse Trump in 2016, or any candidate for that matter. His final political presidential endorsements went to Mitt Romney in 2008 and 2012.