A Target security guard punched a woman in the face after she reportedly chased him into an office over the store refused her "reparations" of $1,000 in groceries.
What are the details?
The New York Post, citing a police report, said the incident took place in October in Blue Ash, Ohio, when Karen Ivery asked a cashier for the manager regarding the bill and reparations.
The cashier told authorities that Ivery brought up reparations several times during their brief interaction before the manager arrived, the paper said, citing the report.
When speaking with the manager, the customer first asked for reparations and then grew angry as she walked "aggressively" toward the manager, the Post said, citing the report.
"Ivery kept berating her about reparations and her privileged life," the report said, according to the Post, as the customer continued walking toward the manager.
With that, Zach Cotter — a loss-prevention officer — intervened and asked Ivery to calm down and leave the store, the paper noted, citing the report.
But Ivery allegedly began screaming at Cotter and followed him to his office, the Post reported.
When he tried to shut the door, Ivery allegedly forced her way into the office — and Cotter threw a punch, the Post added, citing the report. Ivery fell to the floor after the wallop.
A rather jaw-dropping separate video shows the aftermath in the office as one of the cops tells Ivery he has the goods on her through video evidence — in particular, the security guard who feared for his safety after Ivery backed him into an office — and she replied that "when people are backed into a corner, they can choose to do the right thing, or they can choose to lash out."
Ivery also claimed she "held the line" and then "moved my line continuously" before accusing store employees of "gatekeeping me." Soon she was holding aloft her left fist and hollering, "If the laws are meant to hold people down, you will fight for me, my community! You will come for me!"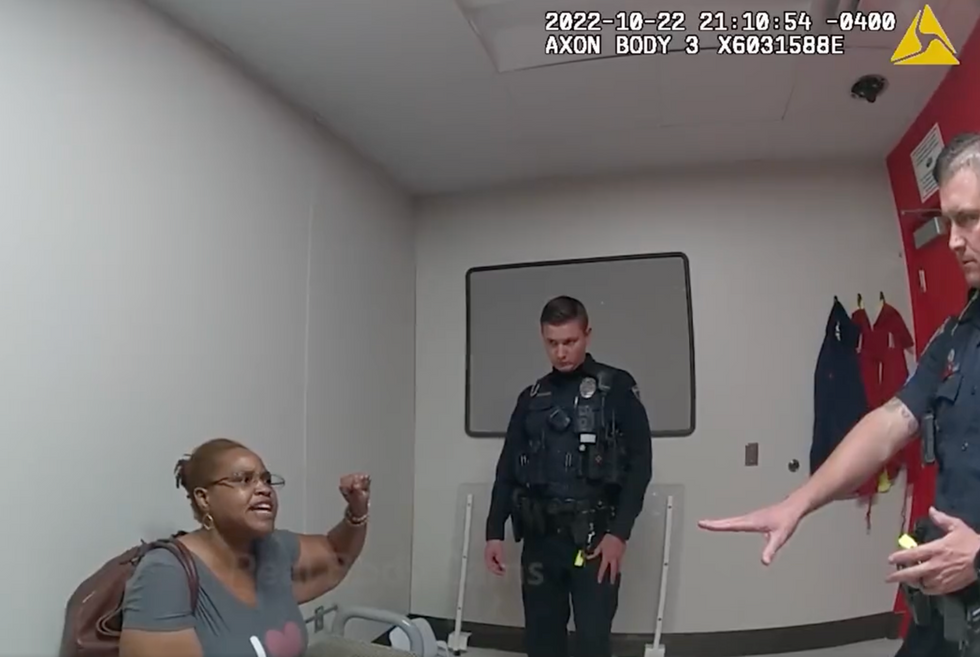 Image source: Twitter video screenshot via @pine_tree_riots
She added, "People that look like you are done trying to gatekeep people that look like me."
In the second of the two clips below, Ivery told a police officer, "This is my Rosa Parks moment, dude. Don't play with me."
Anything else?
Authorities determined that Ivery was the "aggressor," after which she was placed under arrest, the Post said.

"Ivery was confrontational with officers on the scene and didn't want to explain her actions," the report added, according to the paper.
Ivery was sentenced to a day in jail and charged $110 for disorderly conduct, the Post said, citing the Daily Mail.
The Post said a Target spokesperson declined to comment about the incident.
Like Blaze News? Bypass the censors, sign up for our newsletters, and get stories like this direct to your inbox. Sign up here!