An elementary teacher was caught on surveillance video dragging a 9-year-old boy with autism through a school hallway, and now she's out of a job — and in hot water.
Trina Abrams was removed from her position at Wurtland (Kentucky) Elementary School after October's incident became known, WCHS-TV reported, citing the Greenup County School District.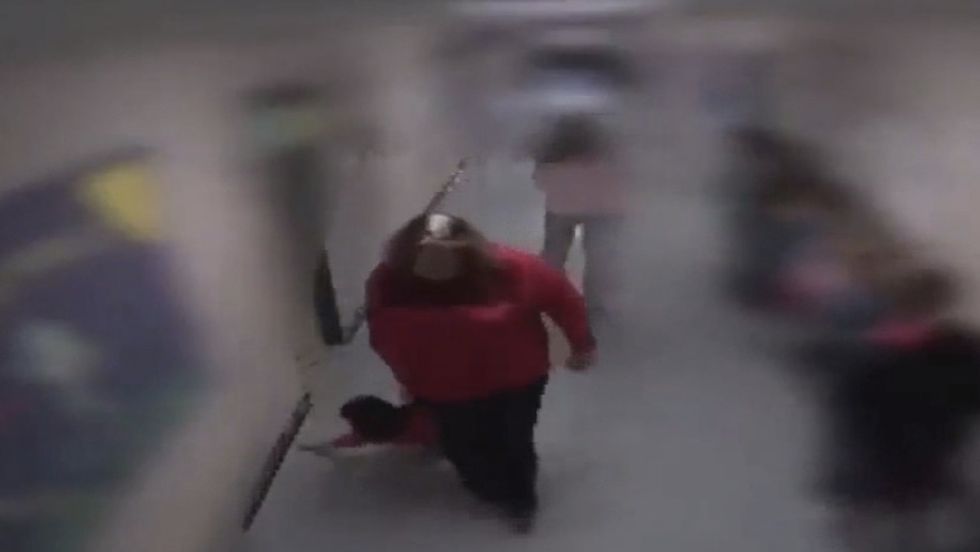 Image source: WCHS-TV video screenshot
'I was horrified'

"I was horrified when I saw it," the boy's mother, Angel Nelson, told the station. "I couldn't believe that she would drag him."
Nelson posted the surveillance clip on her Facebook page and told WCHS she believed she "needed to go to social media for my child to have a voice, to let others know what happened and that it doesn't go away."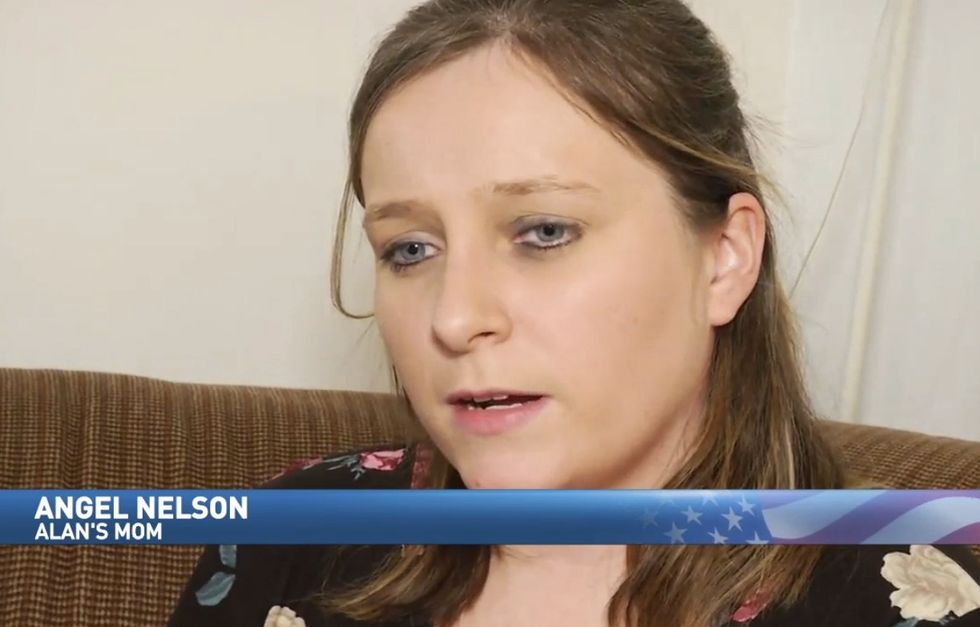 Image source: WCHS-TV video screenshot
Her special-needs son — Alan Jackson — has been diagnosed with autism, ADHD, PTSD, anxiety, and depression and has limited speech, stepfather Calep Nelson added to the station.
Other children were taken out of the classroom when Alan was having an outburst, and Abrams had allegedly grabbed his wrists, twisted them, and pulled him out of his chair before dragging him down the hallway, his mother told ABC News.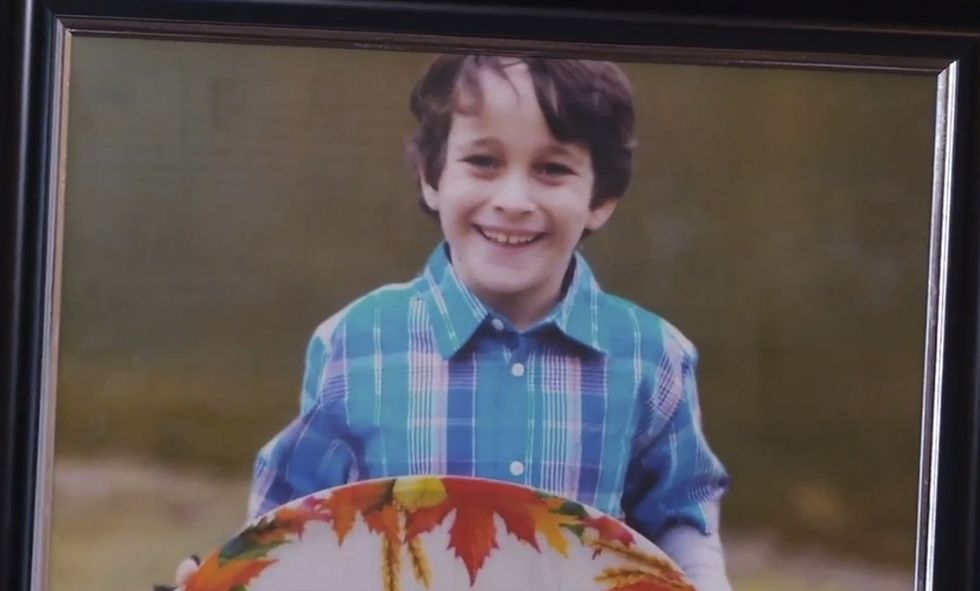 Image source: WCHS-TV video screenshot
"I've seen him truly at his worst, and it's never called him for being dragged down the hallway like that," Calep Nelson told WCHS.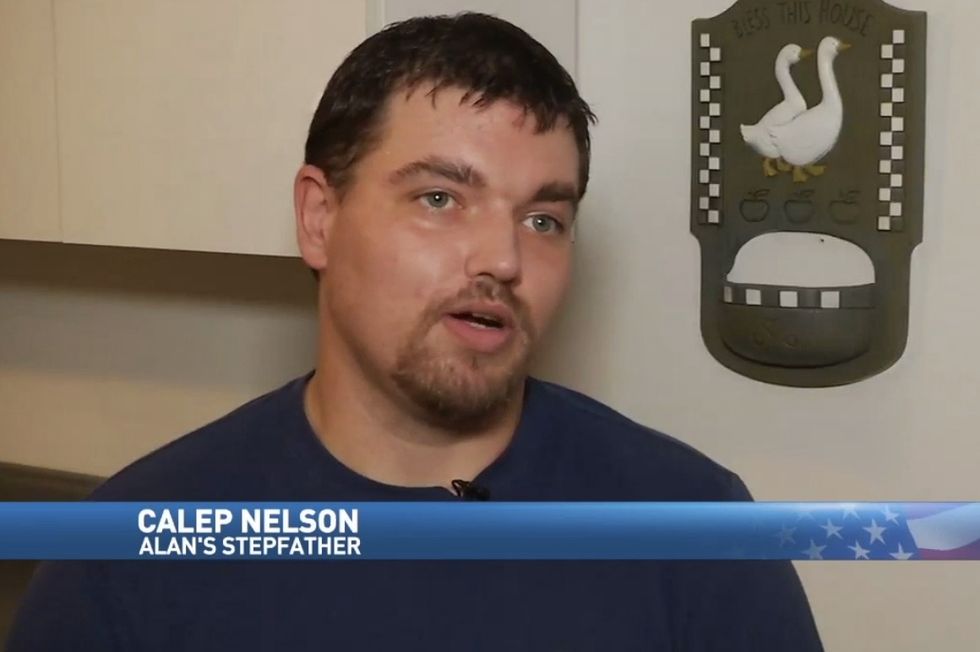 Image source: WCHS-TV video screenshot
Angel Nelson added to the station that the video "broke my heart ... and I saw all of his new friends and classmates along the wall watching him being dragged down the hallway."

The district released the following statement, the station said:
The Greenup County School District prioritizes the safety of our students. The district followed established safety protocol as soon as this situation became known. The parent was contacted immediately and the student was assessed by the school nurse and referred for outside medical evaluation. Child Protective Services was contacted and the Kentucky State Police opened an investigation. The teacher was removed from the school and a formal investigation was conducted. The superintendent also followed protocol and reported the incident to the Kentucky Education Standards Board. The EPSB determines whether or not a teacher keeps their teaching certificate. All GCSD staff are trained to prevent incidents of restraint. Each school has a specially trained team to address immediate issues. In addition, each school has teachers specially trained to address autism related behaviors.
What else happened to the former teacher?
Abrams is charged with fourth-degree assault and is expected to appear in court Wednesday, Kentucky State Police told WCHS, adding that the investigation is continuing.
What else are the boy's parents saying?
Angel Nelson added to ABC News she wants more cameras in schools and that the camera in the room where Alan was ultimately taken did not show what happened in that room. She also told the network that Alan is being transferred to another school and that his wrist was sprained after he was dragged.
She also told WCHS that the incident took away "confidence" Alan had gained — and is hoping his story will help raise awareness so it doesn't happen again.
Calep Nelson's message to parents?
"If something like this ever happens, be vigilant and don't stop until you get answers," he told the station. "That's what we're trying to do."