Mohammed Zubi — a senior at Ridgefield Memorial High School in northern New Jersey — asked a teacher in his math class what seemed like a simple question last week.
But the teacher's alleged answer cut to the 17-year-old's core.
What happened?
WABC-TV said Zubi simply asked his teacher if he could finish an assignment at home.
"He responded saying, 'We don't negotiate with terrorists,' so I look around in shock, there's people laughing, and there's other people in shock, and I turn around and ask my friend, 'Did he really just say that?' and she said yes," Zubi recalled to WABC.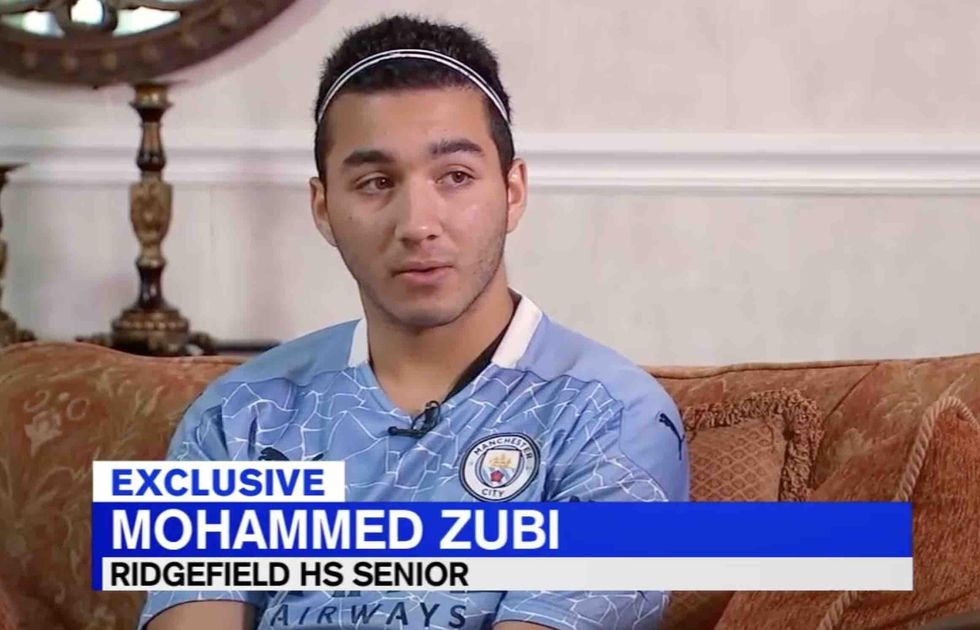 Image source: WABC-TV video screenshot
Senior Vuk Tomasese seemed to confirm Zubi's account to the station: "The teacher got close to him and said 'we don't negotiate with terrorists,' knowing that Mohammed is Arabic and Muslim."
Another senior, Nichoalas Velez, told WABC the students in the class mostly were in shock.
CNN noted that the instructor in question is an assistant teacher, adding that a few minutes later he approached Zubi, patted him on the back, and said he didn't mean it like that.
"In my head I'm just like, 'What other way could he have meant that?'" Zubi told the cable network.
What did the school district have to say?
Ridgefield Public Schools issued the following statement on its website:
The Ridgefield School District has absolutely no tolerance for any sort of discrimination against any student or staff member. The District strives to create an inclusive environment where students' and staff members' race, religion, national origin, and sexual orientation are embraced. While the District cannot legally comment on personnel or student matters, the public should be aware that the District immediately suspended the staff member while it is conducting a full investigation. Additionally, the District has notified law enforcement for its assistance. The District fully intends to pursue any and all legal remedies against the staff member as any discriminatory conduct has absolutely no place in our District.
Ridgefield Police Chief Thomas Gallagher told CNN the case was "referred back to the original agency" as local law enforcement found no crime associated with the incident.
Anything else?
"I don't feel like going back, I'm really uncomfortable," Zubi told WABC after the incident, having been out of school over the incident for several days. "I don't want to see anyone, and I've been in my room all day -- don't want to see my friends, especially after what that teacher said to me."
But he told CNN he returned to school Monday and that he wants "a public apology to me and my family."
Zubi is captain of the soccer team and last year was named one of the top goalkeepers in northern New Jersey — second-team all-league in Division 4 — with 93 saves, NorthJersey.com reported.
His mother worked at the Ridgefield Memorial High School, WABC noted, adding that his older brothers graduated from there. And one of them — Anas Zubi — told the station the teacher's remark was painful: "To see my little brother, a minority, 17 years old, to hear a comment like that, you know, it broke my heart."