A San Antonio homeowner shot a 19-year-old man who allegedly tried to break into his residence Wednesday morning, KABB-TV reported.
'Find a job like everyone else'
And the Texas homeowner — who didn't want to be identified — had a stern message for the suspect.
"Find a job like everyone else," he told KSAT-TV. "I mean, was it really worth everything you got? You are in the land of opportunity, man. Just get a job like everyone else and work for your stuff."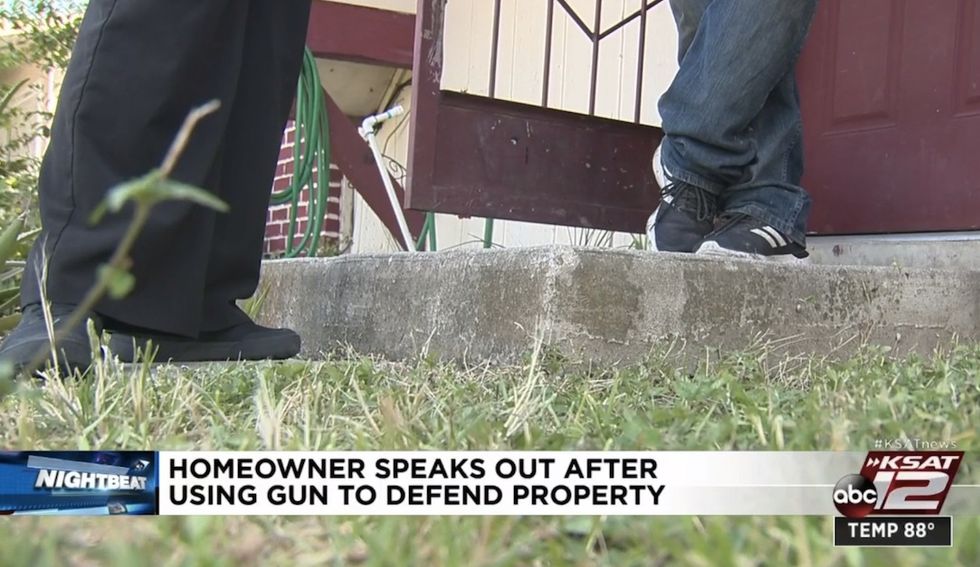 Image source: KSAT-TV video screenshot
What happened?

The homeowner told KSAT he heard the suspect trying to pry open his door.
"I had my kid in the house with me, and that's the first thing that came to my mind, my family's safety," he added to the station, saying he then grabbed his gun and shot through a window.
Investigators told KABB the homeowner said he was asleep at the time of the incident and gave the intruder a verbal warning before opening fire.
"He heard someone prying on some plywood that was covering up a hole in the house," a San Antonio police officer added to KABB. "Right now, we're investigating an attempted burglary."
KSAT said the suspect was hit in the thigh and is expected to be OK.
"I just knew I got him 'cause he yelled and then he ran to the front, and I stopped him right there and waited for the police to show up," the homeowner noted to KSAT, adding that the suspect tried to convince him he wasn't doing anything.
'He was cussing me out'

"He was cussing me out and telling me that I got the wrong person," the homeowner added to KSAT.
The homeowner will not be charged, KABB said.
Police have visited the home 10 times so far this year, and eight of those calls involved burglaries, KABB reported, citing police records the station said it obtained.
"I don't know why," the homeowner told KSAT of the repeated incidents. "You can walk inside the house, and you will see that I don't have nothing here, nothing worth of any value. I don't know. They just keep on coming back for some reason."
The homeowner added to KSAT he hopes others also will protect their residences: "I definitely recommend that because you don't know what these other people are capable of doing. You need to have everything to protect your family."
Neighbor backs homeowner

"That's the only way they're going to keep them out," a neighbor told KABB after the shooting. "Like that. I hate to say it. That's what they're going to get."
South Side homeowner urges the would-be burglar he shot to get a jobyoutu.be