Klein Oak High School football coach Jason Glenn gave a powerful message to his players when they gathered recently on the field in Spring, Texas.
"The stuff that's going on in our country right now? That's not going to divide us!" Glenn hollered as he stalked around the turf while his players stood at attention. "Your skin color, your race, your religion ... that won't divide us! ... We're not doing that! We won't allow it!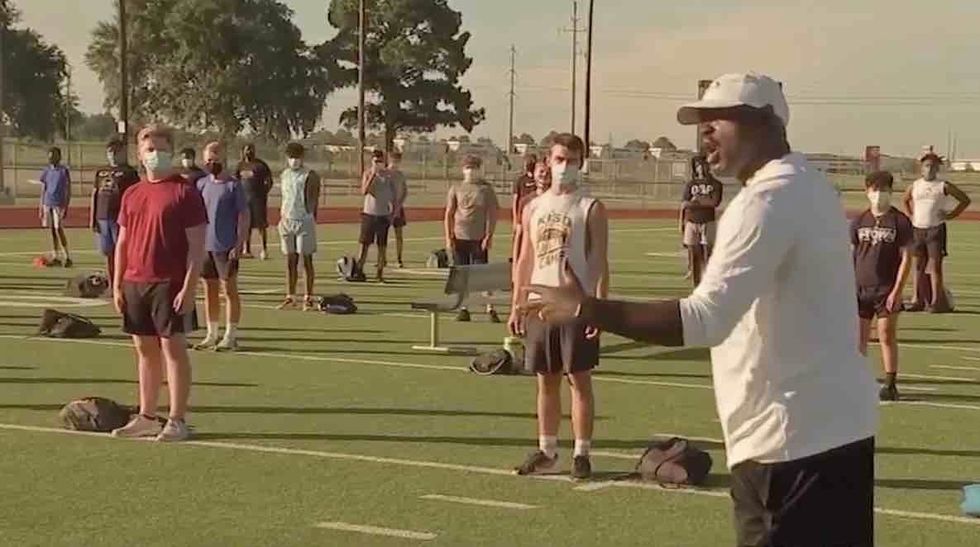 Image source: Facebook video screenshot
He shared that he's noticed in the wake of George Floyd's death and the protests and rioting that have followed around the country that "people look at each other differently! ... It's changing us! It's dividing us!"
But he reemphasized to his players that "we're not gonna be divided! We're not gonna let society tell us who to hate — you need to decide that ... by their heart, their character, and how they treat others!"
At one point Glenn approached a white man standing on the field and the pair embraced, after which the coach said, "I love him to death! He's my guy ... one of the first guys I met welcomed me here ... this is my brother! Love him to death! And you know what? Nothing — society, social media, TV — nothing's gonna change the way I feel about him. You wanna know why? Because I judge him on his character and his heart."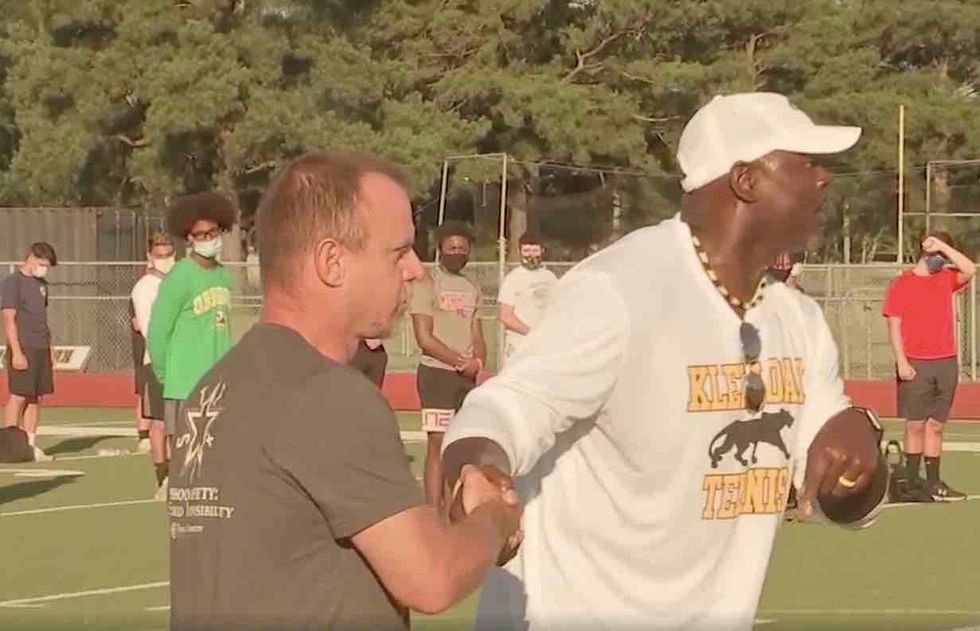 Image source: Facebook video screenshot
He also told his players that "the whole United States is crumbling before our eyes" but that "your generation has to make a stand ... you have to do something ... start now!"
The clip was posted to Facebook on Thursday and has received 1 million views and counting:
Klein Oak coach gives powerful speech to players amid anti-racist protests youtu.be
Speaking to KTRK-TV, Glenn said his message won't be waving, despite the fact that he's experienced racial bias from police.
An All-American player at Texas A&M and later a player and coach in the NFL, Glenn decided to return to the high school level to make difference in the lives of young people, the station said.
KTRK added that he's positive he's where he is now for a purpose and to "raise great young men."