© 2023 Blaze Media LLC. All rights reserved.
Thug with over 40 arrests on his rap sheet walks streets long enough to beat up NYC transit worker — and officials are fed up: 'New bail reform must be changed'
Alexander Wright has over 40 arrests on his record. But length of his rap sheet and the heinous nature of his violent offenses apparently haven't been enough to keep him locked up and unable to hurt more people.
For example, Wright was charged with a felony hate crime last year for sucker-punching a 55-year-old Asian woman in New York City's Chinatown and knocking her out:
Asian Woman Sucker-Punched In Chinatownyoutu.be
But somehow Wright was walking free in August when he allegedly beat up a Bronx subway cleaner who tried to help riders Wright was harassing. The victim, Anthony Nelson, suffered a dislocated nose and a broken collarbone, Fox News said.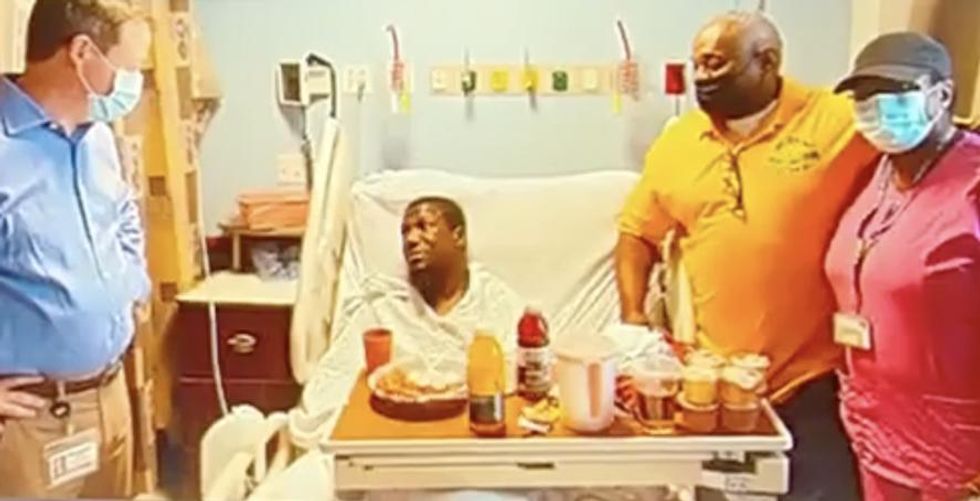 Image source: Fox News video screenshot
Wright, 49, was arraigned Sept. 22 on felony assault charges and was to remain at Rikers Island on $5,000 bail.
'This has to stop'
A New York City transit union official appeared on "Fox & Friends First" Monday to voice his displeasure with New York's controversial bail reform law that many say makes it easier for dangerous criminals like Wright to stay out of jail and rack up more victims.
"Once again, this has to stop. The new bail reform must be changed," Transport Union Vice President Robert Kelley told program host Todd Piro. "Time and time again, this guy should not have been privileged to be even under the new bail reform in terms of him being free. After 40 beatings, you would think they'd lock him up and throw away the key."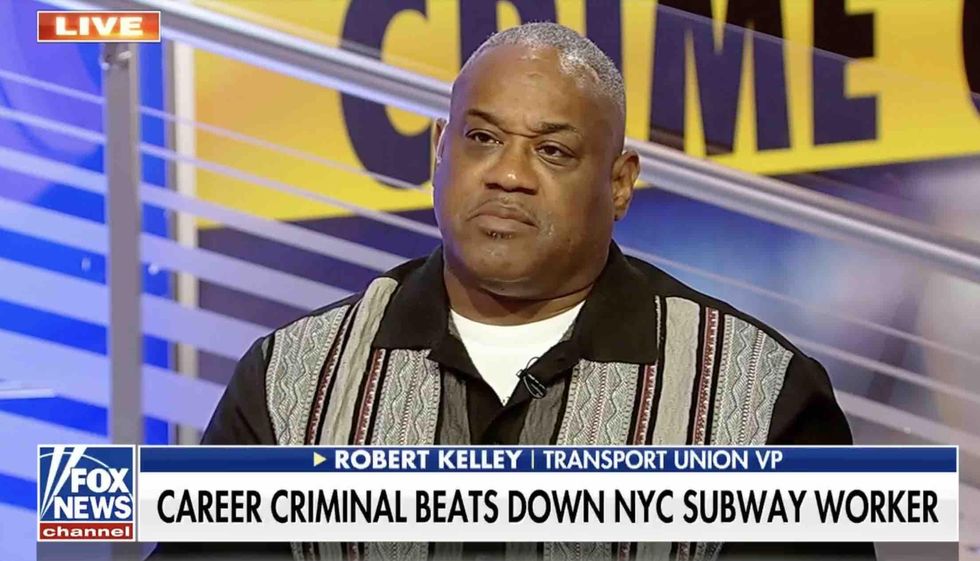 Image source: Fox News video screenshot
Kelley added that Nelson also has been suffering emotional fallout stemming from the attack and that the victim's "mother cries every day; I speak with her on a weekly basis."
He also said Nelson "is clearly a hero" for trying to help subway riders but that Wright roaming free is "very disheartening."
"I never thought I'd say this, but at the end of the day, the MTA employees have a more dangerous job than the NYPD," Kelley added to Fox News. "At least [the NYPD officers] have weapons to protect themselves… our members don't."
Anything else?
A month after his alleged hate-crime sucker punch, Wright allegedly threw scalding coffee at two traffic agents in Manhattan, the New York Post reported.
Police said Wright had been living at a homeless shelter and was the subject of three prior "emotionally disturbed person" reports, the Post said.
He's due back in court Nov. 3 in regard to the Nelson attack, the paper said.
Want to leave a tip?
We answer to you. Help keep our content free of advertisers and big tech censorship by leaving a tip today.
Sr. Editor, News
Dave Urbanski is a senior editor for Blaze News.
DaveVUrbanski
more stories
Sign up for the Blaze newsletter
By signing up, you agree to our
Privacy Policy
and
Terms of Use
, and agree to receive content that may sometimes include advertisements. You may opt out at any time.