A controversial video posted earlier this week shows a woman — apparently a University of Virginia student — at the school's newly opened Multicultural Student Center and making what she called a "public service announcement" to those gathered.
"If y'all didn't know this is the [Multicultural Student Center], and frankly there's just too many white people in here, and this is a space for people of color," she said. "So just be really cognizant of the space that you're taking up. Because it does make some of us [people of color] uncomfortable when we see too many white people in here. It's only been open for four days, and frankly there's the whole university for a lot of y'all to be at, and there's very few spaces for us. So keep that in mind."
The woman then says "thank you" and sits down smiling to applause.
Leftists at the University of Virginia are dictating who is and who isn't allowed in the new Multicultural Student… https://t.co/RNGYDWmsQC

— YAF (@YAF) 1581533833.0
What did the university have to say?
Indeed, the Multicultural Student Center opened for business last Thursday, according to the school's news page. It's one of four new spaces, the college said — all of which are available to all students.
A university spokesman on Wednesday didn't address TheBlaze's emailed question about the Twitter video but did confirm that all the new centers are "open to all members of the university."
What are the details?
The original Twitter post containing the video went up Monday, Young America's Foundation told TheBlaze. And while the post has been deleted, a screenshot of it indicates that "a bunch of infiltrators" were hanging out in the Multicultural Student Center since its grand opening but that "@easily_ezzy decided to put them in check."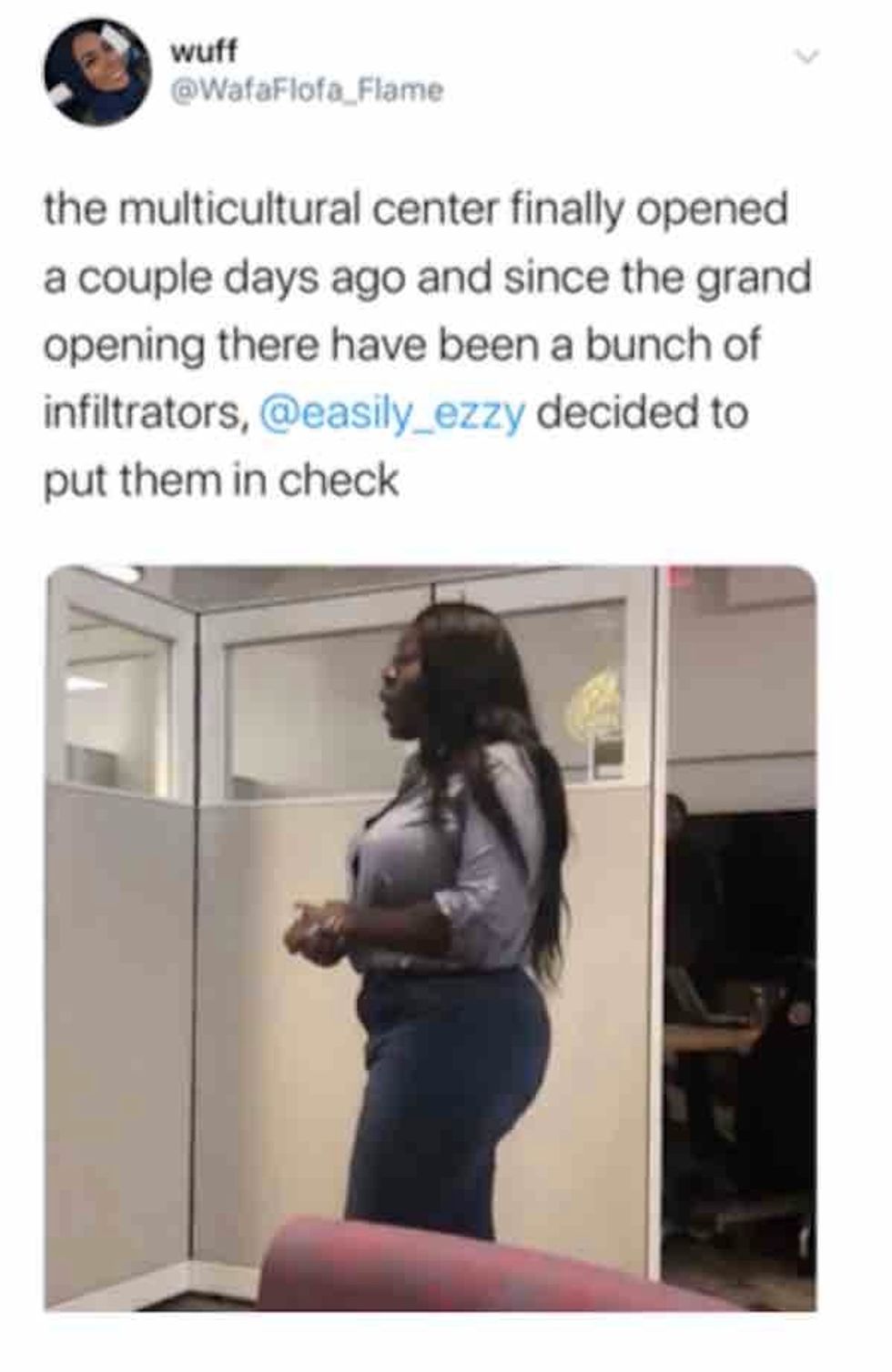 Image source: Twitter via Young America's Foundation, used by permission
The woman in the video made numerous comments on her Twitter page — which she protected Wednesday evening — regarding her "too many white people in here" declaration.

"It's Black History Month, so I'm literally not going to respond to any hate that I'm getting from the video," she noted Tuesday, adding that "so many POCs are thanking me for speaking up about something they all felt, and I'm going to uplift that."

Image source: Twitter
She added — presumably in regard to her speech inside the Multicultural Student Center — that "y'all should have seen how QUICK the white people packed their bags and left!"


Image source: Twitter
How did others react?

As you might expect, a number of folks challenged the sentiments in the video, saying in comments under the YAF post that excluding white people from the Multicultural Student Center is racism:
"Discrimination based on race violates the Civil Rights Act of 1964 and Virginia law."
"Reverse racism at work. Did these fools think that perhaps the white people there wanted to learn about other cultures?"
"Look at her confidence while making her anti-white announcement & notice how well it was received. Meanwhile, many whites are still afraid to even pushback against anti-white discrimination for fear they'll be labeled racist. Conversation on race? More like a one-sided lecture."
"Martin Luther King Jr. is rolling over in his grave."
"She just committed a Title VI violation."
"As usual, the Left (which sadly now dominates Thomas Jefferson's wonderful university) are as bigoted and racist as ever. This is the same party that gave America slavery, segregation, the KKK & Jim Crow laws. Why are we surprised?"
Although one UVA student didn't see it that way and said the school is "a mostly white institution, it has tons of public spaces for studying. This student is simply asking that the one space on campus specifically designed to give students of color their own space (where there are not made a minority) remain so."