While the New York Public Library last month canceled without explanation an event sponsored by a feminist group that believes only biological women are real women, the Seattle Public Library decided to move forward with a similar event over the weekend by the same group — the Women's Liberation Front.
And as you might guess, transgender activists were out in force in an attempt to shut it down:
Yesterday, dozens of far-left protesters, including antifa, tried to shut-down a women's event organized by… https://t.co/bwiwYetTUZ

— Andy Ngo (@Andy Ngo)1580696624.0
Hundreds of people — including library employees — were outside the building Saturday evening holding signs, waving transgender flags, and chanting "trans is beautiful" and "bigots out," and inside two protesters were arrested, the Seattle Times said.
It all started with someone playing what sounded like a flute — and quite badly. Then a man in the crowd cried out, "Trans women are women!" And video caught the speaker's annoyed-yet-hilarious reaction: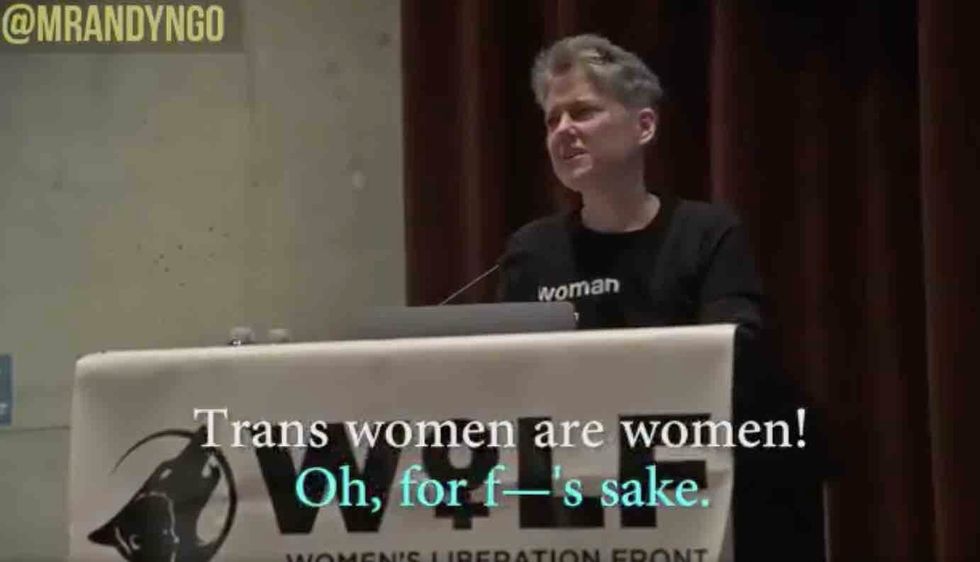 Image source: Twitter video screenshot
Police told the paper when the two attendees causing the disturbance refused to leave, officers arrested them and booked them for trespassing — with at least one getting carried out: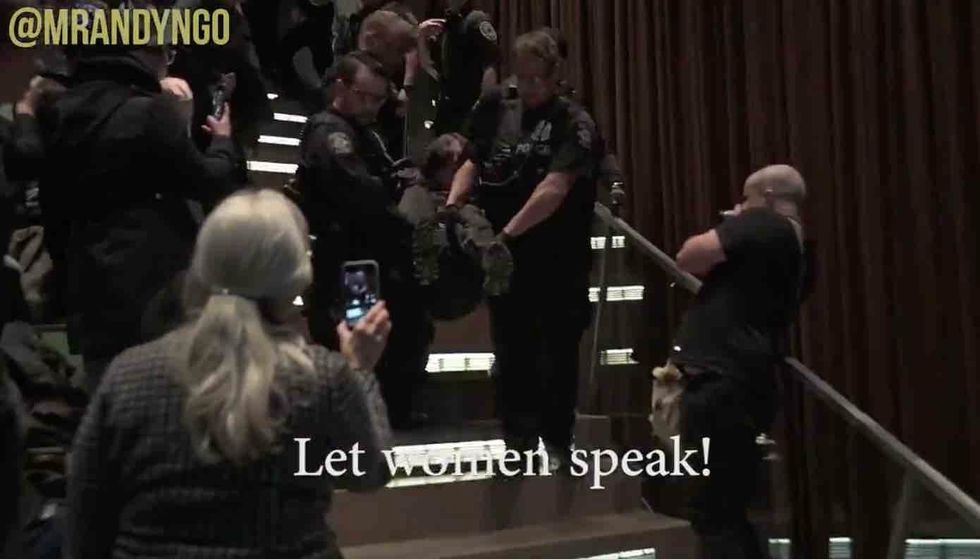 Image source: Twitter video screenshot
More from the Times:
The planned event inside the library sparked controversy in recent months as transgender people and allies urged the library to cancel the event, which was publicized as "a critical analysis of gender identity" that would "make powerful arguments for sex-based women's rights." The Gender Justice League, one of the groups that organized the protest, said in a statement during the debate that the "end result of a hate group using the library as a venue to 'critique' the existence of a minority group creates a hostile environment and is unacceptable." WoLF denies it engages in hate speech.

The union representing library workers also raised concerns about harm to library staff who are transgender.

The Seattle Public Library board decided last month the event would be allowed to proceed. The event was moved to a time when the downtown library is closed and increased security was planned, said Marcellus Turner, executive director and chief librarian.
Here's another clip of the action inside the library:
Another of the arrests during the SPL #Newmisogyny event. https://t.co/YZIA8FVI6t

— Amy Eileen Hamm (@Amy Eileen Hamm)1580660732.0