Prior to the murder, Guenther had filed a restraining order against McLaughlin because he had reportedly been terrorizing her and stalking her since their breakup that summer. Guenther had also accused McLaughlin of domestic violence, and he was scheduled to appear in court regarding that allegation the day after she went missing.

McLaughlin, now 49 and in the midst of a so-called gender transition, is asking Missouri Governor Mike Parson, a Republican, to grant him clemency on account of mental health issues. According to reports, McLaughlin suffered tremendous abuse as a child, both in and out of the foster care system. A letter to Parson claimed that a foster parent once rubbed human waste in McLaughlin's face and that his adoptive father even used a taser on him. McLaughlin's attorneys claimed that the jury that convicted their client never heard about the abuse because a psychiatrist who examined McLaughlin never took the stand.
The St. Louis Post-Dispatch also reported that McLaughlin still struggles with the effects of fetal alcohol syndrome and often suffers from bouts of depression and thoughts of suicide. "People should know I'm mentally ill," McLaughlin told the outlet on Monday.
When McLaughlin began undergoing so-called gender transition treatment is unclear, but McLaughlin still went by the first name "Scott" and maintained the appearance of a male as recently as 2017.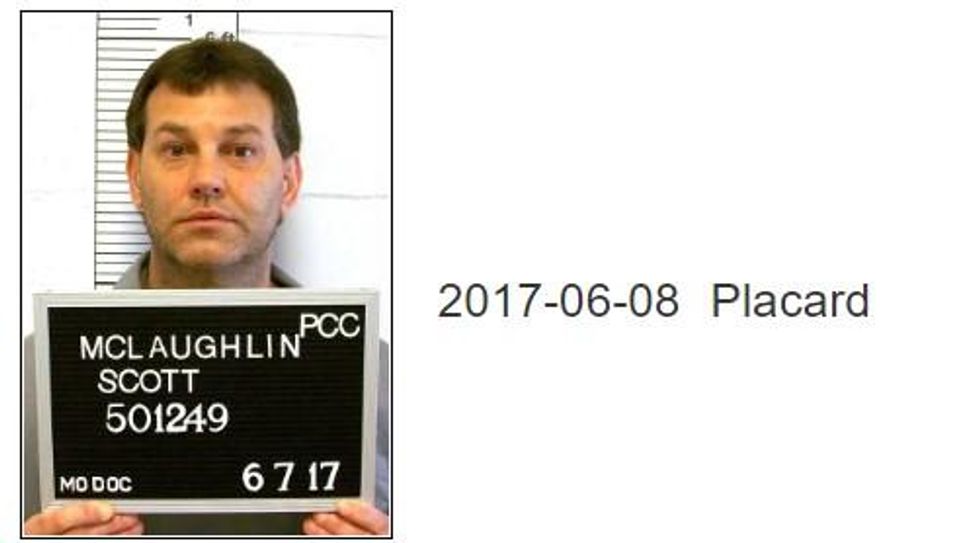 Screen shot of Missouri DOC website
Though a jury readily convicted McLaughlin in 2006 of first-degree murder, armed criminal action, and forcible rape, the jury could not determine whether to sentence him to death or to life in prison. A judge ultimately settled on the death penalty. A federal judge then reconsidered that sentence in 2016, but a panel of the Eighth Circuit U.S. Court of Appeals overruled that judge in 2021 and once again restored the death sentence given to McLaughlin, who also previously served five years for sexually assaulting a 14-year-old girl.
Five inmates have been executed in Missouri since Parson assumed office in 2018, and Parson did not grant clemency to any of them. McLaughlin's attorneys are scheduled to meet with the governor on Tuesday, and they remain optimistic.
"It's wrong when anyone's executed regardless," stated federal public defender Larry Komp, "but I hope that this is a first that doesn't occur."
"Amber has shown great courage in embracing who she is as a transgender woman, in spite of the potential for people reacting with hate," Komp continued. "So I admire her display of courage."
McLaughlin, whose death warrant still lists his first name as "Scott," is trying to remain hopeful as well, calling his pending execution "a sad thing" and reiterating that he doesn't "agree with it."
"I'm trying to stay calm," he insisted to the Post-Dispatch.