The transgender female who freaked out on a GameStop clerk for uttering "sir" sat down for an on-camera interview — and Tiffany Moore apparently has no regrets for last month's headline-grabbing tirade.
"Yeah, I could have reacted a whole lot better," Moore told KOB-TV in Albuquerque, New Mexico, where the incident occurred. "But you know what? I look back at it, and if I could, I wouldn't change a single thing. I would do it 100,000 times again. I would kick over that display 100,000 times again because my actions were justified. I mean, it was blatant and malicious hate. It was blatant and malicious misgendering."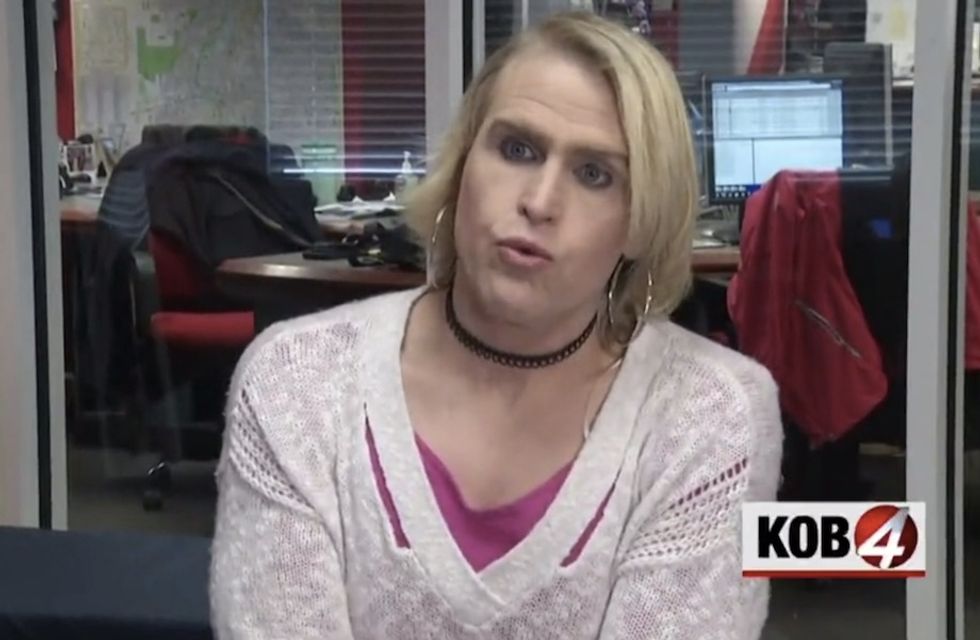 Image source: KOB-TV video screenshot
What happened?
Cellphone video captured Moore cursing at the store clerk for reportedly saying "sir" instead of "ma'am."
Another customer reportedly interjected, telling Moore: "Excuse me, sir, there is a young man in here; you need to watch your mouth. I can call the police if you would like me to. You need to settle down."
Moore then gave it to the customer, too, shouting "excuse me — it is ma'am! It is ma'am!" and telling the customer to mind her own business.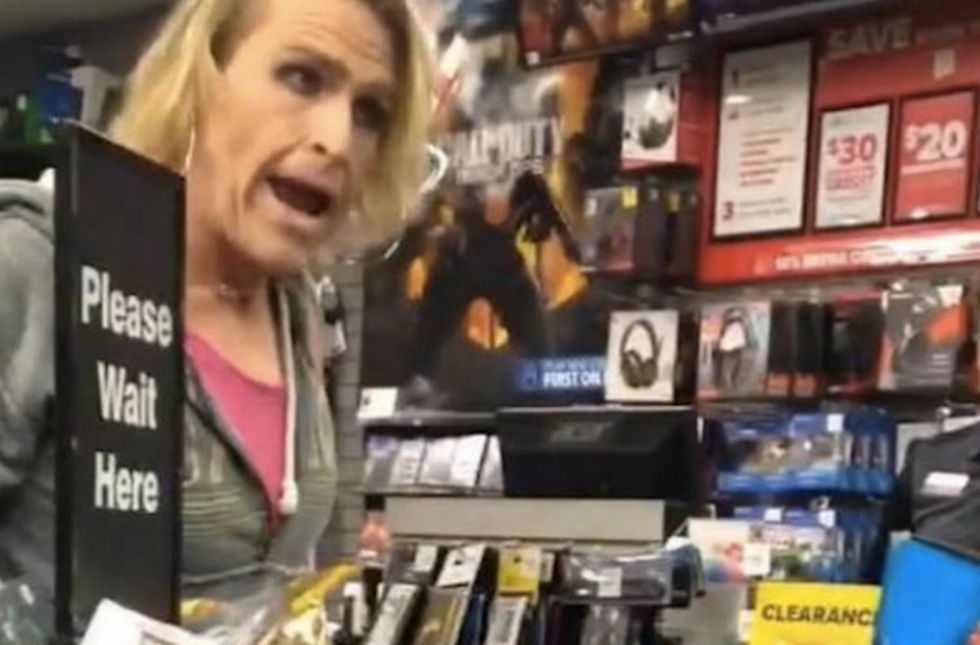 Image source: Daily Mail video screenshot
Then Moore threatened the store clerk: "Motherf***er, take it outside if you want to call me 'sir' again. I will show you a f***ing sir."
Moore then kicked over a display before storming out of the store.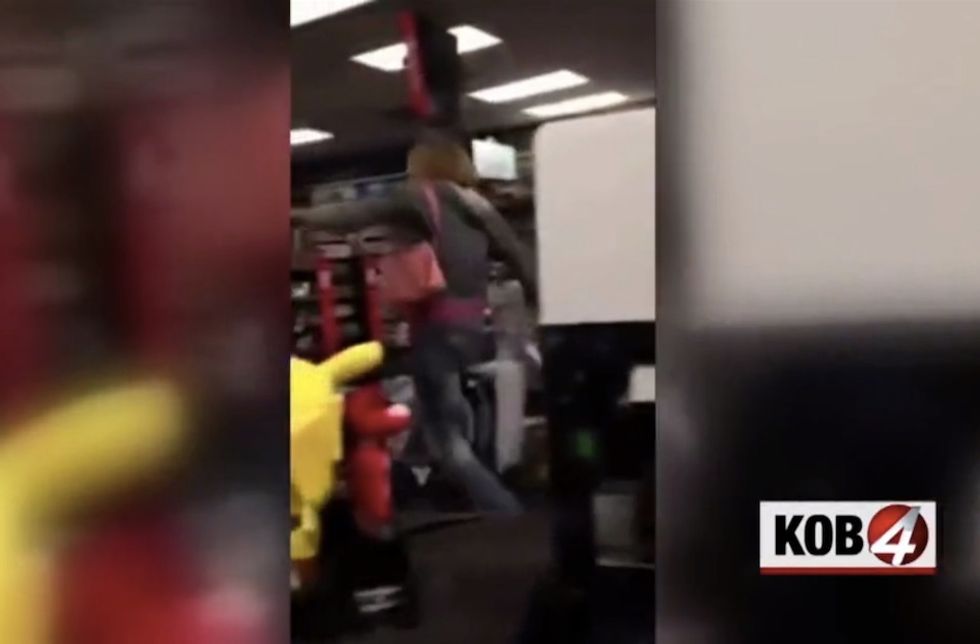 Image source: KOB-TV video screenshot
What else did Moore say in the interview?
"I was so angry at that point because, literally, five or six times he had called me 'sir,'" Moore told KOB. "He got me so fuming angry, and I was cussing."
The station noted that internet users responded to the viral clip by creating memes both praising and mocking Moore; one was titled "Macho Ma'am Tranny Savage" — a play on late professional wrestler "Macho Man" Randy Savage.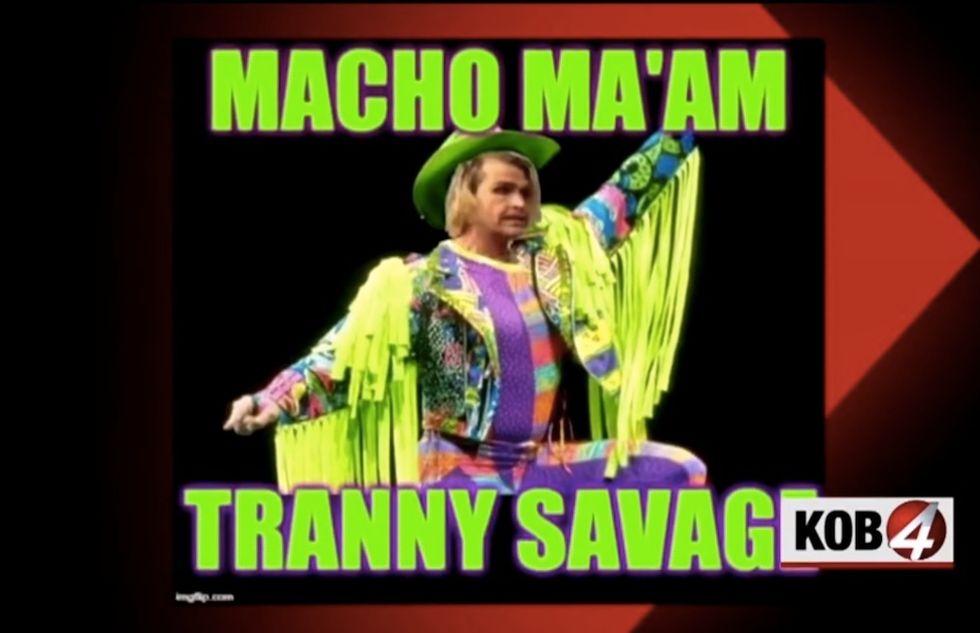 Image source: KOB-TV video screenshot
"What's really sad is it's bringing so many bigots out of the woodwork," Moore, who recently began transitioning to female, told the station.
But KOB said Moore is using the incident to raise awareness about the transgender community. Moore — a rapper and M.C. — even wrote a song to get the message out and is in the process of creating a music video, the station said.
"We're humans just like you," Moore added to KOB. "We're people just like you. We have kids. We have parents. We have brothers, sisters, aunts, uncles, cousins. We're just trying to live."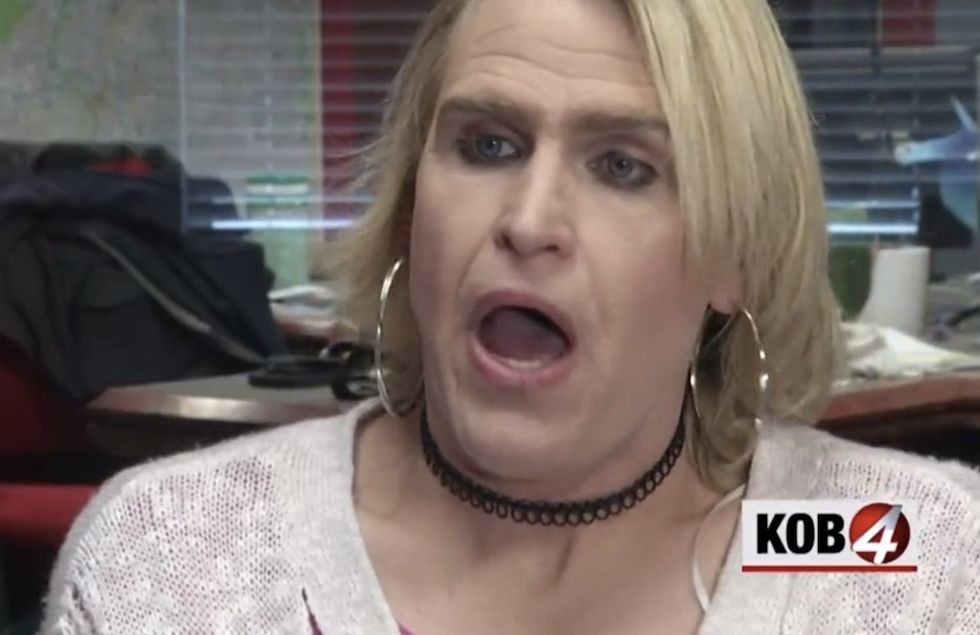 Image source: KOB-TV video screenshot
What did GameStop have to say?
GameStop released the following statement to KOB:
GameStop prides itself on having a very diverse workforce, many of whom are members of the transgender community. We proudly support and serve everyone who enters our stores regardless of gender or gender expression.

The incident that occurred between Tiffany Moore and our GameStop associate was unfortunate. We believe our associate acted professionally after mis-speaking by apologizing and remaining calm to de-escalate the situation.

Like other corporations committed to inclusiveness, we are continually learning. This incident reminds us to continue pursuing efforts to ensure GameStop remains a diverse, inclusive culture that celebrates every person's unique value.
Nancy Nangeroni, a board member with the Transgender Resource Center of New Mexico, also spoke to KOB about the incident and said that "whenever you're in doubt ... ask the individual what pronouns they prefer, because sometimes it could be hard to predict based solely on appearances."
Here's the clip:
Related articles around the web