A few months back, TheBlaze reported on a gay biological female who underwent a gender transition to male — and became pregnant.
Freddy McConnell's pregnancy hit the film festival circuit via the documentary "Seahorse: The Dad Who Gave Birth," so titled because male seahorses give birth to their young. The Guardian put together an extensive profile on McConnell, noting the birth of baby Jack and everything that led up to it.
Be sure to pick up your copy of @guardian this weekend to read the most fantastic interview with our Freddy McConne… https://t.co/xNoPmvsFQY

— United Agents Books (@United Agents Books) 1555674603.0
Birth certificate dust-up
As it turns out, the 32-year-old Brit is a Guardian multimedia journalist, and the paper said in follow-up piece that McConnell could become the "first transgender man to give birth and seek to be called the child's father ..."
More from The Guardian:

Prior to attending a fertility clinic he applied for a gender recognition certificate, which was granted before he gave birth. This meant he was legally male when his child was born. But when he went to register the birth and insisted he should be registered as the father, the registrar said he could only be registered as the child's mother.

McConnell sought a judicial review in the family division of the high court of that decision and during the case, which has yet to conclude, his identity and that of his child were protected by an anonymity order.

However, media organisations requested that order was lifted, arguing that McConnell had been cooperating with a documentary about the conception, pregnancy and birth of his child, using his real name, and that he had been interviewed about his experiences in the Guardian.
But a high court ruled that McConnell's identity cannot be kept private in the birth certificate case, the paper said. McConnell argued that "he and his child could be victimized and bullied as a result," The Guardian added.
As whether McConnell is allowed to be called the child's father on the birth certificate, the paper said that judgment is expected later this week.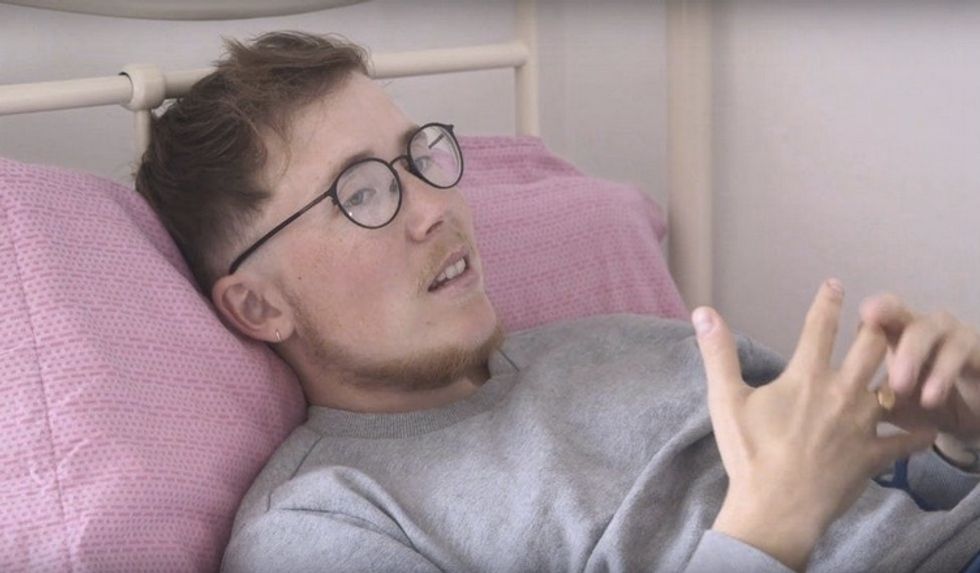 Image source: YouTube screenshot
'Protecting my child has always been and will always be my number one concern'
"Protecting my child has always been and will always be my number one concern," McConnell said, according to The Guardian. "This was the purpose of the anonymity order. Now that my anonymity has been lifted, I embrace the opportunity to draw focus on to the need for equality in this area of the law. All children should be able to have their legal parents correctly and accurately recorded on their birth certificates."
McConnell's legal team told the paper that their client and "all transgender fathers, whether or not they carry their babies" will be forced under the UK's system to register as "mother" on children's birth certificates — and that transgender women will be forced to register as "father" in all cases.
"Having an accurate birth certificate is vital as it stays with someone for their entire life and forms part of their identity," McConnell's lawyer Karen Holden added to The Guardian. "We took on this case to support changing a part of UK law that denies equality, creates inaccurate documentation and fails to serve multiple groups with the LGBTQ+ community."
More from the paper:

When McConnell was born, his registered gender was female. He realized he was trans in 2010, aged 23, and lived as a male, starting testosterone treatment in April 2013. In 2016, he sought advice from a fertility clinic about getting pregnant and his hormone treatment was suspended, his menstrual cycle restarted and he became pregnant in 2017 through artificial insemination using sperm from a donor.

His case demanding to be registered as the child's father was heard at the high court in February, but the court reconvened in May after it emerged that McConnell was co-operating with the documentary Seahorse, about the conception, pregnancy and birth, which had been shown at film festivals and is set to be broadcast later this year by the BBC. Throughout he is openly named, but there was no reference to his claim to be registered as the child's father.
Seahorse: The Dad Who Gave Birth - Official Traileryoutu.be