Supreme Court Justice Ruth Bader Ginsburg has been on the court for more than 25 years, and despite several health complications, has plans to stay on the court through Donald Trump's presidency.
But according to a new report from Axios, Trump believes Ginsburg will depart the high court while he is president — and he already knows who he will nominate to replace her.
What are the details?
During deliberations last year over who would replace Anthony Kennedy on the Supreme Court, Trump told confidants he is "saving" Judge Amy Coney Barrett, who sits on the 7th Circuit Court of Appeals, to replace Ginsburg whenever she finally departs the high court.
"I'm saving her for Ginsburg," Trump told multiple people in private conversations, Axios reported.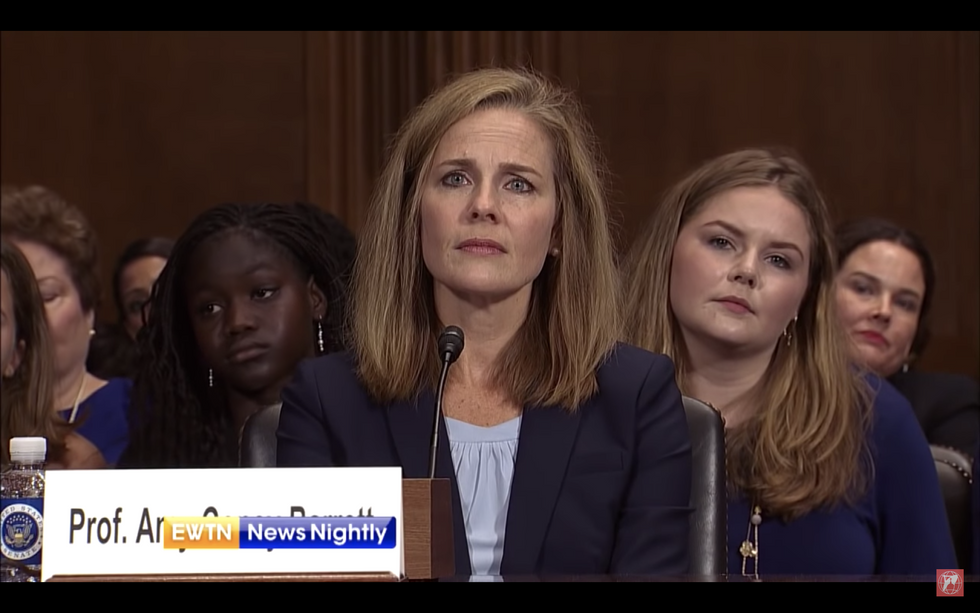 Judge Amy Coney BarrettImage source: YouTube screenshot
Washington insiders knew Trump was seriously considering Barrett for the position for her conservative prowess and overall respect as jurist. Barrett is also a strong Catholic who has voiced willingness to overturn Roe v. Wade. Trump eventually chose Brett Kavanaugh, a more moderate judge, to replace Kennedy, who himself was considered the court's "swing vote."

Why is Trump waiting?
According to Axios, Trump chose to nominate Kavanaugh last year because he was not certain that moderate Republican senators, like Susan Collins (Maine) and Lisa Murkowski (Alaska), would support Barrett because of her opposition to abortion and willingness to overturn Roe v. Wade.
Additionally, Trump's aides were confident Republicans would increase their majority in the Senate, which would make the confirmation of a conservative judge easier in the future.
However, sources stressed to Axios that the "Supreme Court judicial selection process with the president is a very fluid one," meaning Barrett is not necessarily guaranteed to find herself on the court.
Still, Barrett has a very specific track to the court.
"She is the most known quantity right now amongst the women on the list," a source told Axios. "And she also has the inside track in the sense that she was kind of battle-tested for having gone through a confirmation already."
The 86-year-old Ginsburg recently returned the court after successfully battling her third bout of cancer.