© 2023 Blaze Media LLC. All rights reserved.
UK official says all knives should be fitted with GPS trackers to fight rise in stabbings. He's mocked mercilessly.
He added that 'it's time we had a national database like we do with guns'
Amid the ever-increasing number of knife attacks in the United Kingdom, one member of Parliament has suggested a technological way to fight back:
GPS trackers in the handles of every knife sold in the U.K.

Scott Mann — a conservative who represents North Cornwall — offered his solution Thursday on Twitter and also called for a national database for knives.
Image source: Twitter
"Every knife sold in the UK should have a gps tracker fitted in the handle," he wrote. "It's time we had a national database like we do with guns. If you're carrying it around you had better have a bloody good explanation, obvious exemptions for fishing etc."
Cut to the quick

To say that Mann's suggestion was met with a little bit of ridicule is an understatement.
Comedy writer James Felton replied, "There are 66 million people in the UK. If every one of them owns just one knife that's 66 million knives to keep track of you brain genius how are you an MP."
Tom Peck, a political sketch writer at the Independent, wondered "have you got much in the way of a plan for how the police monitor the movement of the UK's, let's say 300 million knives?" He added, "And we'd better hope the bad guys don't do anything naughty like, say, forget to charge up their knives at night."
Others were equally vicious to Mann:
"Think you need a GPS tracker fitted on yourself you absolute weapon."
"There's been a stabbing" / "Quick, get me the GPS tracking for every knife in a 3 mile radius" / "OK, it says there are 120,000 of them, mostly in kitchens" / "Bollocks, thought we had them then" / "Could ask those young lads with the machete" / "Nah, they've got a mackerel, been fishing"
"Why stop with knives? Let's install gps trackers on every fork too"
"They have to put directions on shampoo bottles because of ppl like this."
Some ramped up their ridicule with visual aids:
Image source: Twitter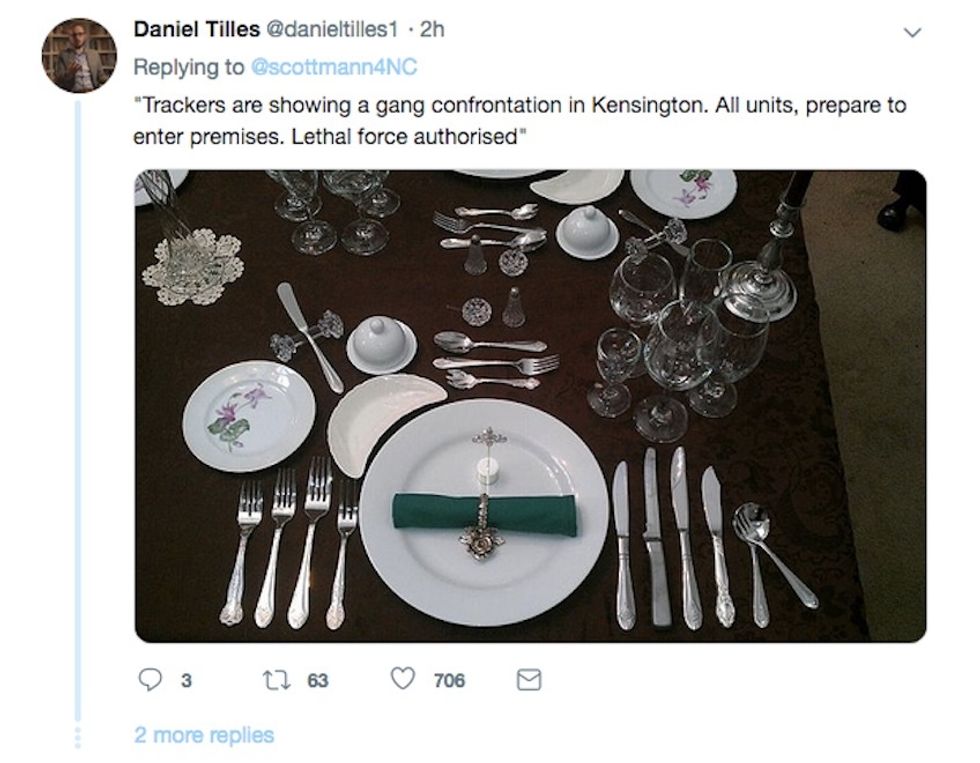 Image source: Twitter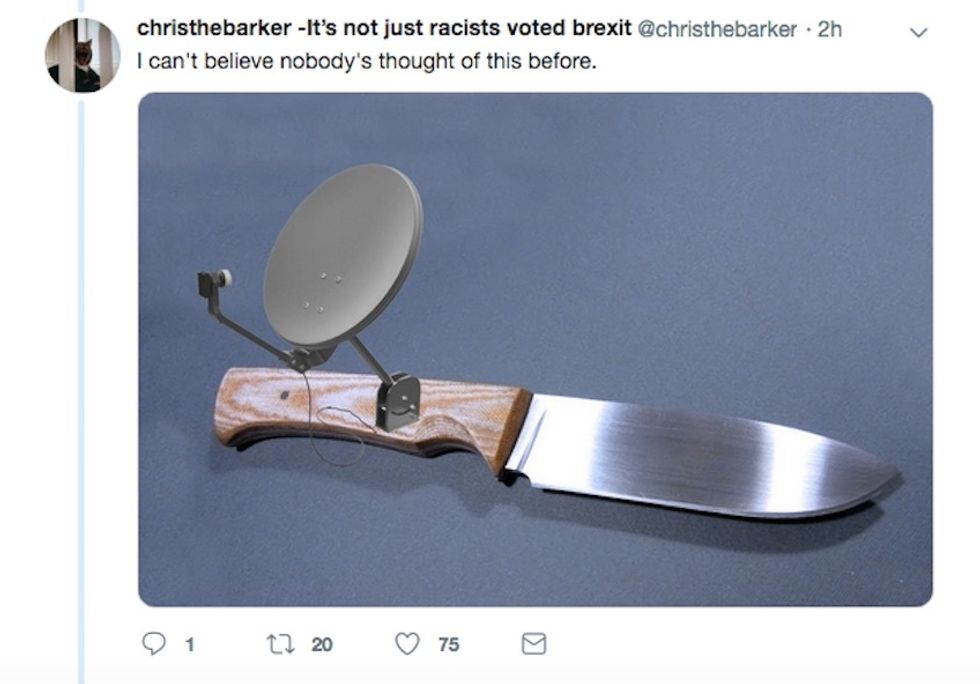 Image source: Twitter
Knife control?
Mann's suggestion came in the wake of new figures showing 21,484 people were prosecuted or cautioned for knife offenses in England and Wales in 2018, the Evening Standard reported — the highest count since 2009 when it stood at more than 25,000.
Home Secretary Sajid Javid recently announced plans for new knife crime prevention orders, which could impose curfews or social media use restrictions on anyone 12 and older who police suspect of carrying a blade, the paper said.
And you might recall London Mayor Sadiq Khan implementing knife control last year after murders in that city — which had been traditionally safe given the dearth of guns — surpassed murders in New York City in February and March 2018. It was a modern-history first — and the London murders were mostly stabbing attacks with knives.
Want to leave a tip?
We answer to you. Help keep our content free of advertisers and big tech censorship by leaving a tip today.
Sr. Editor, News
Dave Urbanski is a senior editor for Blaze News.
DaveVUrbanski
more stories
Sign up for the Blaze newsletter
By signing up, you agree to our
Privacy Policy
and
Terms of Use
, and agree to receive content that may sometimes include advertisements. You may opt out at any time.