Vandals have egg on their face after defacing a statue of a World War II general — and not Confederate Gen. Robert E. Lee.
What are the details?
A statue honoring Maj. Gen. William C. Lee, a World War II general who has been described as "the father of the U.S. Army's airborne infantry," was set aflame last Thursday. The perpetrators are believed to have confused him with Gen. Robert E. Lee, commander of the Confederate Army of Northern Virginia.
Gen. William Lee also helped to plan the D-Day invasion of Normandy, France.
"This is not a Civil War museum and this is not Robert E. Lee," Mark Johnson, who is the curator for the Maj. Gen. William C. Lee Airborne Museum, told WNCN-TV. "This is General William C. Lee from United States Army Airborne from World War II."
The attack on Lee's statue came at the museum honoring the WWII hero, which is situated outside the Raleigh-Durham, North Carolina, region.
In a Feb. 15 Facebook update, the museum detailed the incident, which took place on Feb. 14.
The post read:

The United States owes so much to our military forces and all five military branches are what has kept this country safe and free for all these years. The U.S. Army Airborne soldier is highly respected world wide. Then comes along some jerk punk (s) and he tries to burn the statue of WWII Major General William C. Lee ... the Father of the United States Airborne Army. Thursday evening about 2200 hours someone poured a flammable liquid over the white marble statue of Lee and set it on fire. The local fire department put out the flames but the damage is done. It scorched the statue mostly on the left side. You can see the burn marks in the marble where the jerk placed the remainder of the fuel container on the platform. The cleaning and repair possibilities process will begin soon. Local security cameras will be reviewed.
Johnson, who also spoke to the Daily Record about the incident, warned others from making the same foolhardy mistake.

"Just an alert to people who may be thinking about such things, this is the wrong general," he said. "Complete different generation, complete different war, complete different everything. Everything is different."
The Dunn Police Department is investigating the incident, and offering up to $1,000 to anyone with information on the crime.
Confederate monument vandals damage wrong Lee statue, museum officials say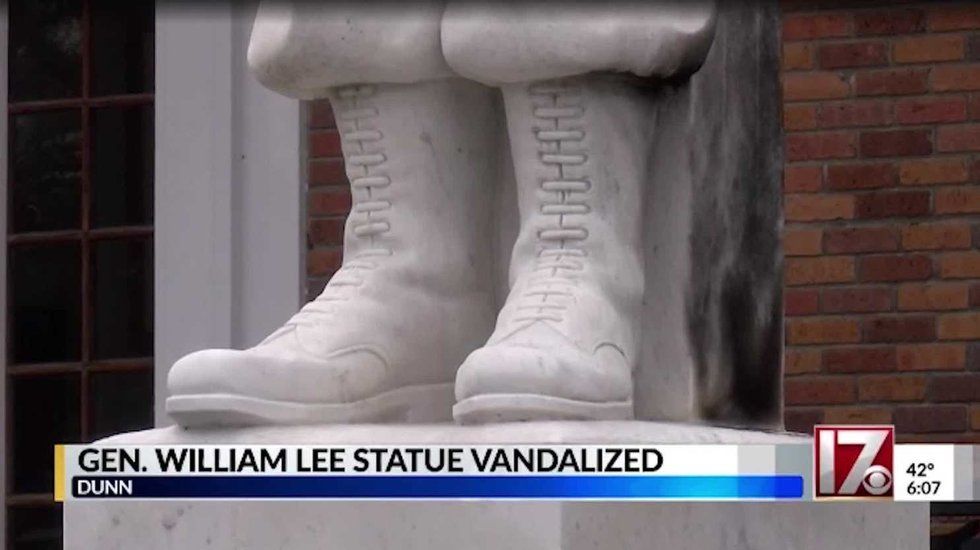 Confederate monument vandals damage wrong Lee statue, museum officials say www.washingtonpost.com