Far-left comic Chelsea Handler guest-hosted "The Daily Show" recently and appeared on video not once, but twice, celebrating how blissfully happy she is being childless.
It appears the vast majority of attention in the last day or so has focused on her short parody video titled, "A Day in the Life of a Childless Woman." In it Handler brags about all the extra sleep she gets, all the exotic places she gets to visit, and all the sleeping around and self-pleasure she gets to partake in without children in tow.
Content warning: Language and sexuality:
A Day In The Life Of a Childless Woman | The Daily Showyoutu.be
But that ain't the half of it
But she also appeared in front of the studio audience in a much longer video — a monologue of sorts — delivering edgy arguments and pushback against being "shamed by society for not wanting a baby." It's over eight minutes in length and may get some viewers asking the Shakespearean question: Is it possible the lady doth protest too much?
Handler starts in by saying "one thing I have made abundantly clear is I do not want children," after which the audience hoots and hollers and claps. "I say it on stage, I say it in interviews, it's the first thing I say to myself in the mirror when I wake up each morning," she continues. "Right before I tell myself, 'God, you're a dynamic woman.'"
"Kids don't respect me, and quite frankly, the feeling is mutual," she adds. "And the fact is, there are millions of women just like me, but for some reason every single one of us at some point in our lives is shamed by society for not wanting a baby. ..."
Handler then says:
In America, and honestly everywhere, motherhood is treated as a woman's essential purpose in life — as if our destiny is to let a tiny stranger rip a hole through our peekachoo from the inside out, and then as soon as we turn 18 we're just supposed to sit back and wait for Nick Cannon to impregnate us? Look, I have infinite respect for moms, but motherhood is hard. ... So it really shouldn't be surprising that some women aren't signing up. But many people aren't just surprised, they're horrified. Childless woman are seen as unfulfilled, unhappy — even the pope has slammed us, saying that not having children is selfish! ... And what's crazy is that for some reason people feel entitled to tell you what a horrible person you are, right to your face!
With that, the clip shifts to childless women recounting times when others apparently told them off for being "career thirsty" and lamenting that "your childhood must have been terrible."
Handler also shows a "Tucker Carlson Tonight" clip featuring then-U.S. Senate candidate J.D. Vance telling the host that "Kamala Harris ... AOC, the entire future of the Democrats is controlled by people without children. And how does it make any sense that we've turned our country over to people who don't really have a direct stake in it? ... We're effectively run in this country via the Democrats, via our corporate oligarchs, by a bunch of childless cat ladies who are miserable at their own lives and the choices that they've made, and so they want to make the rest of the country miserable, too."
Handler, of course, had an off-color rejoinder at the ready that you'll just have to check out on your own.
At this point she wasn't even halfway through with her how-blissfully-happy-I-am-without-children dissertation. Handler went on to say, "I don't want to make the country miserable. I love this country. It's where all of my things are. And I've got news for everyone: Instead of shaming childless women for what we're doing to the country, you should be thanking us. We are saving society. We are more likely to give our money to charity, we have a lower carbon footprint, we're the reason why there are fewer screaming children on airplanes, in movie theaters, in restaurants ..." The audience loved that last phrase.

"But these Fox News trolls are right about one thing: I am miserable. In fact, I was just scrolling through my Instagram feed the other day realizing how miserable I am!" Handler continues before showing photos herself "miserable on the beach" and "miserable on the top of the mountain" and "miserable scuba diving" and "miserable again smoking a joint in a hot tub. Every day is truly a new circle of hell for me."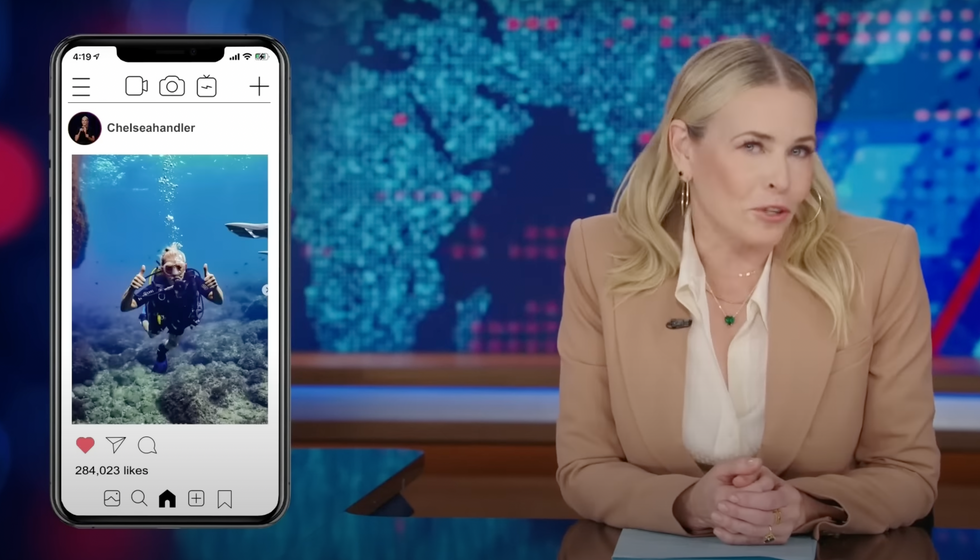 Image source: YouTube screenshot
She added, "The simple truth is that I'm not having a kid because I'm happier without them, and that's really not of anyone's concern but my own."
Ironically, Handler still wasn't finished making that very thing the central concern of her viewers.
"And no, I don't hate kids. I just don't want them. That's what's so great about nieces and nephews. I love being an aunt; I'm crushing that role. Guess who gave each one of them their first edible? This girl! Yeah! But hey, what do I know? I'm just an unfulfilled, lonely, miserable waste of two ovaries ..."
Finally Handler finished up by showing yet another parody clip — this time featuring her as a patient in an OB/GYN's office, again touting what an awesome life she has without children (save for the end when the doc announces Chandler has gonorrhea).
Here's the entire video. Content warning: Language and sexuality:
Long Story Short: Chelsea Handler On Being Childless by Choice | The Daily Showyoutu.be
How are folks reacting?
Much has been made of folks reacting with pity to Handler for not having children, but it's perhaps more informative — particularly in a where-our-culture-is-headed sense — to point out the numerous reactions from those who agree with her and are cheering her on. Here are some comments from her videos reflecting that point of view: