© 2023 Blaze Media LLC. All rights reserved.
Video: Police sergeant places hand on female cop's neck after she pulls him away from suspect. Battle between chief and police union brews.
A police sergeant from Sunrise, Florida, is on desk-duty after a bodycam video shows him placing his hand on a female officer's neck and then pushing her backward against a patrol car after she pulled him away from a suspect, WSVN reported.
And now that the incident has come to light, a battle is brewing between the police chief and the police union, the station said in a follow-up piece.
What's the background?
WSVN said a tip led the station to inquire about the Nov. 19 incident, after which Sunrise police released the bodycam video.
Officers had walked an aggravated battery suspect to a patrol car after cops said he hit people outside a convenience store, the station said.
The handcuffed man was apparently giving officers trouble as they tried getting him into the patrol vehicle, WSVN said.
Then 46-year-old veteran Sgt. Christopher Pullease — who's spent more than two decades on the force — pulled up and walked up to the suspect, the station said.
Sunrise Police Chief Anthony Rosa told WSVN that Pullease pulled out his pepper spray and aimed it at the suspect, an action which the chief said was "inappropriate and unprofessional," adding that Pullease "escalated the situation when calm was actually required."
Then a female officer ran toward the sergeant and pulled him by his belt with both hands away from the patrol car.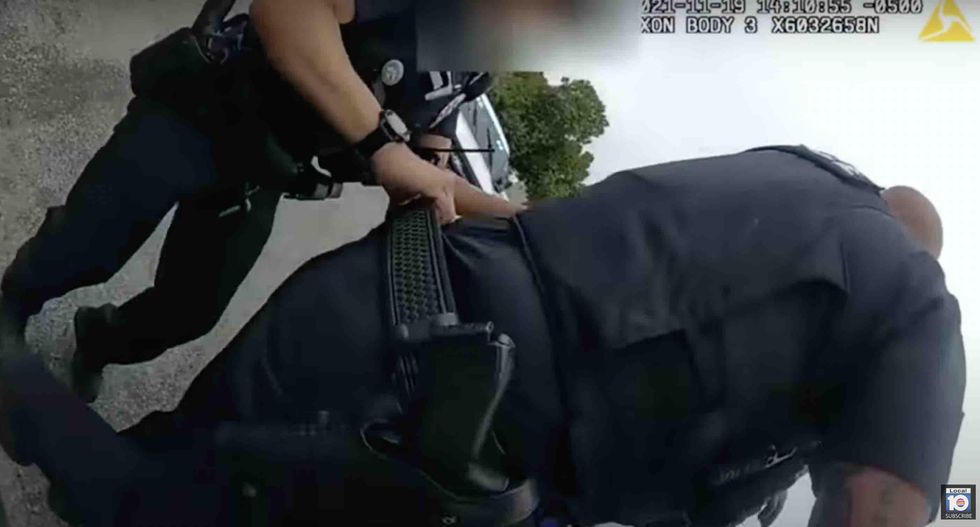 Image source: YouTube screenshot
With that, Pullease turned around and placed his hand on the female officer's neck and backed her against another patrol car.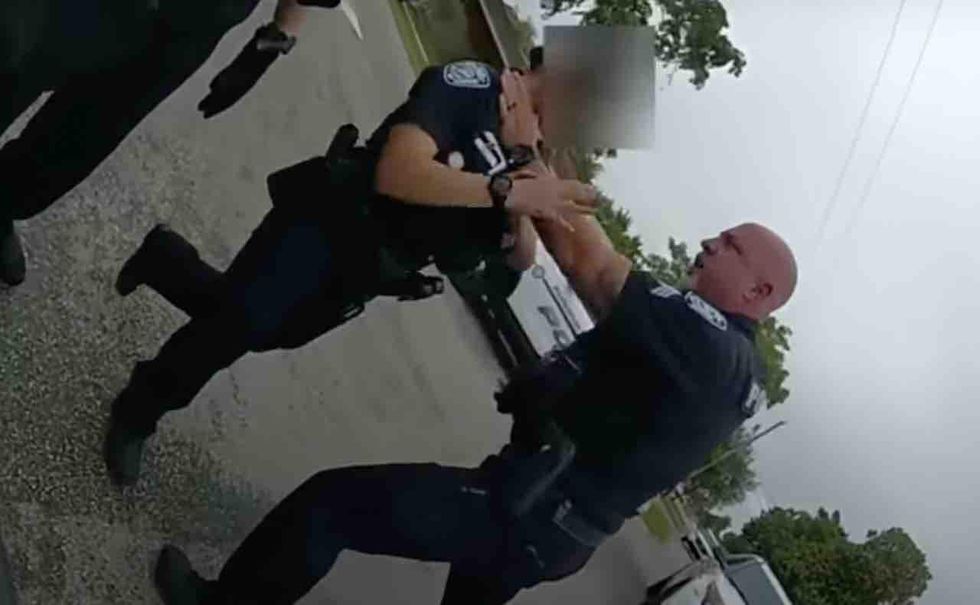 Image source: YouTube screenshot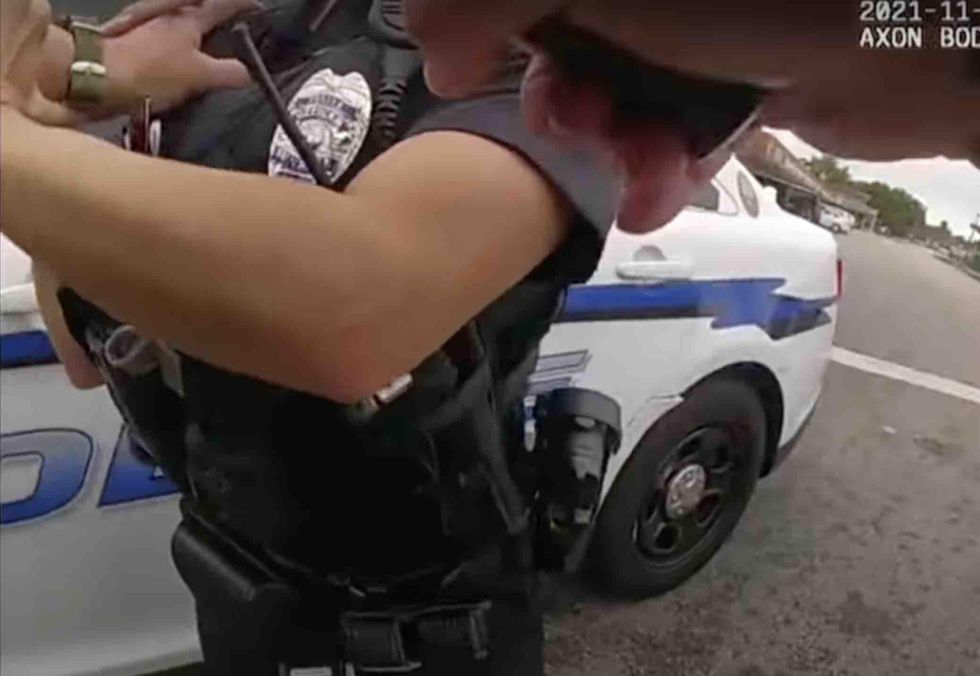 Image source: YouTube screenshot
Pullease then walked away before facing the female officer again and pointing at her: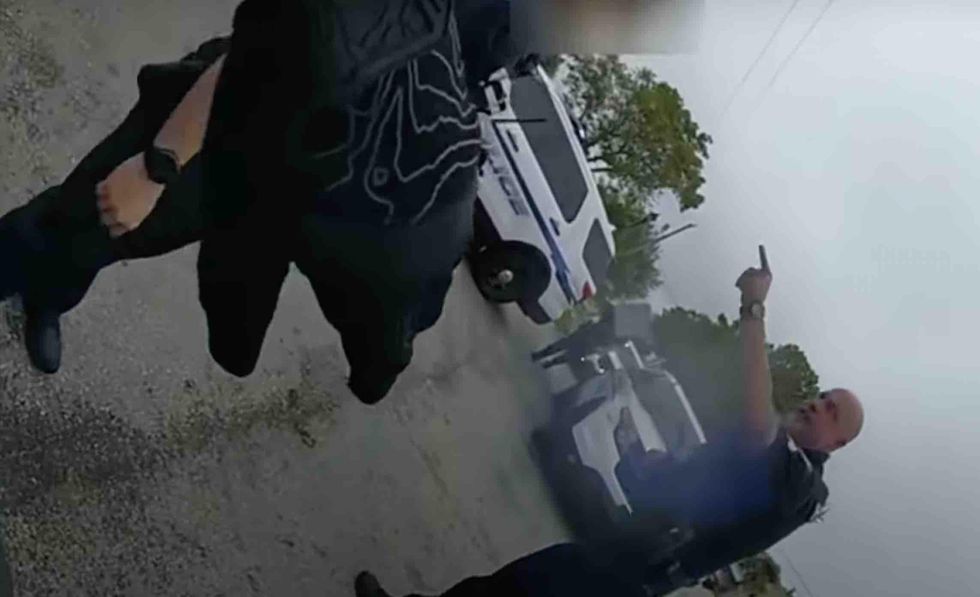 Image source: YouTube screenshot
Rosa told WSVN he found the sergeant's behavior "disgusting" but said he's "very proud" of the 28-year-old female officer: "She took some definitive action. I can only imagine what she must be feeling. She's a newer officer, and he's a very senior sergeant."
The station said a new state law requires departments to train officers on their "duty to intervene" if they witness another officer using excessive force.
WSVN added that there had been two allegations of Pullease using excessive force nearly 20 years ago, and that he was cleared of both.
However, when Pullease was promoted to sergeant in late 2020, it was revealed at the ceremony that he a medal of valor and an award for officer of the year.
Now what?
The police union is now battling it out with Chief Rosa over the incident, the station said.
Union President Steve Negron wrote in a letter to the city manager and commissioners that "we are extremely displeased with Chief Rosa's unprofessional conduct during this investigation" and that Rosa "has clearly already made up his mind as to the outcome," WSVN reported.
In addition, the union demanded that Rosa "immediately recuse himself from the internal affairs investigation," the station said.
WSVN added that Rosa released a two-and-a-half-page letter in response to the union, noting that its allegation that Sunrise police received no deescalation training is "at best inaccurate and at worst seemingly less than honest."
Rosa said police received the training in 2021 and "were provided direct and specific training regarding de-escalation and their duty to intervene during a class," the station reported.
Sunrise police relieves sergeant of duty after he grabbed an officer by the throatyoutu.be
Want to leave a tip?
We answer to you. Help keep our content free of advertisers and big tech censorship by leaving a tip today.
Sr. Editor, News
Dave Urbanski is a senior editor for Blaze News.
DaveVUrbanski
more stories
Sign up for the Blaze newsletter
By signing up, you agree to our
Privacy Policy
and
Terms of Use
, and agree to receive content that may sometimes include advertisements. You may opt out at any time.